2014 Fantasy Football: Week 15 NFL DFS Deep Dive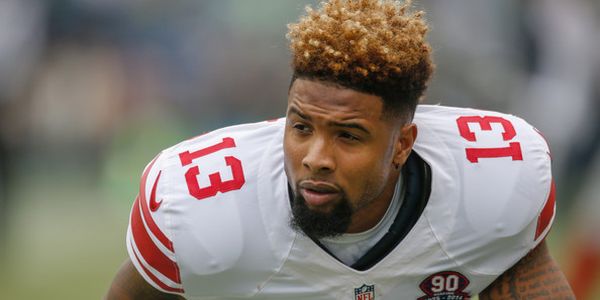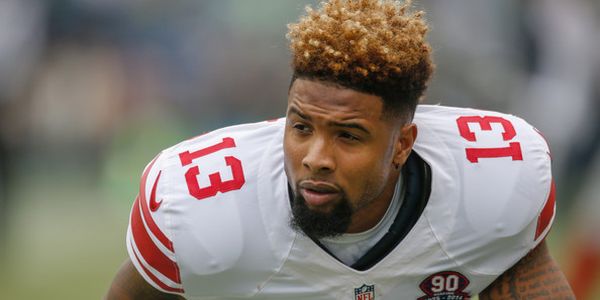 With no college football DFS to write up this week, I've used my free time to write up the NFL instead, so touch upon your betting strategies for NRL, because we'll go position by position and examine the best plays of the week. We'll discuss the best value plays and the players you should spend your money on. You should easily be able to fill out cash game lineups with the names and info discussed below, but with several big-time Millionaire contests on DraftKings this week, the thought process will be a bit geared toward tournaments. So if you are planning on waving your nfl flags soon, check out these picks if you are not sure which colors to be flying!
Below are 4,800+ words of reasoning and explanation. If that's more than you can handle, I've also included a quick cheat sheet of plays at each position behind the paywall at the bottom of the post.
Quarterbacks
Value Plays (Priced below $7,500)
Normally I disseminate my weekly NFL DFS picks via my podcast. If you've listened to the podcast before, you know I start my analysis by taking my own rankings/projections for the week and comparing them to salaries to get an idea about who provides the best value. I then look at the rankings and projected values of other sites/rankers who I think are among the most accurate rankers in the industry. I then compare the names on my list to the names on theirs to get an idea of who are the best plays at each position.
The quarterback that comes up across the board as a great value this week is Matt Ryan (vs. PIT, $6,600). Despite putting up 30+ fantasy points last week against Green Bay, Ryan's salary is $400 lower this week because Ryan played on Monday night, and DK puts out salaries for the next week prior to Monday Night games. His good game against the Packers just isn't baked into his price. That's where the value everyone is seeing comes from.
Ryan has a chance to repeat his performance from last week because his matchup with Pittsburgh is much better than the matchup with Green Bay. 4for4.com has Green Bay ranked as the 13th easiest matchup for quarterbacks according to their schedule-adjusted fantasy points allowed statistic (aFPA), but Pittsburgh is the second easiest matchup for quarterbacks according to aFPA. Football Outsiders (FO) has Green Bay ranked 17th against the pass this year. Pittsburgh? 31st. ProFootballFocus.com (PFF) has Green Bay ranked 12th in pass coverage and Pittsburgh 25th. No matter who you ask, this is a prime matchup.
The game is also in Atlanta in the offense-friendly conditions of the Dome, and, as you'll see in a bit, Pittsburgh should have no problem scoring points and forcing Atlanta into a shootout. Vegas agrees as this is one of four of Sunday's 15 games with an over/under above 50. If Julio Jones were out on Sunday, I'd feel less confident in Ryan, but as of this writing it appears like it's headed for a game-day decision.
If you're looking for another value option other than Ryan without looking at the super cheap options, Philip Rivers (vs. DEN, $6,200) also shows up as a good value across the board, just not as good as Ryan. If you're making multiple lineups, throw Rivers in a smaller number than you throw Ryan in. If you're just making one, Ryan is your guy unless you want to spend at this position. But the case for Rivers as a play is that he's been a top 12 quarterback this year, everyone has him ranked in the top 12 this week and yet he's only the 17th most expensive quarterback.
The problem is that Denver's pass defense is good. Both FO and PFF have Denver as the fifth best pass defense in the league. But according to aFPA they're the fourth best matchup for quarterbacks. The disparity is an issue of volume. No team has had more passes attempted against it than the Broncos. Denver is sixth in average points scored per drive and has the ninth lowest average time per drive. They score a lot and score fast, and teams have to throw to try to keep up. That obviously works in Rivers' favor. But I'd prefer to go with Ryan who will be in a shootout against a bad pass defense as opposed to a good one. Quality over quantity in this situation.
If you're looking for a punt play at quarterback, Kyle Orton (vs. GB, $5,500) is probably your best bet. Derek Anderson for the minimum price against Tampa Bay also makes a little sense, but Orton grades out as a better value across the board. We discussed the matchup with Green Bay above and it's an average to slightly above average matchup. Perhaps the thing I like best about Orton this week is the fact that Sammy Watkins grades out as a good value as well. Sammy certainly has the big play ability that you like in tournaments, and an Orton/Sammy stack would certainly be a big value if Sammy were to get deep for a couple.
I'm certainly not averse to using cheap quarterbacks. I rolled with Shaun Hill last week, which worked when paired with Jared Cook. But this doesn't feel like the week to skimp on quarterback to me. If you're not comfortable with Ryan, you should probably hitch your wagon to one of the…
Studs (Priced above $7,500)
See what I did there?
When picking expensive players, it's all about upside. As an example, picking an expensive running back last week basically came down to Le'Veon Bell and Arian Foster who were the only backs priced above $9,000. In fact, they were the only backs priced above $8,000. Bell obviously went off for 50.5 fantasy points while Foster had a solid day but only ended up with 25.8 fantasy points. To be fair, you can never project a guy to put up 50, but there were plenty of reasons to expect Bell to outperform Foster.
For one, Bell got 29 of 30 touches for Pittsburgh running backs the week prior. With LeGarrette Blount out of town, it's a one man show in Pittsburgh. By comparison, Foster got 24 of 36 carries for Houston backs the week prior. Moreover, Bell had the much better matchup with Cincinnati who ranks 32nd in aFPA and has the third worst run defense in the league per FO. Foster also had a great matchup against Tennessee, but Bell probably had one of the two best matchups a running back can have this year.
To pick the quarterback with the most upside this week, let's start by throwing out Aaron Rodgers, Russell Wilson and Matthew Stafford who have matchups ranging from below average (Stafford) to really tough (Rodgers and Wilson). Obviously Rodgers is matchup proof to some extent, but it's probably not smart to expect him to be able to put up numbers worthy of his price tag in a tough matchup with Buffalo. Let's also throw out Peyton Manning. The rumors of an injury, the emergence of C.J. Anderson and the fact that there are simply other options with more factors in their favor mean he probably doesn't have his usual upside.
As far as matchup goes, no one has it better than Drew Brees against Chicago this week. The Bears are 30th, 29th and 29th against QBs/passing according to aFPA, FO and PFF, respectively. But Brees simply hasn't been anywhere near elite this year. He's averaging 7.4 yards per attempt, which is 12th in the league, and he averages 0.47 fantasy points per drop back per PFF, which is tied for 13th in the league. This is a situation where I'm going with talent over matchup.
That's why Andrew Luck (vs. HOU, $9,300) is my stud play of the week. Lucks ranks 6th in yards per attempt and 3rd in fantasy points per drop back. That in and of itself is good as the only person who is ahead of him on both lists is Rodgers. But Luck makes up for his good-not-quite-elite per dropback/attempt numbers by dropping back and throwing more than anyone else by a substantial margin. Per PFF, Luck has dropped back an even 600 times this year, which is 30 more times than anyone else. It should be noted that Brees is second in drop backs. He's just not efficient enough on a per throw basis. After Brees, the rest of the pack starts to bunch up around 550 drop backs. That advantage in volume coupled with close to elite efficiency numbers is why Luck is such a stud.
Luck's matchup with Houston is an interesting one because the Texans are essentially tied with Baltimore for the most fantasy points allowed to wide receivers in PPR leagues, and Houston is 32nd in aFPA against receivers in standard and PPR leagues. Yet aFPA, FO and PFF all indicate that Houston is basically an average matchup for quarterbacks. It's strange that they appear to be the best matchup for receivers yet only average for quarterbacks.
As for Luck's price, he's $400 cheaper than he was last week thanks to his previous matchup with Cleveland who has the best PFF pass coverage grade this year by a mile. The Browns have a coverage grade of 42.2, and the team with the next best grade is Seattle at 20.5. In case you suck at math, that means the gap between Cleveland and second is larger than the gap between second and average. Cleveland's secondary is good. Houston's coverage grades out mid-pack and slightly below average.
If you want to spend on quarterback but can't work Luck's price into you lineup, consider Ben Roethlisberger (at ATL, $7,900). Atlanta's pass defense is no doubt horrendous as FO and PFF both have them ranked 30th against the pass. The problem is that they're just as bad, if not worse, against the run. No team has allowed more fantasy points to running backs in PPR leagues than Atlanta. With the way Bell has been going and the workload he's been getting, it's not hard to see him being the one to put up big points this week for the Steelers.
Running Backs
Studs (Priced above $7,000)
Let's start with the studs here since we just compared Bell and Foster and a similar comparison has to be made again this week. Bell and Foster are the only two of the nine running backs in this price range to grade out as elite values in my rankings. But both Jamaal Charles and Matt Forte grade out as the best value play among expensive running backs according to at least one other set of rankings I look at. That leaves DeMarco Murray as the only one of the five most expensive backs to not warrant consideration. That makes sense as he has a tough matchup with Philadelphia who ranks eighth against the run according to FO and PFF.
Let's also leave out three of the four backs who range in price from $7,000 to $8,000. Both Marshawn Lynch and Eddie Lacy have tough matchups, and C.J. Anderson has an ankle injury that's a bit worrisome. We'll keep Justin Forsett in the mix because he grades out as a better value than Charles and Forte in my ranks, and he's one of eight backs with more than 180 fantasy points in PPR scoring.
Since we took a look at workload and matchup when comparing Foster and Bell earlier, let's look at the same thing for the remaining backs. The touch numbers listed are from the last two weeks.

It's hard to take anything away from that matchup data. Everyone has a great matchup with Forte maybe having the edge in that department. The problem with Forte is that the Bears have been super pass heavy the last two weeks with a 2.4:1 pass:run ratio. To be fair, they were down four touchdowns at one point against the Cowboys last week. This game has the second highest total of the week, so it's understandable why you might want to go with a pass-catching back in a high scoring affair. But he's just too hard to trust right now, and the Bears recent play calling means their receivers may be who you need to target if you want exposure to the Bears.
If we're worried about Forte's recent usage, we also have to throw out Charles. Kansas City has faced a couple of tough defenses the last two weeks which is has limited the number of plays that offense has run in total. They average 60 plays per game this year but have run just 94 in the last two weeks. That number should certainly improve against Oakland this week, but Charles is banged up with reported knee and ankle injuries, so he's hard to trust even in a great matchup.
As for Foster, game flow would appear not to be in his favor. Houston is only a touchdown underdog, but I could easily see Indy jumping way out in front in this one, and I certainly expect Houston to be playing catch up in the second half. If Houston keeps it close, Foster should get enough work in a good matchup to have a big day. But the concerns about game flow are enough to keep me away from Foster this week.
That leaves us with Le'Veon Bell (at ATL, $9,600) and Justin Forsett (vs. JAC, $7,400). Bell obviously has no workload concerns, and Forsett touches the ball enough to outearn his salary in a matchup with Jacksonville. Forsett had 20+ carries in three straight games prior to last week, but Lorenzo Taliaferro got back in the mix last week and got seven carries. Taliaferro is questionable this week with a foot sprain and had not practiced as of Thurday, so if he sits, Forsett becomes even more attractive. One thing both these guys have in common is an excellent offensive line. Both teams rank in the top five of FO's adjusted line yards.
Two things about Bell. First, I'm a little hesitant about using him in tournaments just because I think a lot of people may be on him hoping for a repeat of last week. Normally that would scare me off a guy, but no one is getting as much work as Bell is these days, and his mathcup this week is almost as good as it was last week when he went ham. The other problem with pimping Bell is that through two positions I have recommended the most expensive option at each position. You might be thinking, "No shit, Sherlock. The expensive guys are good." But I genuinely think both Luck and Bell have the most upside this week and think their prices are high enough that enough people will be compelled to go with cheaper options like Brees or Forte. You obviously can't afford both Luck and Bell. Well, you could try, but I wouldn't recommend it.
Value Plays (Priced under $7,000)
Of all sections in this write up, this is the one where there was the least amount of consensus between my rankings and the others I look at. With one exception. Fred Jackson (vs. GB, $5,200) grades out as an elite value across the board. Green Bay's run defense is not good. FO has Green Bay ranked 23rd against the run and PFF has them 29th. Buffalo has the number one defense in FO's weighted DVOA, so they have the defense to keep this one close. If they don't and have to go to the air, Jackson caught ten passes last week when they threw it 57 times against Denver. He should be able to do damage against Green Bay whether his touches are on the ground or in the air. He didn't do much with 18 touches last week, but Denver is a top five run defense.
The only other cheap running back I feel comfortable with is Latavius Murray (at KC, $4,000). Murray got 25 touches last week in his return from a concussion. Only five backs got more touches than Murray last week, yet 28 running backs will cost you more than Murray will on Sunday. That doesn't compute. Part of the pricing must be due to Murray managing only 10.5 fantasy points with all those touches because he failed to find the end zone. But keep in mind that he was facing a San Francisco run defense that allows fewer than four yards per carry, has allowed just six rushing touchdowns and has a top five run defense according to FO and PFF. This week he'll face Kansas City who allows 4.9 yards per carry and is ranked 21st and 28th in run defense by FO and PFF, respectively. Somehow Kansas City has managed to allow only two rushing touchdowns despite not being good at defending the run. I'm betting on some regression on that front this week.
Jonathan Stewart delivered for me last week, but I was hardly the only one on that play. At $3,800 with a matchup against the Saints and an inactive DeAngelo Williams, the value potential was obvious. PFF thinks Stewart's matchup with Tampa Bay this week is just as good as his matchup last week, but FO has the Tampa run defense ranked 12th. That combined with a $1,200 spike in Stewart's salary and the fact that he came out of the last game with a hip issue make me think it's not a great idea to press your luck with the Carolina backfield, which has been the source of much fantasy frustration in the last several years.
If you're looking for a punt play, Cleveland will face the Cincinnati team that Bell destroyed last week. The Bengals rank 32nd in aFPA against running backs in PPR leagues, and FO has them ranked as the third worst run defense in the league. Terrance West (vs. CIN, $3,000) split the work with Isaiah Crowell last week. Were that to carry over this week and West sees 10-15 touches against Cincy, he's very intriguing at the minimum price. It's a pure GPP play, but it's about as good as salary relief options get.
If Charles is unable to go, Knile Davis (vs. OAK, $3,000) becomes a must-start at the minimum price in a great matchup against Oakland.
Wide Receivers
Value Plays (Priced under $7,000)
When discussing Orton earlier, we mentioned that Sammy Watkins (vs. GB, $5,600) grades out as a good value pretty much across the board. But Robert Woods (vs. GB, $4,300) grades out as a better value than Watkins pretty much everywhere. Woods and Chris Hogan have alternated being the second most targeted receiver on the team in recent weeks, but in the last five weeks things have been pretty even with 35 targets for Woods and 31 for Hogan. They're essentially the same price, but I prefer Woods to Hogan because Woods has the easier matchup based on the specific cornerback matchup he'll be facing. Micah Hyde, Green Bay's slot corner and the guy who should be on Hogan most, has a PFF coverage grade better than that of Sam Shields, which is who Woods should see the most of on Sunday.
It's weird to say, but you probably have to have a healthy amount of exposure to the Bills this week. With Jackson being such a good value at running back, he needs to be in a decent amount of your lineups. And in those that Jackson isn't in, I'd have some exposure to the passing game. An Orton/Watkins/Woods stack is very intriguing to me in a GPP.
Speaking of quarterbacks we discussed earlier, there are some options if you want to stack Luck with his receivers. T.Y. Hilton is always a good option, but he figures to see a healthy amount of Johnathan Joseph who has an above average PFF coverage grade and who has allowed fewer fantasy points per target than the league average. If you can fit Luck and Hilton in together and like how the rest of your lineup looks, go for it. He still has the best chance to have a big day of any Colts receiver.
But I find myself leaning more towards Donte Moncrief (vs. HOU, $4,000). A.J. Bouye has by far the worst PFF coverage grade of any Houston corner, and Moncrief should be the guy who see the most of Bouye. It would be nice if Reggie Wayne sat this one out as he's reportedly dealing with a torn triceps. But Moncrief could still have a big day with his usual five or so targets. Essentially, Wayne isn't going to keep me from playing Moncrief, but if Wayne sits out, Moncrief looks like a borderline must play to me.
Tight ends Coby Fleener and Dwayne Allen have had big days this year, but Houston is just so bad against receivers that I'd lean on receivers to pair with Luck. Remember, Houston allows the most fantasy points per game to receivers in PPR leagues like DraftKings. Moncrief has much more value potential at his price point, so lean towards him. But if you afford Hilton, I have no problem stacking both of them with Luck.
Aside from Houston, Baltimore is the best matchup a receiver can have in a PPR league. Jacksonville draws the Ravens this week, and choosing between their three receivers is a bit tough because their target numbers are very similar over the last two weeks. All the rankers like Marqise Lee (at BAL, $3,600) the most both in terms of ranking and value, and Lee has done the most of any Jags receiver with his targets in the last two weeks. He's been the most efficient of the three on a per snap basis, and he's being targeted further downfield than the other two. He also has a good matchup with Lardarius Webb who has a well below average PFF cover grade. Allen Hurns will have one of the best matchups in the league working out of the slot against Matt Elam, so he's an option as well. But Lee probably has the upside.
The punt play of the week is Marquess Wilson (vs. NO, $3,000). Wilson appears to be taking Brandon Marshall's spot in the starting lineup, and sites like 4for4.com and ProFootballFocus.com have Wilson ranked as about a top 30 receiver. With a minimum price, there's obviously some value potential there. The matchup is good as New Orleans ranks 28th and 31st against the pass according to FO and PFF. Ideally Wilson will get some snaps opposite Corey White, the corner with the worst PFF coverage grade playing on Sunday. But Patrick Robinson should be the guy he lines up across from the most, which is just an average matchup. It's hard to roll with a guy who has 17 career targets, but he's now a legitimate receiving option in an offense that has been airing it out a ton lately and will be facing a bad pass defense. Have some exposure if you make multiple lineups.
And finally, Jeremy Maclin (vs. DAL, $6,100) is the safest play in this group of receivers while still having a ton of upside. Maclin should be working against Brandon Carr almost all day on Sunday as Maclin lines up on the right side 77% of the time, and Carr lines up opposite that receiver 92% of the time. Carr has a PFF coverage grade of 83. The scale is 1-to-100 with 1 being the worst for a receiver and 100 being the best. So yeah, this is a great matchup. Jordan Matthews had the better day the last time these two teams played, but Matthews works out of the slot and should see a lot of Orlando Scandrick who has 32 coverage grade. Maclin is the guy you want in the Philly passing game. Take advantage of his matchup with Seattle last week depressing his price this week.
Studs (Priced above $7,000)
Here's a chart showing the 13 most expensive receivers (from most expensive to least) listed with how their opponent ranks in aFPA against receivers in PPR leagues, the ranking of the opponent against the pass per FO and PFF, and the coverage grade of the corner they're likely to see the most of on Sunday. Yellow is good, green is great, orange is bad, red is really bad.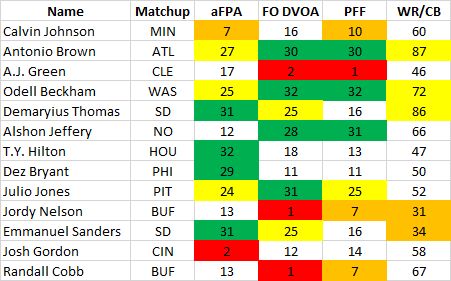 We already discussed not liking Rodgers this week, but Jordy Nelson appears to be a no go with a tough matchup against Corey Graham. Randall Cobb might have some success out of the slot against Nickell Robey, but this might be the week to avoid the Green Bay offense. Josh Gordon and A.J. Green don't appear to have a good matchup by any measure, Julio Jones seems like a risky play even if active with his hip injury, and we already discussed Montcrief over Hilton being the way to go with the Indy receivers. Dez Bryant's matchup numbers look a lot like Hilton's, and they basically have the same price, so he's not overly appealing. All those guys can be eliminated.
Of those remaining, Odell Beckham Jr. (vs. WAS, $8,400) stands out as having the best matchup. FO and PFF have Washington rated as the worst pass defense in the league, and Beckham has the third best corner matchup of anyone in this tier. He figures to see Bashaud Breeland the most whose 72 coverage grade is actually the best of any of Washington's three main corners. Any time he lines up against someone else, his matchup will be even better. And Eli Manning is feeding Beckham the ball a lot. Beckham has 23 targets in the last two weeks, and Reuben Randle, Preston Parker and Kevin Ogletree have combined for 21 targets in that span. He's a true No. 1 receiver in a superb matchup.
It's also really hard to go wrong with Antonio Brown (at ATL, $8,700). He's $700 cheaper than Calvin Johnson and has a much better matchup, so spend big on Brown if you want to pay for up for a top receiver. As mentioned when discussing Roethlisberger, this is a great matchup for the Pittsburgh passing game, but we also discussed how Bell may have the best matchup a running back can have. I'm going to lean toward the ground game when getting exposure to Pittsburgh, but Brown has such a high floor and a high ceiling that he's never a bad play.
Alshon Jeffery (vs. NO, $8,200) also has a good matchup and could see a ton of work with Marshall out, but I'm going to take my chances on the Chicago passing game with the minimum price Wilson. If you want a Denver receiver this week, go with Demaryius Thomas (at SD, $8,300) over Emmanuel Sanders as Thomas may see less of Brandon Flowers than Sanders will.
Tight Ends
Tight end is easy this week if you're willing to spend on the position. Jimmy Graham (at CHI, $6,300) has seen his price plummet after failing to catch a pass two weeks ago and only catching three for 25 yards last week. The matchup with Carolina last week wasn't a good one for tight ends, and the New Orleans offense was a no show anyway. The goose egg against Pittsburgh two weeks ago is befuddling because that's a great matchup for tight ends. But we'd be insane to let two down weeks cause us to ignore Jimmy freaking Graham, the No. 1 tight end two years running, in an excellent matchup with Chicago. The Bears are the best matchup for tight ends according to aFPA, and FO has them second worst against tight ends. Unless you're going cheap at the position, Graham is a no brainer.
The cheaper options start with Larry Donnell (vs. WAS, $3,800). Washington is the second best matchup for tight ends according to aFPA and 30th against tight ends per FO, so the matchup is almost as good as Graham's. Washington also gave up two scores to Jared Cook last week, and Donnell scored three times the first time New York and Washington played. Donnell hasn't scored in three weeks, but he's still a part of the passing game with more targets in that span than everyone on the team but Beckham. Antonio Gates (vs. DEN, $4,500) also has a good matchup against Denver who he scored twice against the last time these two teams played. Of course he hasn't scored in the five games since the Denver game, which, along with price, is a good enough reason to go Donnell over Gates.
Defense/Special Teams
If you have the money for it, Seattle (vs. SF, $3,500) is a great play. Seattle ranks fourth in weighted defensive DVOA per FO, and the 49ers are the 11th best matchup for a fantasy defense according to aFPA. Of course Seattle is the third most expensive defense this week, so you may need a cheaper option. There's no quality defense that is randomly underpriced this week, so you'll have to take a bit of a risk with a cheap defense. The other options come from the Tampa Bay- Carolina game. I prefer Tampa Bay (at CAR, $2,400) who ranks 17th in weighted defensive DVOA and has the fourth best matchup per aFPA. Carolina (vs. TB, $2,600) ranks 19th in weighted defensive DVOA and has the sixth best matchup per aFPA.
Cheat Sheet