2014 NFL Training Camp Updates: AFC East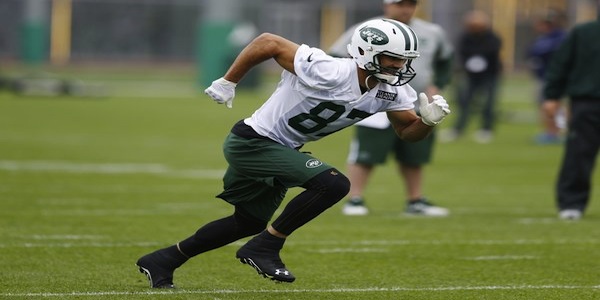 Miami Dolphins
Most of the focus in Dolphins camp has been on the RB battle. With Knowshon Moreno showing up out of shape and now out while recovering from knee surgery, Lamar Miller is running away with the battle. Miller is said to be in the best shape of his life and has wowed in camp. The Dolphins claim they want to use Miller much like the Eagles utilize Lesean McCoy. Miller is not McCoy, but he may have a much bigger role this season. He also has shown great improvement in pass protection, which will go a long way in keeping him on the field. There have even been talks of Moreno not making Miami's opening day roster. Expect an ADP spike for Miller moving forward, he has RB2 upside.

In WR news there are no roster positions set in stone yet. There are however, a few important notes about some of the contenders. Jarvis Landry has been a star in camp. He's shown great hands, catching the ball with ease. He also has shown great awareness and confidence, while creating separation against the DBs. It has been reported that Rishard Matthews has performed very well, making quite the impression.
The Phins defense looked very strong up front. Randy Starks, Olivier Vernon and Dion Jordan have been standouts. Starks dominated inside while Vernon brought the pressure. Jordan is finally showing flashes of why the Dolphins traded up to get him in the first round of last year's draft.
New York Jets
The Jets QB controversy is under way. It's sure to linger all season and be brought up every time an interception is thrown. Geno Smith is currently taking about 75-percent of the first team snaps. People at Jets camp have been raving about how much improvement Smith has shown so far. He continues to be the front-runner as of now. Mike Vick is sure to loom over Smith's shoulder all season.
The RBs have really shined. Chris Johnson got on the field and was flying around, drawing comparisons to his CJ2K days. He says he has no pain in his knee after having it scoped this offseason. In maybe the most fascinating note of Jets camp, Johnson was often flexed out as a wide receiver. If that becomes a trend it could greatly increase his PPR value. Bilal Powell will get the first shot at third down opportunities. Daryl Richardson drew a lot of attention, he had a few big runs where he broke free without even getting touched and picked up the blitz well in pass protection.
New addition Eric Decker was said to look great and is playing with an abundance confidence. Once again Stephen Hill has been a star at camp, turning heads and blowing away coaches. This is nothing new for Hill, unfortunately it does not translate to regular season success. Hill is a bust and its best you avoid him when drafting. Fool me once shame on you, fool me twice shame on me. He is not a sleeper until he proves he can be productive in the NFL.
Rookie TE Jace Amaro has struggled all summer. He had issues catching the ball and figuring out the offense early on. Now he is suffering from knee tendinitis. We have seen rookies (for example Andy Dalton) struggle in preseason in the past, then go on to have solid seasons. Don't give up on Amaro just yet, if his ADP drops he may come at great value. While Amaro has been struggling, Zach Sudfeld has been impressive. He is another player that was also great last summer and completely flopped come Fall.
On the defensive side of the ball first-round pick Calvin Pryor left practice with concussion like symptoms. Dee Milliner also made headlines when claiming he was the best corner in the NFL. In related news, Dee Milliner is an idiot.
Buffalo Bills
The Bills RB situation may be one of the closest watched position battles in the league. Fred Jackson suffered a "lower-body injury" this week in camp and was forced to miss practice this weekend. It's not believed to be serious, nonetheless it scares fantasy owners away from the oldest active back in the league (33) even more than they already were. C.J. Spiller as expected took first team reps. He did not perform particularly well. The offense struggled to execute successfully. In a somewhat shocking turn of events, on the Bills first official depth chart Bryce Brown was listed as the fourth RB. Anthony Dixon occupies the RB3 slot.
Sammy Watkins has lived up to the hype surrounding him. He has been by far the best offensive player in Bills camp. He has blown everyone away with his incredible speed and highlight reel catches. Reports have been all over the place when it comes to free agent signing Mike Williams. It was reported that he has been impressive on the field, and it has also been rumored he may be cut this preseason. Apparently the jury is still out on Williams. WR Chris Hogan shined this weekend. He looked like the most improved player on the Bills roster
All three TEs atop the Bills depth chart are injured. Scott Chandler was sidelined with a groin injury this past week, while Tony Moeaki is out with hamstring issues. Chris Gragg suffered from extreme muscle cramps and was hospitalized for multiple days. The only TE left is Lee Smith. The Bills hope to have their TE corps healthy and back on the field soon.
The Bills front seven has been dominate in camp, including an 11-on-11 segment in which they recorded eight sacks in a span of 17 plays. Great news for the Buffalo D, Stephen Gilmore looks healthy and is playing with boundless physicality. A healthy Gilmore could make a huge impact on a Bills pass defense that struggled in 2013.
New England Patriots
Rookie QB Jimmy Garoppolo has struggled mightily thus far. He has been slow in his reads, inaccurate and turning the ball over. On the other hand Ryan Mallet has been outstanding. This is as close as we're going to get to a QB controversy in New England.
Patriots' rookie James White has looked like a superstar in camp. He is getting more reps during 11-on-11 drills than any other RB, and received significantly more playing than any other rookie. White has received an abundance of touches and has blown away teammates, coaches and media members. His catching ability has drawn comparisons to Shane Vereen and his running style is more like Stevan Ridley. White is said to have exceptional skills, with the demeanor of a veteran. This kid is worth a look when you're drafting. Brandon Bolden may be on the roster bubble.
After Julian Edelman and Danny Amendola, the WR depth chart is wide open. Brandon Lafell has been inconsistent and dropping the ball all over the field. Kenbrell Thompkins has been very up-and-down, while fellow Arron Dobson sits out with an injury. Josh Boyce has also been dealing with drops and can't seem to gain separation. Believe or not, the WR that has most stood out was Wilson Van Hooser. Yes, I said Wilson Van Hooser.
The question every Patriots fan is asking is about Rob Gronkowski's healthy. Gronk has been cleared to practice. While he's not yet 100-percent, he fully expects to play all 16 games this season. In a very interesting note, James Develin has been lining up as and practicing with the TEs. He appears to be converting from full back to tight end. Justin Jones has shown a lot of improvement and may turn out to be an intriguing player if he can perform well in preseason games. He is still an extremely raw talent.
The Pats defense is looking better than it has in years. Tommy Kelly was this week's standout. New corners Brandon Browner and Darrelle Revis have also been spectacular. Their defense is looking like they have potential to be a D/ST1. Edelman is looking like he will once again be responsible for returning punts.