2015 Daily Fantasy Football Strategy: Week 11 Wide Receivers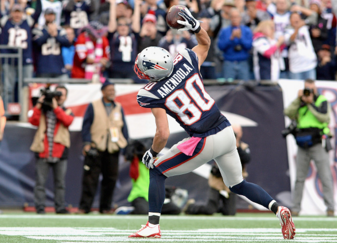 Welcome to Wide Receiver Wednes(day) at The Fantasy Fix! Each Wednesday (or Thursday when I can't get my stuff together) of the NFL regular season I'll provide you with several receiving options that are strong plays that week at DraftKings. Monday through Friday the Fix writers will provide you with a Daily Fix that covers each position, with a weekly roundup by Brett on Thursday or Friday. Any questions? Find me on Twitter, @RyNoonan.
The Wide Receiver position is loaded with options in this new, ever-prolific passing era of the NFL, so options abound. I'll break it up into tiers, essentially, WR1's, 2's, 3's and FLEX/deep options. We won't get too legalistic on the tiers. The goal is to highlight players in each pricing tier, highlighting the plays and matchups in each spot.
Your WR1 and WR2's are no-brainer starts in your normal season-long fantasy leagues. I'll highlight them if they have an exceptional matchup or price. We're likely going to find some inexpensive plays here week in a week out as well, due to the depth at the position. When applicable, I'll note if the player is more of a cash game play versus a tournament option. Cash games (where roughly 40-50% of the player pool wins money) and the players that you want to use in those contests can vary drastically from a tournament option (tournaments or GPP's where 10-15% of the pool wins money).
Scoring and other settings can be found here.
WR1
Julio Jones – ATL vs. IND ($9,300)
There's really never a bad time to play Julio Jones but with that said, I doubt that I'll be spending up at wide receiver this weekend. In this game in particular I like Davonta Freeman a lot more, and paying up for both Falcons is sub-optimal on multiple fronts. Also, he'll likely be shadowed by one of the game's best cornerbacks, Vontae Davis, anytime that he's not in the slot. His constant multi-touchdown upside makes him a tournament play, but I won't be going out of my way to force Julio in to my lineups.
DeAndre Hopkins – HOU vs. NYJ ($8,800)
Another one of the game's best wideouts, DeAndre Hopkins, will be shadowed by Jets corner Darrell Revis on Sunday. See why I'm not paying up at wide receiver in cash? Hopkins is as skilled as any wide receiver in the game, but Revis will keep him busy and if nothing else, takes away a bit of Hopkins' top-shelf upside.
WR2
Calvin Johnson – DET vs. OAK ($7,200)
Most of my favorite wide receiver plays are in this pricing tier. There's no doubt that we're entering the 'back-9' of Calvin Johnson's career, but that doesn't mean he's no longer a great wide receiver. Any time that we can get exposure to a talent like this for $1,300 less than he was in Week 1, then I'm all in. The matchup is strong too, as Detroit is a home-dog against Oakland's suspect pass defense. He'll see enough of David Amerson and D.J. Hayden to return value with some elite upside to boot.
Larry Fitzgerald– AZ vs. CIN ($7,200)
I'm using Larry Fitzgerald as the face of the Arizona passing game because I definitely want exposure to their passing game here but I'm not sure yet if that'll be in the form of Fitzgerald or perhaps one of their cheaper options. The status of both John Brown ($5,200) and Michael Floyd ($3,800) is up in the air right now, and their matchups on the outside are much better on paper than Fitz's matchup in the slot against Bengals' corner Leon Hall. Wait and see what happens with practice reports here and then go from there. A healthy John Brown is my favorite play here.
Allen Robinson–JAX vs. TEN ($7,000)
If you're getting in on the Thursday slate then you're likely playing Allen Robinson, and that's smart. His price is finally on the rise but it's still not prohibitive at all. DraftKings has him priced as the 12th most expensive wide receiver this week, but a look at early Week 11 rankings on FantasyPros shows that he's considered a top-5 option at the position this week. Tennessee's secondary has been a pleasant surprise this season, but Robinson is an elite talent with the ability to run the entire route tree and has a size advantage over any corner in the game.
Mike Evans – TB vs. PHI ($7,300)
From a volume stand point, you have to consider Mike Evans. He's being force-fed targets right now and as a road dog in Philly I like his chances at a dozen targets. He hasn't been very efficient of late, but volume is key and there's no doubt that Tampa's passing game is working through Evans right now. Tampa's implied team total is a bit low, but for tournaments I still think Evans has multi-touchdown upside.
WR3
Michael Crabtree – OAK @ DET ($6,000)
Yet again, I'm writing up Michael Crabtree because he's way under-priced. The appeal of Amari Cooper ($6,800) is understandable, and he's viable here as well, but Crabtree is $800 cheaper and has a much better matchup in terms of expected coverage. Darius Slay is having a decent year for the Lions and will likely be matched up with Cooper, while Crabtree will get the beatable Nevin Lawson in coverage more times than not. The Raiders have a strong implied team total of 25 points, and I like Crabtree's chances at contributing to that total.
Jordan Matthews – PHI vs. TB ($6,000) 
I know, I'm not pleased about it either. Jordan Matthews has been extremely disappointing this season but he's slightly under-priced for this matchup against Tampa Bay's putrid secondary. He'll likely see Alterraun Verner matched up against him in the slot, one the lowest graded corners in the game according to Pro Football Focus, and Matthews thrived in 2014 with Mark Sanchez under center. I'm not sure that I'll be on Matthews in cash, but I love him at this price for tournaments.
Danny Amendola–NE vs. BUF ($4,000)
Danny Amendola is the chalkiest chalk that there is this weekend. He's in a great spot to see a share of Julian Edelman's 15+ targets in this one, and he'll see a fair share of the Bills' worst cover corner Nickell Robey, setting up Amendola for a great day at his $4,000 price tag. This is a cash game play though because I don't think Amendola's ceiling is very high and his ownership will be off the charts this weekend. Teammate Brandon LaFell ($4,300) is a great tournament pivot.
FLEX
Robert Woods – BUF @ NE ($3,400)
The Robert Woods tout isn't a tricky one. If you think that A) the Patriots will win and that Buffalo will be forced to throw more than they'd like in the second half and B) Sammy Watkins will be New England's defensive focus, then you see the viability in Woods here.