2015 Daily Fantasy Football Strategy: Week 9 Wide Receivers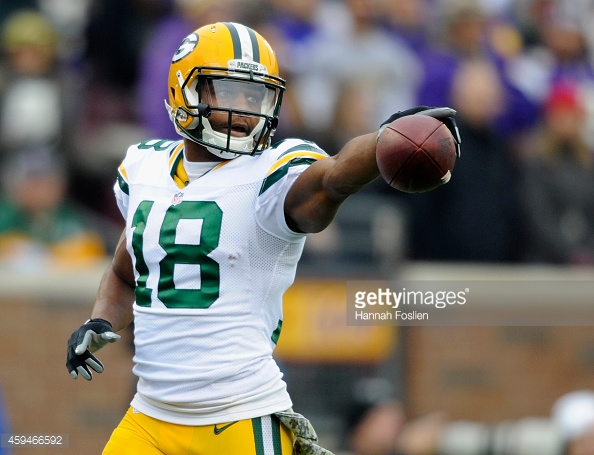 Welcome to Wide Receiver Wednesday at the Daily Fix! Each Wednesday of the NFL regular season I'll provide you with several receiving options that are strong plays that week at DraftKings. Monday through Friday the Fix writers will provide you with a Daily Fix that covers each position, with a weekly roundup by Brett on Thursday or Friday. Any questions? Find me on Twitter, @RyNoonan.
The Wide Receiver position is loaded with options in this new, ever-prolific passing era of the NFL, so options abound. I'll break it up into tiers, essentially, WR1's, 2's, 3's and FLEX/deep options. We won't get too legalistic on the tiers. The goal is to highlight players in each pricing tier, highlighting the plays and matchups in each spot.
Your WR1 and WR2's are no-brainer starts in your normal season-long fantasy leagues. I'll highlight them if they have an exceptional matchup or price. We're likely going to find some inexpensive plays here week in a week out as well, due to the depth at the position. When applicable, I'll note if the player is more of a cash game play versus a tournament option. Cash games (where roughly 40-50% of the player pool wins money) and the players that you want to use in those contests can vary drastically from a tournament option (tournaments or GPP's where 10-15% of the pool wins money).
Scoring and other settings can be found here.
WR1
Antonio Brown – PIT vs. OAK ($8,100)
There will be a common theme among most of recommendations this week. It wasn't intentional at first, but the more I kept digging the more I notice what was happening. We have a large number of elite talents who, for varying reasons, have a salary that's significantly lower than what it was on Week 1. Find 'value' in elite players is a significant edge and I'm looking to exploit that edge this week.
To kick things off we have Antonio Brown. His $8,100 price tag is down $800 from Week 1, due in part to some lackluster performances with Michael Vick and Landry Jones under center. Look for things to continue to improve in the Steelers passing game as Ben Roethlisberger gets settled after missing more than a month's worth of games and they'll lean on Antonio Brown even more with the loss of Le'veon Bell. Brown will see enough of Oakland's D.J. Hayden and David Amerson to do quite a bit of damage.
Odell Beckham, Jr. – NYG @ TB ($9,000)
After Odell Beckham, Jr.'s Week 8 performance it's safe to assume his hamstring issues are a thing of the past. Until they come back, but that's just the nature of hamstring injuries but I digress. Beckham faces a Tampa Bay secondary that's 29th in pass defense DVOA according to Football Outsiders, including a dead-last rank against WR1's. If you're paying up at wide receiver I like Beckham a bit more than Julio Jones ($9,300) simply due to expected game flow.
Demaryius Thomas – DEN @ IND ($7,500)
Despite the demise of Peyton Manning, Demaryius Thomas is still among the elite fantasy options in the game. He's fourth in targets and been on the wrong side of touchdown variance, something that is likely to change moving forward. The fear of Vontae Davis shadowing Thomas is there, but Davis hasn't shadowed any opposing wide receiver in Indianapolis' past five games and rarely shadowed early this season prior to his injury. His size is a problem for any cornerback and he's available for $1,600 less than he was on opening day.
WR2
Randall Cobb – GB @ CAR ($6,800)
There are a number of reasons to give Randall Cobb serious consideration this week. First is that his team is coming off of a terrible showing on Sunday night and when that happens on an island game it sticks in everyone's mind. Now, you're sharp so you know better, but not every DFS player is, so it's worth noting. Secondly, Cobb has seen a $1,200 dip in salary since Week 1 and is way too good to be under $7,000. Carolina's Josh Norman is arguably the top cover corner in the league right now but has only slid to cover the slot receiver on 2% of his snaps this season and that's where Cobb has lined up on 91% of his snaps. Instead of Norman, Cobb will see a ton of Bene Benwikere. Who? Exactly.
Alshon Jeffery–CHI @ SD ($6,700)
Last week's coverboy, Alshon Jeffery, delivered and he's viable again in San Diego on Monday night. He'll likely see a ton of the Chargers' Jason Verrett who's been excellent this season, but I'll still have shares of Jeffery this week. He's Chicago's top offensive option and it's an even wider chasm now that Matt Forte will be out for a bit with a knee injury. He was $1,600 more expensive in Week 1, and his 0.63 points-per-opportunity is tied with Julio Jones as the best mark in the game for anyone over 30 targets. This is a legit WR1 who's priced like a mid-tier WR2.
Mike Evans–TB vs. NYG ($6,800)
Mike Evans had a bit of a down week compared to expectations. He had the show to himself with Vincent Jackson out but was only able to convert three of his nine targets and Tampa Bay didn't do a good job scheming him away from Desmond Trufant, which blows my mind but hey, what do I know? The Giants are fresh off of an arena league-style game against the Saints and their secondary is suspect at best. I don't trust the coaching staff or Jameis Winston very much so look for them to line Evans up in front of Dominique Rodgers-Cromartie instead of Jayron Hosley, but a few targets versus Hosley make Evans a tournament options.
WR3
Michael Crabtree – OAK @ PIT ($4,900)
I tend to treat the Jets and Raiders receiver situation the same way. There's no denying the talent of each team's top receiver, but their second options are excellent as well and routinely way under-priced when compared to their teammate. You can't watch Amari Cooper ($6,700) and not see a future star, but Michael Crabtree might be playing at the highest level of his career and is used in a must more fantasy-friendly way than Cooper currently is. Crabtree has 10 more targets than Cooper and his average depth of target is nearly twice that of Cooper's, something that helps increase Crabtree's touchdown upside. Pittsburgh's run defense has been a pleasant surprise this season, so Oakland will need to lean on the passing game to win on the road in Pittsburgh.
Sammy Watkins – BUF vs. MIA ($5,000) 
Sammy Watkins was a full participant in practice on Wednesday, so he appears to be set to return this weekend along with Tyrod Taylor. With Percy Harvin out look for Watkins to see double-digit targets this week, making him an excellent cash game option for just $5,000, or $2,000 less than his Week 1 price. It looks like Watkins will see a fair share of Miami's Jamar Taylor too, one of the worst cover corners in football so far according to Pro Football Focus.
Allen Hurns– JAX @ NYJ ($5,300)
I don't think the Jaguars will have success running the ball against the Jets, and Allen Robinson will be shadowed by Darrell Revis. Unless you're convinced that Jacksonville is getting shutout this week, they have to move the ball somehow. A lot of teams have been moving the ball on Antonio Cromartie, who's struggled quite a bit this season. I wouldn't use Hurns in cash but he's the type of deep threat that makes for a nice contrarian play in tournaments.
FLEX
Stevie Johnson – SD @ BAL ($3,200)
Stevie Johnson is a great play again this week at near min-salary. The entire Chargers team, including Stevie, left the game at some point last week with an injury and some aren't coming back for Week 9. The big one is Keenan Allen, who's done for the season with a lacerated spleen. Ouch. There's just too much passing volume to be had to pass on Johnson at $3,200 or his teammate Malcom Floyd at $3,900 against a terrible Bears' secondary.
Brandon LaFell – NE vs. WAS ($3,200)
The other viable 'punt' wide receiver is Brandon LaFell. Getting exposure to the Patriots and their 33.25 implied team total is a good idea, and while I love Julian Edelman ($8,200) and Rob Gronkowski ($8,000) I don't think you're giving up a ton of upside while saving $5,000 on LaFell. According to Pro Football Focus' Mike Clay, LaFell has been on the field for 75 of the 100 passing plays since his return, and his 15 targets are just one behind Edelman's 16 in that time frame.