2015 Fantasy Football: Breakout Player of the Year Candidates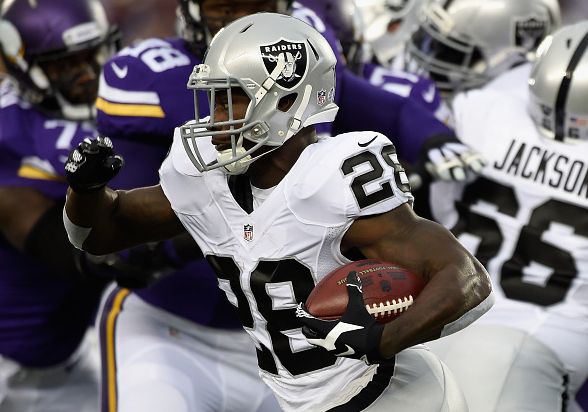 Quarterbacks
Ryan Tannehill, MIA
You may consider last year a breakout season for Tannehill, as he did finish as the fantasy QB8. However, this is the year he'll separate himself from the pack of mediocre, borderline QB1/QB2s. He has been outstanding in training camp and has consistently improved in each of his NFL seasons. The offensive line is getting healthy at just the right time, and he's in the second season with offensive coordinator Bill Lazor's system. Tannehill also has a bunch of new weapons to target. Sure, they lost Mike Wallace, but they replaced him with first-round pick DeVante Parker, deep threat Kenny Stills, veteran Greg Jennings and talented tight end Jordan Cameron. Jay Ajayi could also help in the passing out of the backfield. Rishard Matthews and Dion Sims have also really developed well and have shown it this summer.
Teddy Bridgewater, MIN
This may be a bit premature on Bridgewater, but he should make a huge jump this season. Last year I ranked him as the only QB worthy of a first-round pick. Last season only confirmed my beliefs. The addition of Adrian Peterson will really help him. Defenses will have to respect AP and stack the box. That's when Bridgewater can pick defenses apart. Don't be shocked if he steps in as a QB1 this season.
Running Backs
Latavius Murray, OAK
Murray has shown flashes of greatness with very limited opportunity. The Raiders inexplicably allowed Maurice Jones-Drew and Darren McFadden on the field for the majority of last season while Murray rotted away on the bench. He has also dealt with injury issues in the past. With 82 carries last year, he averaged 5.2 yards per carry and scored two TDs. He also proved he could contribute in the passing game, recording 17 receptions. He is the undisputed RB1 in Oakland this season and is going to get a huge opportunity that he will take advantage of, assuming he stays healthy. He has a rare combination of size and speed.
Chris Ivory, NYJ
Ivory is a veteran but has dealt with injury issues and has never really handled a full workload. He's always been a backup or in committee. This year he's the clear-cut RB1 for the Jets. He's even being utilized in the passing game a bit. Ivory could have a huge year if he can handle a full workload. Look for him to have a breakout season. He's going to have to be the Jets' go-to guy. He has a career average of 4.7 yards per carry.
Devonta Freeman, ATL
Freeman isn't getting as much love as he should because the Falcons drafted Tevin Coleman. People have become way too rookie-crazed, particularly after last season. Don't be confused, Freeman is the RB1 in Atlanta and will have a ton of PPR value. He's going to be the team's primary pass-catcher out of the backfield. Watch for a breakout year from the former NCAA National Champion.
Wide Receivers
Brandin Cooks, NO
Cooks steps in and immediately becomes Drew Brees' top target. Stills and Jimmy Graham are both gone and Marques Colston is well past his prime. Cooks will be a PPR monster this season. As a rookie he caught 53 passes for 550 yards and three TDs in just 10 games. Look for him to make a push for triple-digit catches this season in New Orleans. There aren't as many mouths to feed in New Orleans as there used to be.
Jarvis Landry, MIA
Landry is Cooks without the hype. He's the favorite target of a budding young quarterback and is going to see plenty of those targets. Landry has great hands and is an excellent route runner. The Dolphins run a dink and dunk offense, which Landry couldn't fit into any better. Tannehill thrives on short to mid-range passes, the O-line is below average and Landry plays out of the slot. Last season, he was eased into the offense as a rookie and caught 84 passes for 84 passes for 758 yards and five TDs. Look for all those numbers to increase this season.
Allen Robinson, JAX
Robinson is a tremendous wide receiver. He does everything well. His route running and hands are superb. He just knows how to play the game. Heading into last year's draft I ranked him as the fifth-best WR, ahead of Sammy Watkins and Landry. This kid is that talented and should have been a first-round pick. The situation isn't ideal, but he's by far the best player in Jacksonville. He would be getting a lot more attention if his season didn't end early by a foot injury last year. He caught 48 passes for 548 yards and two TDs in 10 games.
Tight Ends
Virgil Green, DEN
Green could be the new Julius Thomas in Denver, just hopefully not so injury prone. Much like Thomas when Peyton Manning got there, Green is an athletic, unproven pass-catching TE. Own Daniels is listed as the top tight end but that won't last. He's 32 years old and leg injuries make him play like an old 32 year old. He is also injury prone. Look for Green to take over as the primary pass-catching TE much sooner than later. Manning loves his tight ends, especially in the end zone.
Clive Walford, OAK
Walford enters the league as the Miami Hurricanes all-time leader in pretty much every major TE receiving stat. He is one of the most NFL ready tight ends to come out of the draft in years. Injuries have slowed him down in training camp, but he had already surpassed Mychal Rivera during OTAs. Walford runs great routes, has reliable hands and is a solid blocker. Expect to hear his name a lot moving forward. The U has produced a lot of great TEs; Walford is not one to be overlooked.