2015 Fantasy Football: Top 10 Wide Receivers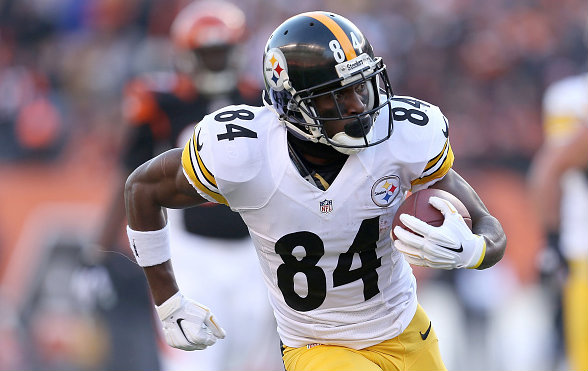 1. Antonio Brown, PIT
Brown was far and away the best fantasy wideout in 2014. He totaled a ludicrous 129 receptions, 1,698 yards and 13 TDs. He was also the model of consistency. Brown had zero games with less than five receptions. Brown had zero games with less than 70 yards and 13 games with at least 90 yards. He also had only seven games in which he didn't catch at least one TD. There is no reason to believe that AB won't be just as great in 2015. For some reason, people do not want to believe in Brown. This season he'll open up with a plethora of legitimate threats that defenses have to respect. Martavis Bryant and Le'Veon Bell have emerged as serious threats in the passing game. Brown may be the safest player in all of fantasy football.
2. Dez Bryant, DAL
Bryant is an absolute monster. He is extremely physical and has a large 220-pound frame. He is also remarkably fast for his size and has excellent hands. Last season he pulled down a career-high 16 touchdowns. The two previous seasons he grabbed 12 and 13 TDs. He may be the most dominant red zone threat in the league. Bryant caught 88 passes for 1,320 yards in 2014. He's not a guy that's going to catch 100 passes, however, his TDs give his fantasy value an incredible boost. With DeMarco Murray now in Philly, Tony Romo may be forced to throw the ball more often. Plenty of those extra passes will head in Bryant's direction.
3. Julio Jones, ATL
Jones is as talented as any wideout in the league. He is a physical mismatch very similar to Bryant. Jones stands 6-foot-3, 220-pounds. The difference between the two WRs is that Jones is a better deep threat and is a high volume reception guy but not quite as dominant a threat in the red zone. Nonetheless, if not for injury concerns, Jones could be even higher on this list. However, he has struggled with injury throughout his football career including multiple foot injuries. Last season in 15 games, Jones tallied 104 receptions, 1,593 yards and six TDs. As the year wore on it became abundantly clear that there were no longer two WR1s in Atlanta. Jones has completely separated himself as the top guy and Roddy White is the clear WR2. Jones has a ceiling as high as any wideout in the league.
4. Calvin Johnson, DET
Megatron has fallen from the top spot for the first time in years. However, it's more a nod to the guys ahead of him than a condemnation of Johnson. He had a disappointing 2014 campaign. Matthew Stafford struggled, and Johnson fought through an ankle injury for much of the season. He still caught 71 passes for 1,077 yards and eight TDs in just 13 games. Not to mention he was clearly hobbled or exited early in two others. In those two games against the Jets and Bills he totaled three catches on three targets for 18 yards. You should have no concern that Megatron is going to fall off a cliff or anything. He is the most gifted WR the league has ever seen and possibly the most gifted athlete. He finally has a legitimate WR2 opposite him and should bounce back in a major way in 2015.
5. A.J. Green, CIN
Green is among the most talented receivers in the game. His skill level is as high as any wideout in the league. The former fourth-overall pick is a 6-foot-4 freak athlete with remarkable hands and the ability to make something out of nothing. He's also really well-rounded. He's a great route runner and can beat you short, deep and in the red zone. Green can catch a screen and make you miss or pull a jump ball down in double coverage.
Despite a litany of injuries last season, including a toe injury he never fully recovered from, Green had an extremely productive season. Green was inactive for three games in 2014 and was injured on the first drive in two others. In eleven games, Green caught 69 receptions, 1,041 yards and six TDs. Had he played 16 games at the same production level, he would have totaled about 100 receptions, 1,514 yards and nine TDs. And that is at less than 100 percent. Needless to say, despite all the hatred for Andy Dalton, Green should continue his torrid pace next season. Don't be shocked if he finishes as high as the WR2 this year. He's that good.
6. Randall Cobb, GB
Cobb was already an excellent option, bordering on the top 10. Now that Jordy Nelson is done for the season with a torn ACL, Cobb's stock spikes immensely. You could make an argument Cobb was the better option to begin with, but now his upside is seemingly infinite. Last season he caught 91 passes for 1,287 yards and 12 touchdowns. No matter who's out there, Aaron Rodgers is going to put up his numbers regardless of who's catching the passes, and Cobb should be the main beneficiary. I'm usually not a fan of knee-jerk reactions to injuries, but this one is accurate. He's going to have a monster season.
7. Odell Beckham Jr, NYG
Despite missing the first four games of the season with an injured hamstring, Beckham exploded on to the scene and was named the NFL Offensive Rookie of the Year. In just 12 games he caught 91 passes for 1,305 yards and 12 TDs. Had he played a full season, those numbers would average out to approximately 121 receptions, 1,740 yards and 16 TDs, which is outlandish. Especially for a rookie. With that said, many people have Beckham ranked in their top three or even higher. However, with only a 12 game sample size, I'm not ready to put him in the top five just quite yet. Even if those 12 games were tremendous.
8. Demaryius Thomas, DEN
Thomas drops to No. 8 because of questions surrounding his offense. New head coach Gary Kubiak is expected to institute a run-heavy offense and there are certainly a ton of questions surrounding his rapidly aging quarterback, Peyton Manning. By the end of 2014 Manning had about as strong an arm as my little sister. He hadn't exactly been throwing darts to begin with, but that got ugly. He is clearly breaking down. I would be very concerned about Thomas come fantasy playoff time if Manning breaks down again. However, if it really was just a bad quad and Manning is 100 percent for a full season, obviously Thomas belongs higher on this list. Nonetheless, I'm not a believer. I think Peyton's all but done. Hopefully his noodle arm can remain al dente for the majority of the season.
9. Mike Evans
Last season I believed Evans was the most talented offensive rookie in the draft and should be the first wideout off the board. However, I didn't expect him to have a great rookie campaign. Turns out he went on a ridiculous run late in the season and ended up having a great rookie season. If he wasn't in arguably the greatest draft class for WRs ever, he would be getting way more attention than he is. Then again, the same can be said for quite a few 2014 rookie WRs. He's a 6-foot-5, 231-pound freak athlete who can flat go up and get it. He scored 12 TDs this past season. Don't expect that number to come down anytime soon. Evans will be a beast in the red zone but also has the speed to beat defensive backs between the 20s. He's a special talent who's only going to get better. Jameis Winston is only a rookie but he's still much better than any of the slack-jawed yokels the Bucs paraded out there last season. Don't be shocked if Evans emerges as the best rookie wideout in his class.
10. Alshon Jeffery
Jeffery gets a shot to be the man in Chicago with Brandon Marshall now in New York. It is important to note that he's dealing with a calf injury, which is reportedly nothing and he's expected back any day. However, the Bears have become liars this offseason so it's a minor concern. Nonetheless, he's developing into a star wideout. Last season, he caught 85 passes for 1,133 yards and 10 TDs. He should at least match these numbers in 2015. While many are scared off by Jay Cutler you shouldn't be. He doesn't hurt fantasy wideouts at all, if anything his gun-slinger mentality helps them as does playing from behind. If you're a Bears fan … then you should be scared.