2015 Fantasy Football Week 4 Gold Mine: Roll With Thomas Rawls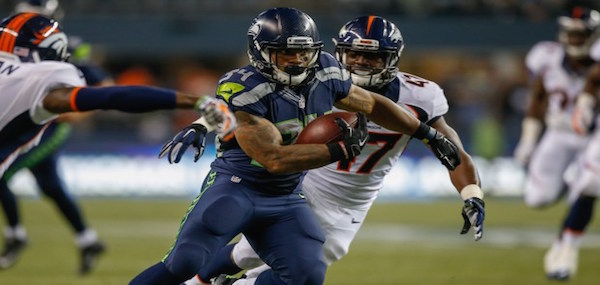 Oh bye weeks! They always come at the complete wrong time for anyone to actually justify and it always seems to come too early. If you are 0 – 3 or 1 – 2 and you are going into a week where you potentially are losing three or four players due to bye / injuries combined you are likely to struggle putting together a roster that can compete this week.
You may be lucky to only be losing either Brady or Mariota at QB but with how well both of those guys are playing you need a back up plan. At TE, it seems like its Gronk and everyone else and if you have Gronk you most likely don't have a back up because you don't really need one. WRs Edelman, Dorial Green Beckham and Kendall Wright are all going to miss time and Sankey, Antonio Andrews, Dion Lewis and LeGarrette Blount will all be missing time this week.

Couple that with Chris Ivory, Marshawn Lynch, LeSean McCoy all being questionable at HB. DeVante Adams, Torrey Smith, and Eric Decker among some others all potentially missing time and the loss of Big Ben to add to Cutler and Romos extended injuries at QB and you could be in a pretty tough spot.
The following group of players has either played well and is surprisingly still owned in very little amount of leagues or is set to break out with a great week 4 match up and beyond.
As always lets take a look at some players shockingly owned in less than 35% of ESPN Leagues. Don't play in ESPN leagues, no problem; each player is listed with their ownerships in Yahoo and ESPN leagues as well as their prices on Fanduel and Draftkings.
Derek Carr (OAK): ESPN: 34; Yahoo: 51; NFL: 23.7; FD: 7K; DK: 5.3K
It's absolutely shocking that Carr is still on waiver wires. So far this season he is the 12th best QB in the league good for a QB1 spot in 12 team leagues and that includes his week 1 performance that was cut short due to an injury. He has since threw for more than 300-yards in each game and has tallied five TDs to only one interception. The Raiders get another favorable match up this week as Carr and the black & silver get to face the Bears who have been useless to say the least against the pass. Despite giving up no more than 235 passing yards in any game this year they have failed to stop TD passes giving up a total of eight through the first three games of the season.
Rueben Randle (NYG): ESPN: 32.1; Yahoo: 33; NFL: 7.4; FD: 5.7K; DK: 4.5K
Which Randle will we get to see? That is always the question when it comes to Rueben Randle who last year played pretty well as the teams #2 WR with Cruz out, totaling more than 70 receptions and nearly 1,000 yards receiving. In weeks 1 and 2 Randle was basically non-existent recording just four receptions on seven targets but in week 3 Randle exploded to the tune of seven receptions for 116 yards and a score. Even though Randle's TD was on a fluke 41 yard reception the fourth year veteran still pulled in six receptions and more than 70 yards to that point good for a 13-point performance and a decent WR3 / Flex spot. The news of Victor Cruz being downgraded to doubtful this week Randle should get plenty of targets in an offense that has done a lot to get him involved. The Giants week 4 opponent Buffalo is plenty of issues in their own right stopping the pass and that shouldn't change any time soon.
Marvin Jones (CIN): ESPN: 28.7; Yahoo: 47; NFL: 7.9; FD: 5.5K; DK: 3.8K
One year removed from his break out year everyone thought that 2014 would be the year of Marvin Jones, however, injuries to both his ankle and foot kept him out of action for the entire year. The emergence of Mohamed Sanu at times last season made many think it would be Sanu to keep that train going in 2015 but clearly Dalton has his target back in Jones who is finally healthy. Although Jones started off slow with only four receptions for 67 yards Dalton looked to his safety blanket for more than 90 yards and a touchdown in week 3. AJ Green is of course the key cog that keeps the Bengals offense running but with teams keying in on the pro bowl wide out Marvin Jones should get plenty of targets moving forward and clearly Dalton trusts him to go deep and get the ball. The Bengals get the league worst defense against WRs this week as the Chiefs coming off a short week just gave up five touchdowns to the Packers on Monday Night Football.
Ted Ginn Jr (CAR): ESPN: 15; Yahoo: 19; NFL: 1.9; FD: 5.5K; DK: 3.4K
Without question the Panthers wide out situation is dismal. Who would have thought that it would be Ted Ginn Jr leading the team in both receptions and yards through the first three weeks from the position? The quick and easy answer is no one. Ginn is building a rapport with Cam Newton and his ability to stretch the field is allowing for Greg Olsen to manage the middle of the field building up his value for fantasy owners. Ginn has now reeled in four passes in two straight games and has either recorded 40 yards and a score or 93 yards in those two games respectively. A bit of a deeper play here but the Bucs have been known to give up plenty of yards to opposing wide outs this year tallying more than 200 yards to wide receivers in the previous two games and allowing them to score in each.
Thomas Rawls (SEA): ESPN: 12.1; Yahoo: 28; NFL: 3.9; FD: 6K; DK: 3K
Is there something the average fantasy football player knows that we don't know? Rawls is the first Seattle running back to gain more than a hundred yards in a game since Marshawn became a Seahawk a few years back and despite that happening against the hopeless Bears the Seahawks have another decent match up against the Lions at home on Monday Night Football. There are plenty of questions surrounding Marshawn Lynch and his calf, back and hamstring that could cause him to miss this game or even play in a very limited role and that's where you come in. Picking up Rawls is an absolute MUST if you have Lynch as your HB and for those of you who do not you should at least stash him in the event that Lynch misses an extended period of time. This play is contingent on Lynch being out for the game but if he is he should be a perfect start play in the Flex this week.
The first week for NFL bye weeks isn't that big but the amount of quantity you could be losing due to them and the injuries that keep piling up you could be sitting in a situation that could spell disaster.
These players and others are still on the waiver wire and could easily be fill ins for those you are missing or stash a way as the season progresses.
Be aggressive with the waiver wire as it is your friend. It can make or break your season and is critical to keep you in the race as we push further into the dog days of the season.