2015 Fantasy Football: Week 4 Injury Report — Time to Drop Davante Adams?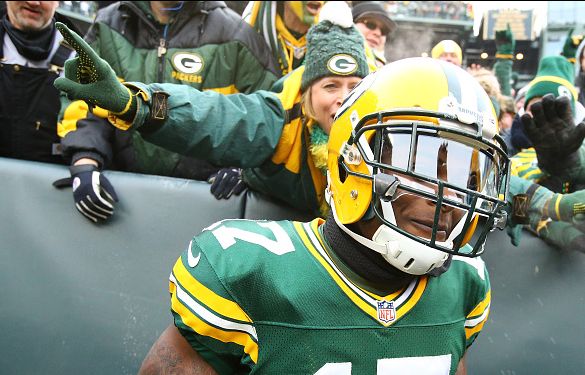 If you love fantasy football, you LOVE injuries. Well, not really, but we're certainly gluttons for punishment. The only other place you'd find people willingly surrounding themselves with so much mayhem and gore is the emergency room at your local hospital.
As we enter Week 4 of the NFL season, the casualties keep piling up, directly affecting our fantasy football teams.
Teams released their initial injury reports yesterday, so we now have a better idea of which players are ailing and who has a chance of playing this week. Let's get into it!
McCoy isn't going to play in Week 4. His hamstring has been an issue since preseason and it's clearly limiting him on the field. The 2013 rushing leader has looked like a JAG (Just Another Guy) while on the field, averaging a measly 3.4 yards per carry on 43 attempts.
After a bit of pondering — which he's been known to do — coach Rex Ryan has decided that it will be the Karlos Williams Show when the Bills take on the New York Football Giants this Sunday. Not only will he be the featured back, but the Giants have allowed the third-most (PPR) points to running backs this season.
Williams has actually looked like the better back in Buffalo, averaging a ridiculous 7.8 yards per tote, which was bolstered by a 12-carry, 110-yard performance versus the Dolphins this past week. Even when Shady is healthy, Williams won't be a straight handcuff; he'll have standalone value. This is reflected by the 15 touches he saw prior to Sunday's game, and the fact that he's just too explosive to keep on the sidelines.
Karlos Williams is a must-own player right now, yet is somehow available in 44 percent of ESPN leagues. He is a high-end RB2 for as long as McCoy is out, which could extend past this week. Make sure he's not sitting on any waiver wires.
I'll make a deal with you guys: this will be the last time I blurb about Victor Cruz this season.
The reason?
I'm not optimistic he actually plays in 2015, or at least provides owners with any value.
Cruz was expected to debut for the Giants this week, but he aggravated the same calf injury that has kept him out since training camp.
If this were any normal calf injury, I'd be less pessimistic, but Cruz is also coming off surgery to repair the patella tendon he tore in Week 6 of last year. Recovery from this kind of injury is difficult in its own right, but adding the calf injury to it only compounds the issue. Also, aggravating it will only make the next step in the healing process take even longer.
Victor Cruz is owned in 63 percent of ESPN leagues, and I'll admit I even added him in one league last week, but as of now he can be safely dropped EVERYWHERE but the deepest of dynasty leagues.
Everyone jumped on the Davante Adams bandwagon after Jordy Nelson tore his ACL. Unfortunately for fantasy owners, their investment in Adams has yet to yield any profit.
Adams has dealt with an ankle injury which was aggravated in the first quarter of Monday night's game against the Chiefs. And even when he's been healthy, the fantasy stats just aren't there. In Week 1 he was targeted eight times, but that resulted in just four catches for 59 yards. Before going down in Week 2, he caught 5-of-5 passes for 33 yards.
The Packers have a high-flying offense, but there are many mouths to feed in Green Bay, and it's clear quarterback Aaron Rodgers favors James Jones over Adams — and Jones is after Randall Cobb in the pecking order. Even rookie Ty Montgomery has garnered six targets in the two games he was used at wide receiver.
Adams didn't practice Wednesday, putting his status in doubt for Sunday's tilt with the 49ers. Even if he doesn't play, he can be safely stashed in leagues that allow you to put anyone who sits out in an IR spot. But what if you're in a league that doesn't have that feature and you have limited bench spots? If that's the case, you may have to consider dropping him if his situation doesn't improve. Now that bye weeks have begun, every roster spot matters.