2015 Fantasy Football: Week 4 TNF Preview — Ravens at Steelers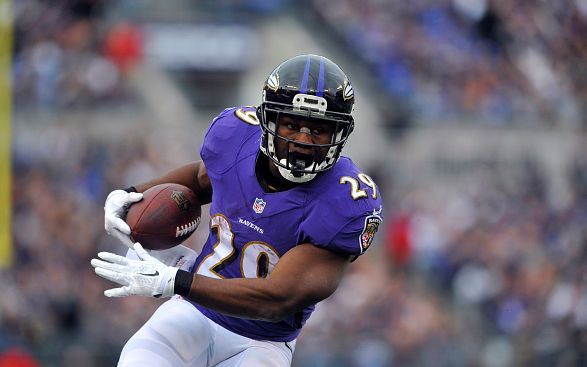 Thursday October 1, 2015
Baltimore Ravens @ Pittsburgh Steelers
This is one of the leagues great rivalries. It may be my personal favorite to watch. However, it's not always great for fantasy owners. These games usually tend to be low scoring and dominated by defense. While that has changed a bit in recent years, all signs point to this game reverting back to that. The Steelers are missing Ben Roethlisberger, and the Ravens offense hasn't had much going for it this season. Thursday night games also tend to be sloppy and offenses tend to struggle, especially the visiting team. This is a rare great Thursday night matchup. And it's always fun to watch Michael Vick. He's not the same guy he used to be, but he's still exciting.
Baltimore Ravens: Key Players
QB Joe Flacco
Flacco has a big arm but doesn't have a whole lot of weapons at his disposal. It's pretty much been Steve Smith or bust to this point. Crockett Gillmore has also been a pleasant surprise, nevertheless, he's already been ruled out for the game. The Steelers secondary has been god awful, though, and Flacco should at least have a decent game.
Verdict: Sit Flacco. He's not a terrible option at all and if you need him, he is startable. The matchup is good. Still, I'm weary of starting visiting QBs on the road against a division rival on the short week.
RB Justin Forsett
The Ravens have to get Forsett more involved if they want to start winning. Even if the rushing game is struggling, he should be more heavily utilized in the passing attack. With Gillmore out, look for him to see more targets on Thursday night.
Verdict: Start Forsett. It's certainly not time to give up on Forsett yet. He should have a big game in PPR leagues. Something has to change in the Ravens offense and throwing him the ball is something they need to do to have success. The fear is that Buck Allen or Lorenzo Taliaferro steal those targets, but it's way too soon to concede that.
WR Steve Smith
After a tough Week 1 against what could be the toughest defense in the league in Denver, Smith has been an absolute beast the past two weeks. He has put up stat lines of 10-150-0 and 13-186-2. What's even more telling is the fact that he has seen 33 targets in these past two games.
Verdict: Start Smith. He's all they got and he's going to see a ton of targets. It's more than possible he slows down late in the year, much like he did last season. Nonetheless, for now he's almost a must-start.
TE Maxx Williams
Williams is expected to get the start with Gillmore out. However, he is very raw and struggled in training camp. He was actually outperformed by fellow rookie Nick Boyle this summer. This is just a gut feeling, but I think Boyle may see a lot more snaps and maybe even targets than most are expecting him to see.
Verdict: Sit Williams. I really don't expect much out of him this season. He doesn't have a skillset that tends to translate to the pros immediately. That doesn't mean he can't be good eventually, just probably not as a rookie.
Pittsburgh Steelers: Key Players
QB Mike Vick
While Vick is exciting, he's a very risky play. He's the rare boom-or-bust quarterback. Coming off a short week and the fact he was signed right before the season started doesn't help his case. What he does have going for him is his tremendous weapons that can make plays on their own. Expect a lot of dump offs to Le'Veon Bell and Antonio Brown.
Verdict: Sit Vick. There is just way too much risk here. You don't want to take a flier on a backup playing on Thursday night and be looking at next to nothing on the scoreboard all week.
RB Le'Veon Bell
Bell is the best fantasy asset in the NFL, especially with so many of the assumed feature-backs off to a slow start. The Ravens are a very tough against running backs. Bell is tougher against defenses.
Verdict: Start Bell. He's a must-start every single week. No matter what defense he's facing, he should be in your lineup.
WR Antonio Brown
Much like Bell is the top running back, Brown is the best receiver. Even without Big Ben, Brown is still a must start. Look for him to be relied on even more heavily than usual. He will now be called upon to make plays on his own more than ever out of necessity.
Verdict: Start Brown. He's another must-start week in and week out. Don't overthink it because Roethlisberger is injured. Get him in your lineup.
TE Heath Miller
Miller is usually a reliable guy who is going to catch a few passes and has some upside. With that said, he really can't be trusted with Roethlisberger out. Brown and Bell are going to get theirs, but it's the other guys that going to suffer.
Verdict: Sit Miller. Not only should you sit Miller, sit all the other options in Pitt other than Bell and Brown. They are way too risky with Vick under center.
Final Score
Baltimore: 19
Pittsburgh: 13
Best Play
Ravens: Steve Smith
Steelers: Le'Veon Bell
Sleeper
Nick Boyle