2015 Fantasy Football: Week 5 Rookie Report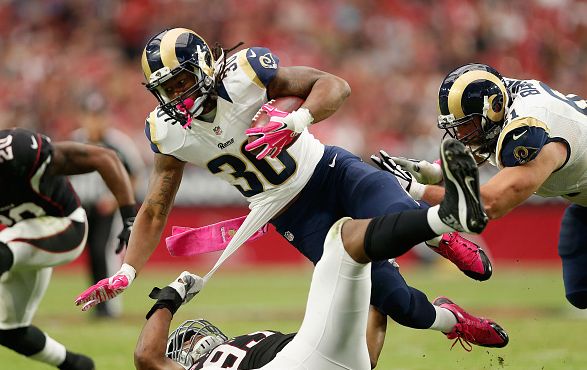 After five weeks of the NFL season, let's check in with the league's rookies.
Marcus Mariota threw for just 189 yards and did not find the end zone for the first game of his young career in the Titans' 14-13 loss to the Bills. The 189 yards were also a low through four games this season, which doesn't come as much of a surprise against a tough Bills defense. Mariota did throw his third interception of the season, and it came on the Titans final dive of the game when they were trying to come back from a 14-13 deficit. Mariota did have five carries for 47 yards, including a 22-yard scamper in the second half. This was the first game of the season where Mariota was able to really turn on the jets to show what kind speed he can bring to the table against NFL defenses.
Jameis Winston did not turn the ball over for the entire game for the first time in his young career. Week 2 against the Saints was the only other game that Winston did not throw an interception, but he lost a fumble. He finished with 207 yards in Week 2, and he finished with 209 yards in Week 5 in the Buccaneers win over the Jaguars. These performances were very similar, and it makes sense that the Buccaneers two wins this season were when Winston did not throw an interception. Doug Martin stole the show with three touchdowns (two rushing, one receiving), which took a lot of heat off of Winston and the passing game. Winston is going to have a great career and will really be able to grow as a quarterback if Doug Martin has a revival and becomes the back he once was in his early years.
Todd Gurley is proving to be the best rookie running back by a mile after just two games, as he finished his second start of his career with 30 carries for 159 yards against a very good Packers run defense. Not only is Gurley a rookie, he's a rookie that's coming off of major ACL surgery in his senior season at Georgia. He appears to have completely moved on from his injury, and the Rams did a great job of being precautionary with Gurley until now. The Rams have found their running back of the future, and it appears clear that he will be a very early draft choice next year. Gurley is already second in the NFL in rushing among rookie ball carriers with 314 yards on 55 carries. Thomas Rawls has 326 yards on 58 carries for the Seahawks, as he has filled in as the primary ball carrier for the past three games while Marshawn Lynch has been injured. Barring injury, Gurley will likely lead all rookies in rushing this season.
TJ Yeldon has had quite the consistent theme so far through five games for the Jaguars. He has had 12, 25, 11, 22, and 11 carries in those five games, with 291 yards. He has yet to find the end zone on a rushing attempt, but did get his first NFL touchdown in Week 5 on a reception from Blake Bortles. Yeldon had a career high five catches for 31 yards to go along with his 32 yards rushing against the Buccaneers, but he did leave the game with a groin injury. He has started for the Jags since Week 1 and has 81 carries on the year, but he really needs to do more on the ground before he can be trusted in non-PPR leagues every week. Yeldon has been a solid running back in PPR formats this season with his 14 catches, and if he can avoid a serious injury with this groin problem, he should continue to be a solid RB2 or FLEX option the rest of the way.
Thomas Rawls has been tremendous filling in for Marshawn Lynch in his three weeks as their featured back, especially in his most recent outing against the Cincinnati Bengals. Rawls finished with 169 yards and a touchdown, including a 69-yard touchdown run. Even if you took that run away from Rawls, he was able to accumulate 100 yards on 22 carries against a good Bengals defense. However, he DID have that 69 yard touchdown, making it one of the top rushing performances from a yardage standpoint in the NFL this season. As long as Lynch sits, Rawls should be started and used as an every week back.
Matt Jones hasn't been anything close to the primary back in Washington like we suspected he could be after his explosion in Week 2, but he is still getting the carries around the goal line for the Redskins, still giving him value. He should be owned because he is the closest "backup" running back that could emerge as the starter, where he would instantly become and RB2 or even RB1. Jones has a toe sprain, which should be monitored down the road if you are relying on him in deeper leagues or even DFS lineups, but he should continue to get half the workload for the Redskins backfield.
Statistically, Week 5 was the worst game of the young career for Amari Cooper, as he hauled in four catches for 47 yards. Cooper had five catches for 47 yards in Week 1, and four catches for 49 yards and a touchdown in Week 4. Cooper was shadowed by Aquib Talib and that Broncos defense, which is the number one defense in the NFL, so a "bad" game was almost to be expected. Amari Cooper will continue to put up big numbers as the primary receiver in Oakland, however, he will likely see a lot of top corners and double teams as well. It's going to be hard to sit him with the amount of targets he sees each week, however, when the Raiders go up against top defenses and top corner backs in the league, don't expect him to put up big numbers.
Duke Johnson is still a running back. I just wanted everyone to know that, despite his receiving numbers in comparison to his rushing numbers. Johnson has not been able to get anything going on the ground for the Browns this season, but he has been tremendous in the passing game with 15 catches for 140 yards and a touchdown in the last two games. If the Browns are able to get anything going in the running game, it will likely be Duke Johnson that takes the leap as the primary rusher. With his effectiveness as a receiver, Johnson could turn into an every down back in Cleveland and would be able to posses some serious value. For now, PPR leagues seem to be the best bet to get him in your lineup.