2015 Fantasy Football: Week 7 DFS Quarterbacks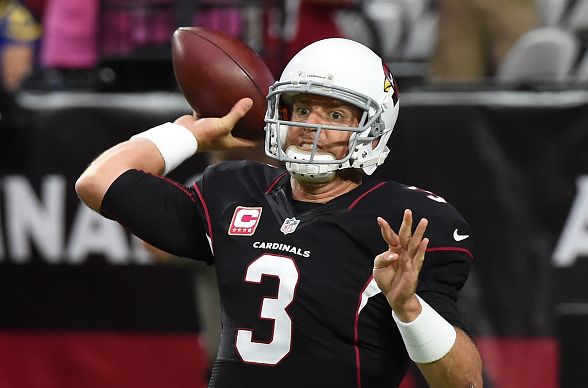 Welcome to TheFantasyFix.com's seventh installment of our DFS quarterback rankings. We will list six quarterbacks here that we think you should start based on their current price on Draftkings.com. The first tier is for the elite quaterbacks, the high priced big name guys with favorable matchups that everyone will likely be after. The next tier is "value", where you will find the best value for your buck. The final tier is "contrarian", where you will spend little on your QB with the hope that they will exceed expectations and help you cash out. As always, good luck this week! I hope you all take home the big money.
Tier 1 – Elite
Andrew Luck, Indianapolis Colts, $7,600 – Tom Brady is the highest priced quarterback this weekend, but I'm shying away from him given his matchup against a stellar New York Jets defense. Andrew Luck, on the other hand, is facing a bad New Orleans Saints' defense at home, which points to him having a huge game. Luck returned Sunday night against the New England Patriots from a shoulder injury and played well, throwing for 312 yards and three touchdowns. Luck was shaking off the rust as well, as his accuracy wasn't all there. The Saints have allowed the second most points to opposing quarterbacks this season, so starting Luck this weekend is an easy call. He hasn't been everything fantasy owners might have hoped for this season, but hopefully his shoulder injury is a thing in the past.
Carson Palmer, Arizona Cardinals, $6,700 – I put Carson Palmer under the "elite" section because he is a must start this weekend. I will be rolling with Palmer in nearly all of my lineups this weekend, as the veteran QB has an extremely favorable matchup against the Baltimore Ravens' train wreck of a defense. I mentioned that the Saints rank second to last against opposing QBs, trailing only the Baltimore Ravens in that category. There have been four quarterbacks this season that have thrown for at least 340 yards and multiple touchdowns against this defense, and those names include Colin Kaepernick and Josh McCown, among others. Palmer struggled last weekend against the Steelers defense, so it wouldn't be surprised to see the Cardinals come out firing in this one. Palmer has four games of at least 22 fantasy points this season, making him a must start in this favorable matchup.
Other options: Drew Brees and Matt Ryan 
Tier 2 – Value
Phillip Rivers, San Diego Chargers, $6,500 – Rivers exploded last week on the road against the Green Bay Packers, throwing for a career high 503 yards and two touchdowns in the team's loss. This is an offense that is struggling to run the ball, which is why Rivers was able to achieve over 500 yards through the air. His matchup this week comes at home against the Oakland Raiders, as he looks to score over 24 fantasy points for the fourth week in a row. If all things go right for Rivers and the Chargers, he has a chance to be a top five quarterback this week, making him an easy start. The Raiders' defense has allowed four opposing QBs to score at least 21 fantasy points this season, so look for Rivers to do the very same.
Cam Newton, Carolina Panthers, $6,600 – Newton is establishing himself as an early MVP candidate, so it's difficult to shy away from him now any given week. The matchup this week isn't great, as he's going against a Philadelphia Eagles' defense that doesn't allow big points to opposing quarterbacks. However, given the way he has been playing, Newton is still able to make this list. Let's not forget, Newton just dropped 21 fantasy points against the Seattle Seahawks defense on the road, giving him at least 21 fantasy points in three of his last four games. Though Newton was unable to put up big numbers last year against the Eagles, there is plenty of reason to believe he will do it this week, especially given the fact that he is playing at home. Look for Newton to work some of the same magic that he did last week against the Seahawks and put up big numbers.
Other options: Eli Manning 
Tier 3 – Contrarian
Ryan Tannehill, Miami Dolphins, $5,700 – Tannehill hasn't had the breakout season that many were expecting, though the QB has still been solid thus far in the season. He has a favorable matchup this week going up against a Houston Texans defense that has allowed four QBs this season to score at least 20 fantasy points against them, with the most recent being Matt Hasselbeck and Black Bortles. The Phins are looking for their second win in a row since firing coach Joe Philbin, and they have all the tools to do it at home this weekend. A lot of this game could be dominated by running back Lamar Miller, but Tannehill still makes for a solid play given his low price tag. Tannehill and the Dolphins' offense have a very good chance of putting up big numbers against Houston.
Ryan Fitzpatrick, New York Jet, $5,200 – I took the chance at starting Fitz this past week and it paid off big time, and I expect him to do the very same this weekend against the New England Patriots. The Jets typically play good against the Pats, so I don't expect this to be a blowout like many others do. In fact, I'm actually predicting the Jets to upset the Patriots this weekend. In order to do that, Fitzpatrick will need to have another strong game, something that he should be able to do against New England defense that gives up the eighth most points to opposing quarterbacks. In four of the five games that Fitzpatrick has started this season, he has thrown for multiple touchdowns. This isn't going to be a sexy pick by any means, but the price tag is low enough that you can take a shot on Fitz and hope for the best, like I did last weekend. Oh, and if I'm wrong about the Jets making this a competitive game, at least there will be plenty of garbage time for him to rack up some fantasy points.
Other Options: Teddy Bridgewater, Landry Jones, Alex Smith