2015 Fantasy Football, Week 9 Waiver Wire: Add DeAngelo Williams, Jeremy Langford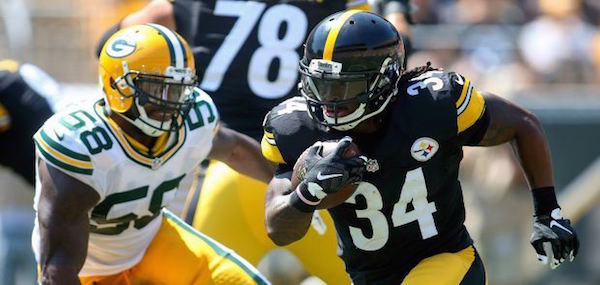 Week eight of the National Football League is officially in the books. And with that, fantasy football fans are looking towards the waiver wire to see if their team can be improved in any way due to numerous injuries to prominent players and six teams on a bye.
Before we get to this week's potential waiver wire pickups, it's important to note that I WOULD spend my first waiver priority on DeAngelo Williams or Jeremy Langford, depending on who's available. The fantasy football playoffs are just a handful of weeks away and you don't want that top waiver priority sitting in your pockets. Use it if you need it. Also, the other players listed below are in no particular order.
Teams on a bye in week six: Lions, Chiefs, Cardinals, Seahawks, Ravens, Texans
DeAngelo Williams | Steelers and Jeremy Langford | Bears

Week eight was painful. Two of the teams that could be impacted the most going forward are the Steelers and the Bears. Each of their featured backs — who were also unanimous first round fantasy football selections — suffered serious knee injuries.
Le'Veon Bell's looked real bad. I couldn't look. And the end result for Bell is badly torn MCL, ending his 2015 season. In his stead, DeAngelo Williams figures to pick up the bulk of the work out of the Steelers' backfield. Williams has 63 carries for 310 yards (4.9 yards per carry – same as Bell) and three touchdowns on the year. He's also added 10 catches on 12 targets for 67 yards through the air. The Steelers face the Raiders in week nine — a team surrendering the thirteenth-most fantasy points to opposing bell cows — and the Browns in week 10, who yield the second-most fantasy points to opposing backs. He's going to be the starter with two favorable matchups on the way. You should be burning your top priority on Williams this week if he should be available on your waiver wire.
If by chance you don't have the luxury of the top waiver priority, or DeAngelo Williams is already spoken for in your league, look to add Jeremy Langford of the Bears. He'll be filling in for Matt Forte who also left week eight's action with what is being reported as damage to his MCL. However, unlike Williams, the severity of Forte's injury doesn't seem to require surgery at this time, meaning he should play again this season. But, the question is "when?" Again, with the fantasy playoffs around the corner, we can't wait around with this top waiver priority in our pocket to figure out.
Langford only has 27 carries for 80 yards (3.0 yards per rush) and two touchdowns on the ground along with two receptions on five targets for 31 yards through the air on the season. But he'll draw the best possible matchup for ball carriers in week nine — the San Diego Chargers, who allow the league's most fantasy points to opposing running backs. Times are tough with injuries and byes, these decisions are not.
Consider in leagues: All
Waiver Priority Worthy: 1 and lower
Spend this much FAAB to acquire: 75+%
Players I'd drop for him: Le'Veon Bell, Reggie Bush, Ameer Abdullah
Kamar Aiken | Ravens and Malcolm Floyd/Stevie Johnson | Chargers
Kamar Aiken has been here before. But now that veteran Steve Smith, Sr. is out for the season his role on the Ravens offense presumably increases. Aiken hauled in each of his six targets in week eight and has now caught 25-of-41 targets for 333 yards and two scores on the year.
For Johnson/Floyd, their role will increase in the pass-heavy Chargers offense now that Keenan Allen is expected to miss an undisclosed amount of time with a kidney injury. While both receivers will see an increased role in the team's offense, they are different players that provide different upsides for your squad. Floyd is the home run threat (19.1 yard aDOT) and could have more value in standard leagues. While Stevie Johnson runs the shorter routes (6.3 yards aDOT) and could be the better value for those in PPR formats. Both should be considered, but I'm adding Floyd before Johnson if I'm picking between the two.
Consider in leagues: All
Waiver Priority Worthy: 3 and lower
Spend this much FAAB to acquire: 15%
Players I'd drop for him: Steve Smith, Sr., Kendall Wright, Terrance Williams
Joique Bell | Lions
Ameer Abdullah is in the dog house, leaving Joique Bell to be the lead hog in week eight. He carried the rock only 7 times for 56 yards and failed to haul in his only target of the game. Theo Riddick will still be the guy on passing downs, but Joique makes for a nice depth addition during the byes, especially with all these injuries.
Consider in leagues: All
Waiver Priority Worthy: 4 and lower
Spend this much FAAB to acquire: 10%
Players I'd drop for him: Le'Veon Bell, Reggie Bush, Ameer Abdullah
Vernon Davis | Broncos
Vernon Davis found himself a new home on Monday as the Denver Broncos acquired the 31-year-old former Pro Bowler for some late-round draft picks in the upcoming drafts. Davis isn't young. And he hasn't been the healthiest of pass catchers in the recent years. But he has the pedigree and now has Peyton Manning under center of his new offense. Seems like the perfect "fresh start" for Vernon Davis and he should prove to be a fine target between Demaryius Thomas and Manny Sanders.
Consider in leagues: 10+ teams
Waiver Priority Worthy: 6 and lower
Spend this much FAAB to acquire: 10%
Players I'd drop for him: Richard Rodgers, Ladarius Green, Owen Daniels
Derek Carr | Raiders
Derek Carr is fun to watch. The guy is a true gun-slinger. And one of the main reasons to add him to your fantasy football team is the volume. He's tossed the ball at least 30 times in 6-of-7 games. Carr has also completed 20 or more passes in 6-of-7 games, threw for 300 or more yards in 3-of-7 contests and tossed two or more touchdowns in 5-of-7 games. Carr is averaging more than 50 yards passing per game than he did in '14, his completion percentage is up to 65.5% from 58.1 in '14 and he's seen a spike of ~3 yards per reception from his efforts last season. He's been better in this small sample, but his upcoming schedule isn't exactly a cakewalk, so we'll see exactly what this Bulldog is made of. I'm making the add.
Consider in leagues: 10+ teams
Waiver Priority Worthy: 6 and lower
Spend this much FAAB to acquire: 10-15%
Players I'd drop for him: Colin Kaepernick, Ryan Fitzpatrick, Alex Smith
Bengals D/ST
Like every other week, we simply look for a team defense with a beneficial matchup that could be available in most of your leagues. This week that is the Bengals. They'll go head-to-head with the Browns who surrender the league's second-most fantasy points to opposing team defenses.
Consider in leagues: 10-team
Waiver Priority Worthy: 10 or lower
Spend this much FAAB to acquire: 0-5%
Players I'd drop for him: Giants, Jaguars, Texans