2016 Fantasy Football: Bounce Back Candidates – Wide Receivers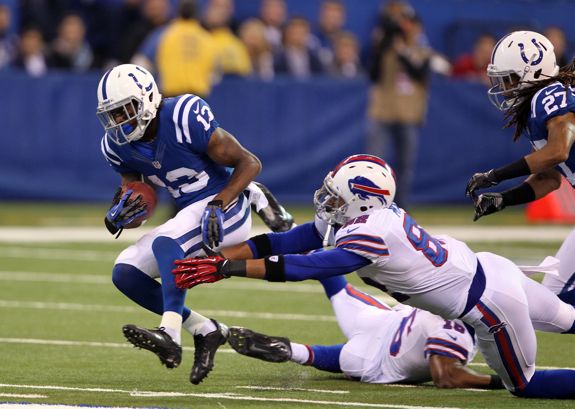 We will be covering five players at each key position that will look to have a bounce back season in 2016. To be clear, this is players that will look to bounce back, not necessarily those most likely to bounce back. We are moving on to the wide receivers with this one. All of these guys had down years and have high hopes of turning things around this year. Hopefully this benefits their team and your fantasy team.
You will notice guys like Jordy Nelson and Kelvin Benjamin aren't listed. I made it a point to focus on players that struggled on the field and not players that faced physical injuries.
Randall Cobb, Green Bay Packers
When Jordy Nelson went down with a torn ACL last summer, Cobb's Fantasy value catapulted as high as WR #5 in some cases. He immediately became a consensus WR1 by the Fantasy community. Without Nelson there, Cobb was the WR1 in Green Bay and would be seeing a ton of targets from Aaron Rodgers. That's not how things worked out at all. Rodgers, Cobb and the entire Packers offense struggled mightily based on expectations.
In 2014 Cobb exploded for 91 receptions, 1,287 yards and 12 touchdowns. Unfortunately he took a huge step back in 2015. He caught just 79 passes for 829 yards and six TDs, despite seeing three more targets (129) than in 2014. Aside from not having Nelson to draw attention and stretch the field, there were also some early season shoulder issues.
With Nelson back at full strength and Cobb at full health, he is poised to bounce back in 2016. Everything points to his numbers climbing back up this season. However, he proved last year that he'll never be a WR1 caliber player on an NFL team.
T.Y. Hilton, Indianapolis Colts
Hilton didn't have a terrible 2015 season by any stretch, nonetheless, he fell well short of expectations. For the majority of the season he disappointed Fantasy owners by only producing two 100-yard games. All of his numbers declined from 2014 when he caught 82 passes for 1,345 yards and seven touchdowns. In 2015 he saw his totals dip to 69 receptions, 1,124 yards and five TDs in 16 games as opposed to 15 in 2014.
The glaring issue in 2015 was the health of star quarterback Andrew Luck. With Luck healthy Hilton will hope to see his production climb back to where it was in 2014. There are also more mouths to feed now than there were in 2014. Donte Moncrief and Phillip Dorsett are emerging as well as the recently extended Dwayne Allen. I would expect Hilton to be better than he was in 2015, but he may not reach 2014's elite numbers.
Torrey Smith, San Francisco 49ers
Smith had a disastrous first season in San Francisco last year putting up career lows across the board. He caught just 33 passes for 663 yards and four touchdowns. In 2014 in Baltimore he caught 11 TD passes and topped 1,100 yards in 2013. His spiral was very predictable, though.
The 49ers QB situation is among the worst in the NFL as it was last season. Smith was never a great wideout as is. He's one dimensional with one of the worst set of hands in the NFL. His drop rate over the past two season is among the worst in the league. He dropped 18.33 percent of his catchable passes in 2014, which is one of the reason the Ravens let him walk. Despite being 50th in targets, he was second in drops. Things didn't improve much in 2015. He caught two or fewer passes in all but three games, including multiple zero catch games.
Don't expect Smith to bounce back this season. There is no reason to expect it. His QB situation is equally awful and he's not that good of a receiver. He has some boom-or-bust potential, however, for the majority of the season I fully expect him to be a Fantasy afterthought much like he was last year.
Mike Wallace, Baltimore Ravens
Wallace didn't regain his explosive Pittsburgh Steelers form with the Miami Dolphins, but he wasn't bad. He caught 10 touchdowns in 2014 with the Phins and averaged 70 receptions with just under 900 yards during his two year tenure.
Last year in Minnesota was horrific, though. Teddy Bridgewater has zero ability to get the ball down field and Wallace was barely involved in the offense. The passing attack as a whole was barely involved in the offense. Wallace totaled just 39 receptions for 473 yards and two touchdowns. It was by far the worst season of his career.
Like always, Wallace blamed everyone but himself as he did when he left both Pittsburgh and Miami. However, in fairness he actually was in unfavorable situations at both of his last stops. Tannehill is a below average deep-ball thrower and Bridgewater hasn't shown the capability to throw it deep at all. We've learned Wallace is pretty much a one-trick pony, but Baltimore is the perfect place for him to make the most of his skill set. Joe Flacco throws one of the best deep balls in the league and the team is desperately in need of quality receivers. It wouldn't be at all shocking to see Wallace bounce back in a major way this season.
Charles Johnson, Minnesota Vikings
Johnson was another victim of Terrible Teddy in Minnesota last season. Nevertheless, he was exceptionally awful. His season totals were just nine receptions for 127 yards and no TDs. He didn't catch a single pass after November 8 and his best Fantasy performance was one catch for 35 yards. Johnson has been completely written off, but I'm not ready to just quite yet.
He looked great in Cleveland's training camp and emerged as the Vikings most talented receiver in 2014. Yes, 2015 was historically awful. Still, the talent is there. Don't invest much in him, but you can literally draft him in the last round. All I'm saying is he may be worth a flier. He can't be as bad as he was last year. Roll the dice that maybe it was an aberration if it costs you next to nothing. People will call me crazy, nevertheless, I'm keeping Johnson on my radar.