2016 NFL DFS: Week 14 DraftKings and FanDuel Breakdown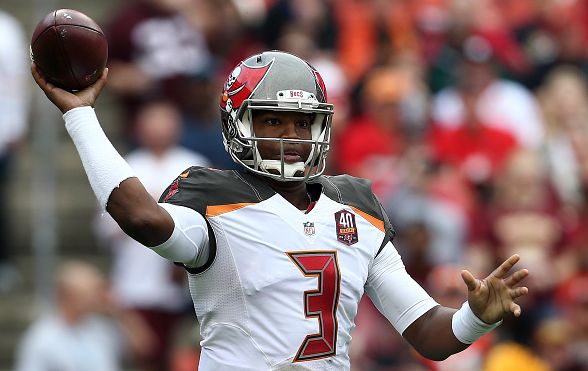 Below you'll find discussion of the players that are "in play" at each position for Week 14 main slate DFS contests on DraftKings and FanDuel (aka the 14 Sunday games beginning 1:00 PM ET or later). Players are arbitrarily (usually) listed in descending order of FanDuel salary and are not ranked in order of preference given differences between the sites and the varying types of contests you might be playing.
Quarterback
Andrew Luck — vs. HOU — DK: $6,900 — FD: $8,200
Jameis Winston — vs. NO — DK: $6,700 — FD: $8,200
Home favorites with high implied team totals in Vegas make for excellent cash game options, especially at the QB position. Indy and Tampa have the two highest implied totals on Sunday, and both teams are at home, so therefore Luck and Jameis are good cash options. If forced to pick one of them, Jameis would probably be the choice. He has the better matchup against the Saints who rank 26th in Football Outsiders' pass defense efficiency ratings (DVOA) and 27th in 4for4.com's Schedule-Adjusted Fantasy Points Allowed (aFPA). He's also arguably been the better player this year as he ranks ninth in FO's Defense-adjusted Yards Above Replacement (DYAR) compared to Luck's rank of 17th. Jameis is definitely preferable on DK where he's save a couple hundred bucks.
Russell Wilson — @ GB — DK: $6,600 — FD: $7,900
Andy Dalton — @ CLE — DK: $6,100 — FD: $7,700
Here are a couple of cheaper cash game options that are both a bit dependent on what the weather looks like Sunday morning. Dalton has the much bigger weather concern as winds and snow are much more likely in Cleveland than Green Bay it appears. But if the weather is mild enough, Dalton is a nice, cheaper cash option as the Browns rank 31st in DVOA and 25th in aFPA. With Joe Haden no longer being a shutdown corner, both of Cincy's main receivers have good individual matchups. And the Browns are also extremely friendly to tight ends, so all of Dalton's main pass-catching weapons would be in very good spots. As for Wilson, he's more attractively priced on FD and is just a cash option there if you need a bit of savings and weather prevents Dalton from being reliable.
Dak Prescott — @ NYG — DK: $5,900 — FD: $8,000
Eli Manning — vs. DAL — DK: $5,500 — FD: $7,700
Phillip Rivers — @ CAR — DK: $6,600 — FD: $8,000
Robert Griffin III — vs. CIN — DK: $5,000 — FD: $6,200
If you're looking for GPP options here, you go. Dak and Eli are GPP options on DK, and Rivers and RG3 are GPP options on FD.
Dak and Eli are both oddly cheap on DK. Dak does not have a good matchup at all as the Giants ranks seventh in DVOA and sixth in aFPA. But Dak ranks third in DYAR so far, so he's been good enough to consider even in a bad matchup, especially at his DK price point. Eli certainly has the better matchup in that game as the Cowboys pass defense ranks 27th in DVOA and 20th in aFPA. Dallas' corners are not intimidating, so both Odell Beckham and Sterling Shepard could be stacked with Eli in a GPP.
Over on FD, Rivers is an option because of matchup and Griffin is an option because of Price. Rivers will get the Panthers who rank 18th in DVOA and 24th in aFPA. This is another situation where there are multiple bad corners in the opposing secondary, so both Tyrell Williams and Dontrelle Inman should have nice individual matchups. Being able to stack multiple receivers with a QB makes them a very attractive GPP option. As for Griffin, he's an option simply because he's two grand cheaper than the best options at the position. There's no point in trying to talk you into RG3 too much, but if you want to go cheap there, you can fit a lot of high price guys into an FD GPP lineup.
Running Back
David Johnson — @ MIA — DK: $9,800 — FD: $9,700
LeVeon Bell — @ BUF — DK: $9,000 — FD: $9,000
Ezekiel Elliott — @ NYG — DK: $8,400 — FD: $8,500
DeMarco Murray — vs. DEN — DK: $7,000 — FD: $7,900
Let's just address all the studs at the same time. These four guys have the highest projected touches total per 4for4 with Johnson and Bell unsurprisingly projected to see a much heavier workload than the rest of the RB field. Johnson and Bell have very similar matchups as their opponents are slightly below average matchups per aFPA and slightly above matchups per DVOA. Both figure to be very heavily owned, though Johnson is likely to be the higher owned of the two, and its Bell that's noticeably cheaper on both sites. Cheap being a relative term, of course. For that reason, Bell is the preferred option if you're spending big on a back. You can live with Bell in GPP lineups if you're contrarian enough elsewhere.
Zeke and DeMarco should see ownership percentage in the mid-to-low teens, so they're both GPP options. Zeke has a matchup that's difficult to pin down as the Giants rank fifth in DVOA but 27th in aFPA. That means the Giants have likely faced a weak crop of RBs and thus might appear to be a tougher matchup than they really are. The same goes for Denver as their defense is held in high esteem, yet their run D ranks 26th in DVOA and 21st in aFPA. Because Denver can't move the ball all that well themselves, game flow isn't a huge concern for DeMarco. DeMarco is priced for GPP use on both sites, while Zeke makes more sense on FD.
Matt Forte — @ SF — DK: $6,800 — FD: $7,700
Jeremy Hill — @ CLE — DK: $5,800 — FD: $6,900
Here we have a couple of backs in the mid-price range who both have excellent matchups. Forte will face the Niners who rank dead last in both DVOA and aFPA. Hill's matchup is almost as good as the Browns rank 29th in DVOA and 31st in aFPA. Hill is likely going to be the more popular of these two backs as the weather in Cleveland may steer people toward the ground game. So, he'll work in cash, but make sure he's only in GPP lineups if you're contrarian enough elsewhere. Forte's ownership rate may not crack double digits, so he'll work in both cash and GPP on both sites.
Todd Gurley — vs. ATL — DK: $5,000 — FD: $6,900
Gurley gets his own blurb here. There's no question that he's been a disappointment this season. He has topped 75 yards rushing only twice, and he's cleared 20 fantasy points in half-PPR formats like FD just once, and it took two touchdowns to get him there in that game. Before we get to the reasons you might consider him, let's also point out that game flow could be a concern here as the Rams could easily be playing catchup against an Atlanta team than can move the ball. But Gurley's price has dipped so low on DK and the Falcons rank 27th/29th in DVOA/aFPA, so there's a chance he returns some value here. He's worth a look in DK GPPs.
Frank Gore — vs. HOU — DK: $4,800 — FD: $6,000
Rob Kelley — @ PHI — DK: $4,200 — FD: $5,900
Isaiah Crowell — vs. CIN — DK: $3,900 — FD: $5,500
Here are your cheapest possible options this week. Using 4for4's projected touches, these three guys are three of the four cheapest options in terms of dollars spent per projected touch on both DK and FD. Crowell is tough to rely on given that Cleveland has the second lowest implied total on Sunday, but he's the cheapest of this trio on both sites, and he should not be ignored if you need salary relief. Game flow sets up best for Gore as the Colts are six-point home favorite. Houston ranks 17th in aFPA and 28th in DVOA, so it's also a good matchup for Gore.
Wide Receiver
Mike Evans — vs. NO — DK: $8,900 — FD: $8,900
Odell Beckham — vs. DAL — DK: $8,000 — FD: $8,500
T.Y. Hilton — vs. HOU — DK: $7,500 — FD: $7,600
Here are your reliable studs of the week. Other studs like Julio Jones, Dez Bryant, Jordy Nelson and Antonio Brown have some tough individual corner back matchups this week, but Evans, Beckham and Hilton have no such problem. Evans is going to see the highest ownership rate this week, so he can be faded in GPPs, though, again, you can make any chalk play work in a GPP lineup so long as it's contrarian enough elsewhere. The one spot one of these guys might be a bit under-owned is OBJ on FD where he's pricey, though less so than he was last week. If you can fit two of these guys into a cash game lineup, do it. And Beckham and one of the other two on FD will work for GPPs.
Doug Baldwin — @ GB — DK: $6,800 — FD: $7,000
Tyrell Williams — @ CAR — DK: $6,100 — FD: $6,800
Here's a couple of receivers you can pair with quarterbacks discussed above. Baldwin often sees good individual matchups working out of the slot, and that should be the case again this week. Again, you'll have to check the weather in Green Bay in the morning, but Baldwin could be affected less than most receivers by adverse conditions as his targets generally come a bit closer to the line of scrimmage than an outside receiver. As for Williams, he has turned into an incredibly reliable receiver. He has touchdowns in four straight games, and he has double digit fantasy points in five out of his last six games with the one exception being an incredibly tough matchup against Denver. That consistency means his ownership percentage should be fairly high this week, though he'll work in GPPs as a stack partner with Rivers
Tyler Boyd — @ CLE — DK: $4,900 — FD: $5,700
Pierre Garcon — @ PHI— DK: $4,200 — FD: $5,400
If you need cheaper options, here you go. As mentioned, Joe Haden isn't a matchup you have to avoid anymore, but Boyd will avoid him nonetheless as Brandon LaFell should draw that matchup. Garcon grades out as a solid value based on his projected target total. With a projection of about seven targets per ProFootballFocus, Garcon represents good value in terms of dollars spent per projected target.
Antonio Brown — @ BUF — DK: $8,700 — FD: $8,800
Jordy Nelson — vs. SEA — DK: $6,800 — FD: $7,100
DeAndre Hopkins — @ IND — DK: $5,800 — FD: $7,100
Kenny Britt — vs. ATL — DK: $5,200 — FD: $6,900
Emmanuel Sanders — @ TEN — DK: $5,700 — FD: $5,900
Sterling Shepard — vs. DAL — DK: $4,600 — FD: $5,500
Here's a group of talented receivers who all see plenty of targets but who carry enough risk this week to avoid in cash games this week due to tough individual matchups. But with talent and volume, any of these guys can have a monster game, and they should all be fairly low owned. If you're looking for a GPP play, consider these guys if they fit your budget.
Tight End
At tight end you're looking for guys on teams with an implied total of 24+, and their team is preferably a favorite (even more preferably a home favorite). In general, tight ends see less volume than receivers, and they do their work closer to the line of scrimmage than receivers do on average, so tight ends are much more touchdown dependent for fantasy scoring. Touchdowns come with much more volatility than targets and yardage do, so it's not a bad idea to spend less on such a volatile position.
On DK pricing is much sharper and thus it's especially tough to spend on a tight end there. For that reason, Antonio Gates ($3,800) and Ladarius Green ($3,900) are good options due to reasonable price tags. Both have excellent matchups, and both of their teams have implied totals near 24 or higher. Green figures to be the more popular option of the two and rightfully so as he's among the position leaders in terms of fantasy points per route run after recently rejoining the active roster. If you need to save even more on DK, consider Jason Witten ($3,100) whose 19 red zone targets leads all tight ends in action on Sunday. The Giants rank 27th in DVOA against TEs and 28th in aFPA, so he has a very good matchup.
Gates and Witten are also reasonably priced options on FD, but you might be able to spend a bit more there, which brings guys like Tyler Eifert ($6,700) and Cameron Brate ($5,600) into play. As mentioned, Eifert has a very nice matchup for TEs, and Brate's isn't bad either as the Saints rank 24th and 26th in DOVA and aFPA, respectively. If you're using their QBs, you should certainly consider rostering these TEs. Both Eifert and Brate figure to be somewhat highly owned, so if you'd like to get contrarian on FD, consider Zach Ertz ($5,700). He has the third highest target projection per PFF, and his opponent, Washington, ranks 28th and 29th in DVOA and aFPA.
Kicker
All you're looking for in a kicker is a kicker that plays for a favorite who has an implied total of 24 or more. Preferably the team would be a home favorite, but road favorites are acceptable as well. The cheapest kicker who meets that criteria this week is Tampa Bay's Robert Aguayo. The Bucs are a home favorite with the highest implied total of the day (27), and Aguayo is priced at the minimum. On top of that, the Saints rank dead last in aFPA against kickers. It's hard to imagine rostering a kicker other than Aguayo given this set of circumstances.
Defense/Special Teams
I write a DFS D/ST article each week for FantasyAlarm.com, so I'm copy/pasting what I wrote there below.
The key with defenses is finding defenses that will face a lot of passing plays. Fantasy point-scoring events like interceptions and sacks occur exclusively on passing plays, and fumbles actually occur more on passing plays than running plays. Defensive touchdowns are difficult to predict, but they're also more likely to occur on passing plays with 53 pick sixes last year compared to only 33 scoop 'n scores.
One of the best ways to identify defenses that will face a lot of passing plays is identifying Vegas favorites, preferably home favorites. And obviously the lower the opponent's implied point total, the better the matchup for the defense.
Premium Options
The chalk this week is going to be Minnesota and Cincinnati who are facing two of the three teams with the lowest implied totals in Vegas this weekend. Cincy is going to be popular due to the matchup with the Browns who have allowed the most fantasy points per game to opposing defenses this season. It's certainly understandable why Cincy is a chalky pick, but Minny is the better option here. The Vikes are just a better defense as they rank sixth in Football Outsiders' Defense Efficiency Ratings (DVOA) while the Bengals rank 20th. And the Vikes also have a great matchup, even if it's not the best possible matchup. Minny will take on Jacksonville who allows the fourth most fantasy points per game to opposing defenses and actualy has a lower implied total in Vegas this week than Cleveland.
On top of all that, the Vikings are cheaper than the Bengals on FanDuel and FantasyAces, and the Vikings aren't that much more expensive on DraftKings. Perhaps Cincy will work on DK in cash, but Minny is the better option elsewhere. Both defenses will be popular and thus not great options in GPPs.
Sneaky Options
This category is reserved for good defenses that may be overlooked in a given week for whatever reason, providing you with the opportunity to roster a really good unit with a lower ownership rate.
Three defenses fall into this category this week: Seattle, Arizona and Denver. All three defenses rank top five in DVOA, and none figure to be too highly owned this weekend. All three teams are facing teams with below average implied totals, though none of their opponents have super low implied totals, which is why none of the defenses should be highly owned. Denver probably has the best matchup of this trio against Tennessee, but the Broncos are the most expensive defense of these three across the board. Generally the cheaper the better at defense, especially when you're picking a GPP option.
If pricing is the deciding factor here, Seattle is oddly cheap on DK at only $3,000. They're also the only favorite of this bunch, which is a plus for defenses as discussed above. Weather is also a factor this weekend, and the Cards are likely the biggest beneficiary in that regard with rain and high winds expected in Miami. The Cards are the same price as the Hawks on FD and $100 cheaper on Aces.
Bargain Option
Normally multiple options are discussed in this section as we search for the cheapest possible options on each site, but this week the same team is the cheapest possible option on all sites: Jacksonville. The Jags are an entirely decent defense as they rank 10th in DVOA, and they have a good matchup with Minnesota. The Vikes have the sixth lowest implied total of the weekend, and they have allowed the 11th most fantasy points to opposing defenses this season. In the last seven weeks, the Vikes have allowed at least five fantasy points to opposing defenses in each game. At just a couple hundred bucks over the minimum on DK and FD and at the minimum price on Aces, the Jags make for an excellent salary relief option.