2016 NFL DFS: Week 16 DraftKings and FanDuel Breakdown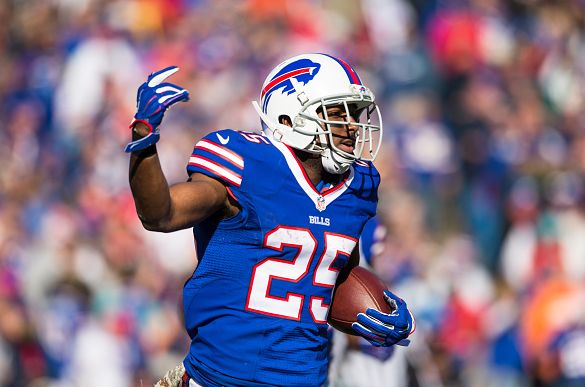 Below you'll find discussion of the players that are "in play" at each position for Week 16 main slate DFS contests on DraftKings and FanDuel (aka the 12 Saturday games beginning 1:00 PM ET or later).
Quarterback
Drew Brees — vs. TB — DK: $7,400 — FD: $8,500
Andrew Luck — @ OAK — DK: $7,000 — FD: $8,300
When you get through reading the quarterback section, you may know as little about who you want to roster at QB as you did before you clicked on this article. QB is really tough this week with every guy having something you can point to as a negative.
Brees and Luck are likely to be the highest owned QBs on Saturday, but they're most definitely not must-plays as both have tough matchups. Brees will face Tampa who picked him off three times and held him touchdown-less just two weeks ago. In Brees' defense, that game was on the road and Brees is historically better at home. But Tampa is generally not a great matchup for QBs as the rank 17th in 4for4.com's Schedule-Adjusted Fantasy Points Allowed (aFPA) and seventh in Football Outsiders' pass DVOA. Luck will get Oakland who ranks 10th in aFPA and 21st in DVOA. That game will be in Oakland where weather could be a bit of an issue with rain possible and some wind, though the bigger concern is just that it's on the road and outside of Indy's dome. The long story short are that these guys are good, they have good options to throw to, and their teams are projected to score high totals of points by Vegas. But they don't feel as safe as you might like an expensive QB to feel.
Matt Ryan — @ CAR — DK: $7,200 — FD: $8,100
Jameis Winston — @ NO — DK: $6,500 — FD: $8,000
Derek Carr — vs. IND — DK: $6,800 — FD: $8,100
Philip Rivers — @ CLE — DK: $6,900 — FD: $8,200
Ryan should probably have been grouped in with Brees and Luck above given that the main concern with him this week is matchup. But he's priced more like the QBs in this groups on FD, which is really the only site you want to consider playing him on this week. Carolina ranks 13th in aFPA and 15th in DVOA, so it's not like they're a prohibitive matchup, but a road game with a slightly below average matchup isn't ideal. That said, Ryan is an elite option whose team has a high implied total, so he's in play.
The rest of these guys all have good matchups. The best matchup belongs to Rivers against the Browns who rank 29th in aFPA and 31st in DVOA. But Rivers is struggling with six interceptions and eight turnovers overall in his last three games. He does have multiple touchdowns in seven straight games, but he hasn't thrown for 250+ in any of his last four. It's fair to wonder how much of a shit he gives at this point in the season. But the matchup is there, the Vegas variables are there, and the upside is there.
Carr's matchup is also excellent as Indy ranks 25th in aFPA and 27th in DVOA. In fact, if there's one QB who checks every box this week, it's Carr. His matchup is good, his team is a home favorite with a high implied total, and he's been a top 10 QB this season. The only problem is the question of how much his finger injury is lingering. You could argue it has been affecting him the last two weeks when threw for only 320 yards combined and one touchdown. But the last two weeks he's faced Kansas City and San Diego on the road, with both teams ranking top 10 in pass DVOA. He went for 260/2 in the first week after the injury, so perhaps the concern about the finger are overblown.
Jameis is also an option as the cheapest QB on DK in this tier with a good matchup against the Saints who rank 28th in both aFPA and DVOA.
Rivers, Carr and Jameis should all be owned a bit higher on DK than FD while guys like Ryan or Tom Brady should be a bit higher owned on FD. Pricing is softer on FD so Ryan and Brady can be fit into lineups a bit easier there, while mid-priced options like Rivers et al are more appealing on DK. That said, none of these guys will be so highly owned that they should be faded in GPPs. And they're all cash options depending on how comfortable you feel with them.
Tyrod Taylor — vs. MIA — DK: $5,400 — FD: $7,500
Matt Barkley — vs. WAS — DK: $5,000 — FD: $6,300
Going super cheap at QB should be a consideration every week, but it's often not that viable. Not only is it viable this week, it's arguable that it's preferable given the uncertainty discussed in pricier tiers. Barkley is a cheap option on both sites while Tyrod is only cheap enough to be an option on DK.
Barkley is obviously cheap for a reason. He's been decent in four weeks of work, but it should be noted that he's had a string of good matchups and has just been decent, not great. The good news is that the good matchups continue this week as Washington ranks 31st in aFPA and 24th in DVOA. At the minimum price on DK and much cheaper than any other viable option on FD, he's an option at that price point in that matchup.
Tyrod's matchup is a bit mixed as Miami ranks 24th in aFPA but 12th in DVOA. The most appealing thing about Tyrod is his upside as he's hit 20+ four times this season, including his 24.3-point day against Miami in Week 7. At this low of a price point, he has serious value potential given his upside.
Running Back
David Johnson — @ SEA — DK: $9,200 — FD: $8,700
LeSean McCoy — vs. MIA — DK: $9,000 — FD: $9,100
DeMarco Murray — @ JAX — DK: $7,000 — FD: $8,400
With Ezekiel Elliott and Le'Veon Bell not playing in this slate, these are your three stud backs on Saturday.
Against Seattle, Johnson is likely just a GPP option even though he managed 21.1 points (in half-PPR) against them earlier this season. He needed a ton of touches to crack 20 points in that game, and it's hard to pay his kind of price in cash games for less than a sure thing. And he's really only a GPP option on FD where he's cheaper and where, again, pricing is softer.
Shady is going to be the most highly owned back on Saturday, so feel free to fade him in GPPs. Miami ranks sixth in aFPA against RBs (in PPR) and 22nd in DVOA, so it's not as if this is a can't miss matchup for McCoy. But he does have at least 19.8 points in FD scoring the last four weeks with an average of 25.3 points per game in that stretch. Feel free to use him in cash.
Murray isn't quite priced like Johnson and McCoy, especially on FD, but he's unquestionably in their class as one of the five backs who have separated themselves from the pack this season. Jacksonville ranks 23rd in aFPA and 12th in DVOA, so they're not a great matchup but by no means a prohibitive one. Again, Murray makes plenty of sense on DK, in either contest type, given his price tag.
Jordan Howard — vs. WAS — DK: $6,300 — FD: $7,200
Todd Gurley — vs. SF — DK: $6,400 — FD: $7,900
Carlos Hyde — @ LA — DK: $5,800 — FD: $7,100
Here are your mid-price options. These three guys are projected to have the third, fourth and fifth highest touches totals this weekend per 4for4.com behind only McCoy and Johnson. Howard and Gurley will get those touches in good matchups and should see fairly high ownership percentages as a result. Howard will get Washington who ranks 27th in aFPA and 26th in DVOA, while Gurley will get the Niners who rank 32nd in aFPA and 30th in DVOA. Howard should have an ownership rate higher than any back except for McCoy, so feel free to fade him in GPPs. Gurley's ownership rate will be up there as well, but he shouldn't be so highly owned that he's a fade. That's especially true on FD where he's priced a lot sharper and this makes for a more attractive GPP option there.
Jay Ajayi — @ BUF — DK: $5,600 — FD: $6,700
Rob Kelley — @ CHI — DK: $5,200 — FD: $5,800
Frank Gore — @ OAK — DK: $4,800 — FD: $6,000
Kenneth Farrow — @ CLE — DK: $5,000 — FD: $6,100
Isaiah Crowell — vs. SD — DK: $4,100 — FD: $5,700
Here's a spate of value options to choose from depending on what your budget looks like. They're all options on both sites with the exceptions of Ajayi on DK and Gore and Crowell on FD.
The best matchup of this bunch belongs to Farrow against the Browns who rank 30th in aFPA and 32nd in DVOA. However, Farrow disappointed last week seeing more than three-quarters of the snaps at RB with 15 carries for only 39 yards. He had an above average matchup against Oakland, so he's a bit hard to trust in cash and more of a cheap RB2 option in GPPs.
In terms of value from the perspective of dollar spent per projected touch, Rob Kelley could be the best value of this group. Per 4for4, he has the fifth highest touches projection on Saturday, but he's not one of the 15 most expensive backs on DK and not one of the 20 most expensive backs on FD. Chicago ranks 16th in aFPA and 27th in DVOA, so the matchup is a good one.
Again, all of these guys are options on either site other than the exceptions listed above. The lack of specific discussion of Ajayi, Gore and Crowell is more for the purpose of saving space than it is liking them less.
Wide Receiver
Mike Evans — @ NO— DK: $8,500 — FD: $8,900
T.Y. Hilton — @ OAK — DK: $7,800 — FD: $7,600
Julio Jones — @ CAR — DK: $8,100 — FD: $8,500
Here are your stud receivers for the week who should all have excellent individual one-on-one matchups with corners. Evans and Hilton should have high ownership rates, so you can fade them in GPPs if you'd like, though keep in mind that not all high ownership guys have to be excluded from GPPs lineups so far as you're contrarian enough elsewhere. Julio Jones' toe injury should keep his ownership rate down a bit this weekend, though he looks like he'll come out of practice this week without an injury designation. Feel free to fire him up in GPPs, though Evans and Hilton are probably safer for cash games.
Julian Edelman — vs. NYJ — DK: $6,900 — FD: $6,700
Michael Thomas — vs. TB — DK: $6,000 — FD: $6,900
Doug Baldwin — vs. ARI — DK: $6,000 — FD: $7,000
Here are your mid-price cash game options. Both Baldwin and Thomas should have excellent corner matchups, and Edelman won't have a prohibitive matchup. As with the expensive cash options discussed above, two of these guys should see fairly high ownership rates (Edelman and Thomas), while Baldwin should have an ownership rate in the single digits. Thomas is a bit expensive on FD and is a better option on DK, but both Edelman and Baldwin are in play on both sites.
Dontrelle Inman — @ CLE — DK: $6,000 — FD: $5,600
Allen Robinson — vs. TEN — DK: $4,600 — FD: $5,600
Cameron Meredith — vs. WAS — DK: $4,700 — FD: $5,500
Jeremy Kerley— @ LA — DK: $3,500 — FD: $4,900
If you're looking for cheaper cash game options, here you go. And these guys should all work in GPPs as well with the one possible exception of Inman on FD where's he's priced well enough that he may see a high ownership rate. As a matter of fact, Inman is probably priced out of use on DK, and Kerley is only priced for use on DK. Both Robinson and Meredith are options on either site in either contest type.
Inman and Meredith make for solid stack options with their quarterbacks who were discussed above. Inman should have a very nice matchup working out of the slot, while Meredith should avoid Josh Norman with Alshon Jeffery more likely to draw that matchup.
Robinson and Kerley are probably tougher sells, aren't they? Robinson has just 11 receptions for a combined 105 yards in the last five weeks combined, so he's undoubtedly hard to trust. But if there was ever going to be a week for ARob to have a nice game, it's this week. Tennessee ranks dead last in aFPA against receivers in PPR leagues, and they have no tough cornerbacks they can put on ARob to take him away individually. Kerley is an option simply because he keeps seeing some volume (10 receptions combined the last two weeks), and he's very cheap on DK where salary relief can make a huge difference in lineup consideration.
Jordy Nelson — vs. MIN — DK: $7,000 — FD: $7,800
Michael Crabtree — vs. IND — DK: $6,100 — FD: $6,200
DeAndre Hopkins — vs. CIN — DK: $5,200 — FD: $6,600
Sammy Watkins — vs. MIA — DK: $5,000 — FD: $6,000
Here are your super talented, high upside guys that aren't ideal plays this week but could absolutely go off. Nelson, Crabtree and Hopkins all have individual corner matchups that make them a bit dicey for cash games, while Watkins has a questionable tag from the foot injury he's been dealing with all season. Jordy and Watkins should see very, very low ownership rates this week making them the best contrarian options, and Hopkins should avoid the high ownership rates that would make him unappealing in GPPs. Crabtree, on the other hand, should see a pretty high ownership rate, but he's being included here as a stack option with Carr.
Tight End
At tight end you're looking for guys on teams with an implied total of 24+, and their team is preferably a favorite (even more preferably a home favorite). In general, tight ends see less volume than receivers, and they do their work closer to the line of scrimmage than receivers do on average, so tight ends are much more touchdown dependent for fantasy scoring. Touchdowns come with much more volatility than targets and yardage do, so it's not a bad idea to spend less on such a volatile position.
Greg Olsen — @ ATL — DK: $5,200 — FD: $6,800
Cameron Brate — @ NO — DK: $3,900 — FD: $5,600
Delanie Walker — @ JAX — DK: $4,300 — FD: $6,400
All three of these guys play for teams with implied totals over 24 this weekend. Brate has the best matchup of the three with New Orleans ranking 24th in aFPA and 25th in DVOA against tight ends, and Brate happens to be the cheapest of the bunch. He makes all kinds of sense in cash games, but he's almost certainly going to be the most popular tight end on Saturday, so feel free to look elsewhere in GPPs. Both Olsen and Walker are options in that respect if your budget allows for it. Olsen is also a cash option, though Walker is best left for GPPs.
Martellus Bennett — vs. NYJ — DK: $4,100 — FD: 5,600
Antonio Gates — @ CLE — DK: $4,400 — FD: $5,400
C.J. Fiedorowicz — vs. CIN— DK: $3,700 — FD: $4,900
This trio should see lower ownership rates than the three top options discussed above, but each of these guys certainly have factors working in their favor. Bennett and the Pats have an incredibly high team total over 30, while Gates and Fiedorowicz have very good matchups. Gates will get Cleveland who ranks dead last in DVOA against tight ends, and Fiedorowicz gets the Bengals who rank dead last in aFPA against tight ends in PPR leagues.
Daniel Brown — vs. WAS — DK: $2,500 — FD: $4,500
If you want to punt at tight end, consider Brown. Washington really struggles against tight ends as they rank 31st in aFPA and 27th in DVOA against tight ends. 4for4.com has Brown projected to see five targets this week, which is more than enough volume for him to return value in this matchup and at his price point, especially on DK.
Kicker
All you're looking for in a kicker is a kicker that plays for a favorite who has an implied total of 24 or more. Preferably the team would be a home favorite, but road favorites are acceptable as well. The cheapest kicker who meets that criteria this week is Tennessee's Ryan Succop. The Titans are a five-point favorite on the road in Jacksonville and have an implied total of 24.5. The Jags are the friendliest fantasy matchup for kickers per aFPA. If you have $300 left over, Stephen Gostkowski at $4,800 wouldn't be a bad way to spend it. The Pats easily have the highest implied total of the slate, and the Jets are the fifth best matchup for kickers per aFPA.
Defense/Special Teams
I write a DFS D/ST article each week for FantasyAlarm.com, so I'm copy/pasting what I wrote there below.
The key with defenses is finding defenses that will face a lot of passing plays. Fantasy point-scoring events like interceptions and sacks occur exclusively on passing plays, and fumbles actually occur more on passing plays than running plays. Defensive touchdowns are difficult to predict, but they're also more likely to occur on passing plays with 53 pick sixes last year compared to only 33 scoop 'n scores.
One of the best ways to identify defenses that will face a lot of passing plays is identifying Vegas favorites, preferably home favorites. And obviously the lower the opponent's implied point total, the better the matchup for the defense.
Premium Options
The chalk this week is unquestionably going to be New England. The Pats are a massive 16.5-point favorite at home against the Jets, who have a minuscule implied total of 13.5. The Pats defense has been playing much better of late. As evidence of that, they rank 13th in Football Outsiders' weighted Defense Efficiency Ratings (DVOA) compared to 19th for the season as a whole. And of course, the matchup with the Jets is a great one as the Jets have allowed the second most fantasy points per game to opposing defenses this season. If you don't have any interest in getting cute in cash games, just plug the Pats in your D/ST spot. But in GPPs, look elsewhere for a more contrarian option.
If you don't want to go along with the chalk in cash games but still want a relatively safe option, San Diego is a good option for you. San Diego ranks seventh in DVOA and fifth in the weighted version. They also have an excellent matchup in Cleveland against a Browns team that has allowed the third most fantasy points per game to opposing defenses. The Chargers are a six-point favorite in that game, and the Browns have the fifth lowest implied total on Saturday.
Sneaky Option
This category is reserved for good defenses that may be overlooked in a given week for whatever reason, providing you with the opportunity to roster a really good unit with a lower ownership rate.
The top three defenses in weighted DVOA have either already played or don't play on Saturday, which means Seattle at sixth in weighted DVOA is one of the two highest rated defenses playing on Saturday (second only to San Diego). The Hawks are an 8.5-point home favorite against the Cardinals who have the second lowest implied total on Saturday, so Seattle's D/ST meets the Vegas criteria. Arizona has been a nice matchup for defenses this season as they are tied for fifth most fantasy points allowed to opposing defenses. Seattle shouldn't be too highly owned given how popular New England is likely to be. And Seattle's salaries (highest on DK, tied with NE for highest on FD) is also going to drive ownership away from them. If you're looking for a good defense with upside and low ownership, Seattle is the play.
Bargain Options
If you're looking for a cheap option at D/ST, it's going to be a bit of a challenging week.
On DK the only sub-$3,000 D/ST facing a team with an implied total lower than 24 is San Francisco. The Niners will be in LA as a 3.5-point underdog against the Rams. The Niners defense is plainly bad (30th in DVOA, 31st weighted), but the matchup is spectacular as the Rams have allowed more fantasy points per game to opposing defenses than any other team. Don't read too much into it, but this is the same Rams team that the Niners blanked in Week 1.
Over on FD forget the super-cheap options, but Houston at $4,500 and Green Bay at $4,600 are options if you if you need to save $300-400 going down from the teams discussed above. Houston is a two-point home favorite against the Bengals. Cincy is a below average matchup for defenses, but they have the seventh lowest implied total on Saturday and Houston ranks slightly above average in DVOA (though below average in weighted). The Pack 6.5-point home favorite against the Vikes who have allowed the 11th most fantasy points per game to opposing defenses. The problem with the Pack D/ST is Minny's fairly high implied total of 24.75, which is likely as high as it is due to Green Bay ranking 19th in weighted DVOA.
Of these three bargain options, Green Bay should be the most highly owned, likely with an ownership rate in the range of San Diego's in the tier below New England. But Houston and San Francisco should be near un-owned if you're looking for contrarian options.