Cam Newton in 2013: Is This Progress?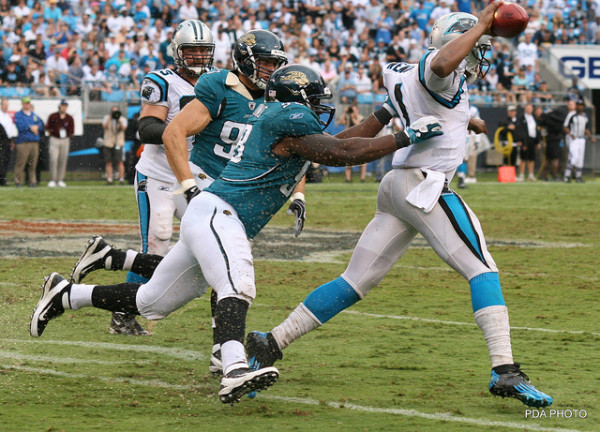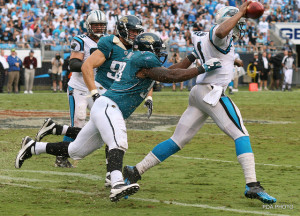 Cam Newton entered the NFL equipped with outlandish amounts of physical talent. His arm was a rifle shot; he could make all the throws (touch is a different story). His running prowess was akin to the power style of a 6'5 fullback with 4.58 speed. Yet, in spite of these tools, Newton had his fair share of critics, critics who were dubious of Newton's ability to assimilate to the mental grind of the professional level. Did he possess the acuity to digest and translate complex defensive information? 36 games into his young career, this question remains a valid one. Newton's lack of progress is cause for apprehension. [am4show have='p3;p4;p7;p9;' guest_error='Front Office' user_error='Front Office' ]
Newton through first four games 2011-2013
| | | | | | |
| --- | --- | --- | --- | --- | --- |
| Year | Completion % | Pass TD/INT | Rush yards | Rush TD | Sacks taken |
| 2011 | 97/163, 60% | 5/5 | 133 | 4 | 8 |
| 2012 | 68/107, 64% | 4/5 | 177 | 3 | 9 |
| 2013 | 73/127, 58% | 6/5 | 123 | 1 | 15 |
Pocket pressure, or lack thereof, has and will continue to be the determining factor in Newton's pass game success. In 90 drop-backs under no pressure in 2013, he is completing 60% of his throws with a 4/2 TD/INT ratio and 89.6 NFL QB Rating. In 58 drop-backs classified as "under pressure", he's completed 58% of his passes with a 2/3 TD/INT ratio and 54.0 QB Rating. As expected, Newton has failed to consistently diagnose the blitz and make the proper pre-snap adjustments: he's been blitzed on 73 drop-backs, taking 11 sacks and tossing four interceptions.
Defensive fronts are now well-schooled in handling Newton's impromptu running, but he still insists on attempting to escape unavoidable pressure rather than throwing the ball away. Or he'll choose to remain the pocket with seemingly no idea of the chaos about to swallow him up. As a result, he's taken 15 sacks for a total loss of 117 yards. There is no question the Panthers offensive-line is patchwork material (and the group just lost Amini Silatolu to a torn ACL), but he's not doing them any favors by holding onto the rock for five seconds:
As is the case for a number of quarterbacks in today's NFL, Newton suffers with "LOOR Syndrome" – Locked on One Receiver. All he sees is his pre-snap target, completely oblivious to any defender (s) who might wander into that throwing window. In particular, Newton has been having difficulty accounting for dropping linebackers (or safeties that show blitz, but back off). This limitation has not improved since day one, and his decisions really make you scratch your head: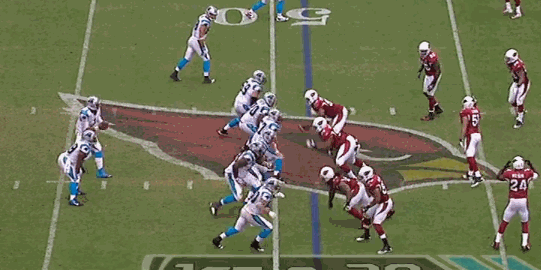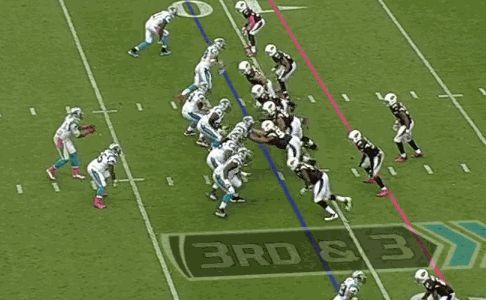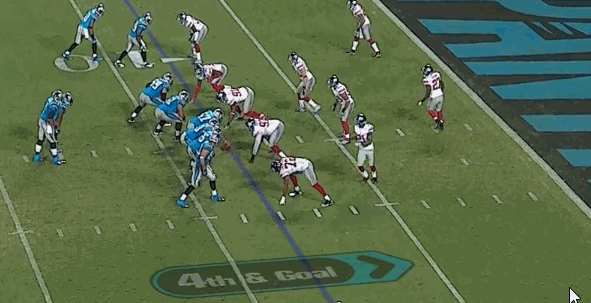 Does Cam Newton make all the throws, sideline to sideline? Indeed. Will Newton barrel over defenders on third and short to pick up a first down? You bet. But does he possess the football intelligence to be an elite level QB? He does not. And I'm a firm believer that IQ is not an attribute that all of a sudden one day clicks. The truth is this is not about progress; he is what he is. From pocket awareness to staring down receivers to failure to interpret defensive schemes – Newton's limitations are apparent. He must start getting rid of the ball quicker before the hits pile up. He NEEDS his legs to be an effective quarterback.
[/am4show]