Daily Fantasy Football Strategy: Week 14 DraftKings Breakdown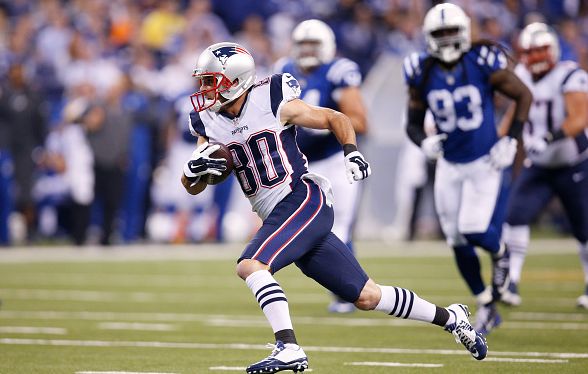 Below is a breakdown of Sunday's Week 14 NFL contests on DraftKings along with player rankings. Keep in mind that price has a huge impact on a player's ranking.
[cointent_lockedcontent article_labels="football"]
Quarterback
This week Russell Wilson draws the Ravens who have allowed two-thirds of the quarterbacks they have faced this season to top 15 fantasy points and half of them to top 20 fantasy points. That was not the case last week when Ryan Tannehill generated just eight fantasy points against Balitmore. But that was a very strange game where Baltimore ran 72 offensive plays to Miami's 45 despite Baltimore still losing the game. So Baltimore's pass defense didn't necessarily play well last week, they just didn't have to do much. If forced to defend more throws, they will still be bad at doing so. That makes Wilson a sold cash game option this week, though I do have some concerns about game flow. How is Baltimore going to keep this one close with Jimmy Clausen at quarterback? For that reason, and because Wilson was the most highly owned QB in Thursday Fanduel contests, I would not use him in tournaments.
For a look at more Thursday ownership percentages, Moxyball has you covered.
The LeSean McCoy revenge game narrative is strong as Shady was the second most popular running back in Thursday contests.  If you're looking to be contrarian, you can not only choose not to roster McCoy, but you could also choose to roster his quarterback instead. Tyrod Taylor will be facing an Eagles pass defense that hasn't held a quarterback under 29 fantasy points in the last three weeks, and they haven't held a quarterback to less than two touchdowns since before their Week 8 bye. Tyrod was only the sixth most popular QB in Thursday contests, so he makes for a nice contrarian play this week. That said, his matchup and price are good enough that he is not limited to tournament usage.
Aside from Wilson, the other chalk picks at QB this week were Blake Bortles, Jameis Winston and Cam Newton. That said, they were all owned by only about 10 percent of teams, so no one was all that highly owned. If you happen to like any of those guys, projected ownership percentage shouldn't be a barrier. Of the three, I suppose I prefer Bortles given his matchup with Indy who ranks 19th in in 4for4.com's schedule-adjusted fantasy points allowed (aFPA) and 20th in Football Outsiders' pass defense DVOA.
Winston also has a good matchup per aFPA and DVOA, but I'm not really on him because he seems very similar to another quarterback that was lesser owned on Thursday, Ryan Fitzpatrick. Both guys have good matchups, though Winston's is admittedly better, but Winston was the second most popular QB on Thursday whereas Fitzpatrick was the eighth. These guys don't strike me as cash game plays, so for tournaments I prefer the more contrarian option.
If you really want to get contrarian, consider Houston's Brian Hoyer, who was virtually unowned on Thursday. Game flow should necessitate that they have to throw the ball a fair bit against New England, and Houston has been a pass-heavy team all year anyway as they're one of three teams to have attempted 500 or more passes this season. The matchup is average at best as the Pats rank 12th in both aFPA and pass DVOA, but it's not a prohibitive matchup. If you'd like to roster someone that virtually no one else will roster, Hoyer is an option.
Running Back
Running back is, unfortunately, pretty cut and dry this week. The top four ranked backs here were the four most highly owned backs on Thursday, and I have a tough time arguing that they're not the best cash game options. We mentioned the Shady revenge game narrative, but more importantly, it's just a good matchup for the Buffalo back as Philly ranks 28th in aFPA against backs in PPR leagues and 20th in run defense DVOA. McCoy and someone like Wilson or Bortles are the safe cash game play, but, again, fading Shady and playing Taylor is the contrarian tournament play.
As for the guys ranked two through four, Shaun Draugh continues to see his price rise slowly as he continues to get steady work. But he's still cheap and has a good matchup against Cleveland who ranks 17th in aFPA and 29th in run DVOA. He was the lesser owned of these four backs, so I might prefer him to any of the others, assuming you're fading McCoy. Doug Martin arguably has the best matchup of the bunch against New Orleans who ranks 32nd in aFPA and 27th in run DVOA. And that game flow I was worried about with Wilson should work squarely in Rawls' favor. His matchup isn't as good, but it's about average. Rawls was the most highly owned of these four guys, so he's probably my least favorite given he probably has the worst matchup and was the most popular on Thursday.
If you want to get away from the chalk, I'd suggest T.J. Yeldon and C.J. Spiller. Yeldon isn't super contrarian as he was the eighth most popular back on Thursday, but he's contrarian enough. Like playing Tyrod instead of Shady, rostering Yeldon instead of Bortles/Allen Robinson is a way to go against the crowd. He'll face the Colts who rank 14th in aFPA and 12th in run DVOA, so the matchup isn't great but it isn't prohibitive. But again, the reason you play Yeldon is to go against the grain and also maybe to get some salary relief.
As for Spiller, it's fairly obvious that he's just not that great at football. But with Mark Ingram out, Spiller's workload has to increase to some extent. Spiller has been a pass catcher this year with 29 receptions compared to just 31 rushing attempts. Ingram has 50 receptions this year, so there's certainly a void to fill in that respect, and I have to imagine Spiller is the most likely to fill it. Given that DraftKings is a PPR site, the potential for Spiller to catch quite a few passes makes him intriguing. Tampa Bay is stout against running backs, but when a guy is priced at the minimum and lightly owned, a tough matchup isn't quite as prohibitive as it usually is.
Wide Receiver
Per ProFootballFocus.com's WR/CB matchup chart ($), Houston's outside corners present a tough matchup for receivers. But Kareem Jackson working out of the slot really struggles in coverage. That means Danny Amendola has a great individual matchup, while the rest of New England's pass catchers, including tight ends, have below average individual matchups. Amendola's price has been working its way up, but he's still underpriced, especially in this matchup. I figured Amendola would have been a popular play on Thursday, but he was only the 13th most highly owned receiver.
Above we discussed the lack of volume for Miami's pass offense last week against Baltimore. But Miami/New York has the fourth highest game total of the week, so this should be more of a shootout. That makes Jarvis Landry interesting this week. On top of that, the matchup with the Giants is good as they rank 30th in aFPA against receivers in PPR leagues and 27th in pass DVOA. And as the cherry on top, people are a bit off Landry after his no-show last week. He was only the 12th most highly owned receiver on Thursday, so he's definitely not chalk.
Antonio Brown is chalk, but the guy has 27+ fantasy points in standard leagues in three of his last four games. The Steelers will face the Bengals this week, and Dre Kirkpatrick is the Cincy corner you want to pick on per the WR/CB chart. Kirkpatrick lines up almost exclusively on the left side, and both Brown and Martavis Bryant will line up against Kirkpatrick. Bryant sees that side of the field a bit more often, but the receivers move around the formation a fair bit generally. Brown is the safer cash play, while Bryant is the slightly contrarian option for tournaments.
Sticking with chalk for a second, Odell Beckham Jr. and Sammy Watkins were the first and third most highly owned receivers on Thursday. Beckham has topped 100 receiving yards in his last five games and has scored in four of those five. He'll likely see a lot of Brent Grimes, but Grimes has not been the dominant cover corner this year that he has been in year's past. As for Watkins, Philly's outside corners have struggled in coverage while Malcolm Jenkins has been good out of the slot. Watkins lines up fairly infrequently out of the slot, so he should see plenty of Philly's struggling outside corners. He's a bit chalky, but playing him with Taylor who wasn't one of the most popular QBs, should mitigate a bit of Watkins' chalk factor.
As for the last three guys ranked here, I've ranked them more as stack options if you decide to roster their quarterback. I don't think I'll be rostering any of these receivers unless I happen to be using their quarterback in a GPP lineup.
Tight End
Greg Olsen is as chalky as they come, but he's about the only reliable tight end option these days. Per aFPA his matchup against Atlanta is good one, though the Falcons have been good against tight ends according to DVOA. If you want to plug him in in cash games, I can't fault you. But he was unsurprisingly the most highly owned tight end on Thursday, so he can be faded in GPPs.
Travis Kelce was only the fourth most highly owned tight end on Thursday, but he has only owned by 6.7 percent of teams, which is a fairly low number. He has a good matchup against the Raiders who rank 29th in aFPA against tight ends in PPR leagues and 15th in DVOA against tight ends as receivers.
I thought Austin Seferian-Jenkins might make for a nice contrarian play given that he only returned from a long injury absence last week and didn't do a ton in his return. But apparently the matchup against New Orleans is too good for most people to ignore as was the third most highly owned tight end on Thursday. He's hard to trust for cash and too highly owned for GPPs, so I'm not sure he has much usefulness this week.
Instead, consider Coby Fleener as a contrarian option. He also has a great matchup against the Jags who rank 31st in aFPA and 30th in DVOA against tight ends. He was owned by less than one percent of teams on Thursday night, and he doesn't strike me as being all that different from ASJ. So if you're just looking to be contrarian at a position without a ton of great options, consider Fleener.
Defense
Carolina Panthers – $3,400
Kansas City Chiefs – $3,200
St. Louis Rams – $2,800
Tampa Bay Buccaneers – $2,200
Fill out the rest of your roster and then go as cheap as you need to with your defense. If you want to be contrarian, avoid the Chiefs as they were the second most highly owned defense on Thursday. The Panthers were the third most highly owned defense, but their ownership rate was noticeably lower than that of Kansas City's.
[/cointent_lockedcontent]