Daily Fantasy Football Strategy: Week 5 DraftKings Breakdown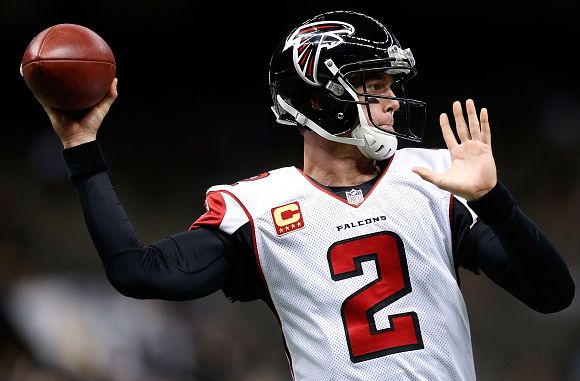 Below is a breakdown of Sunday's Week 5 NFL contests on DraftKings along with player rankings. Keep in mind that price has a huge impact on a player's ranking.
[cointent_lockedcontent article_labels="football"]
Quarterback
Devonta Freeman has scored six of Atlanta's last 11 touchdowns, but this week it may be the passing game's turn to eat. Atlanta will face Washington, and Vegas likes their potential to score as they have the fourth highest team total of the week. A lot of that optimism is because Atlanta's offense has been so good, but it's also partly due to the matchup with Washington, who has a slightly below average defense per Football Outsiders' DVOA. And the reason the passing game may have the better of it on Sunday is that Washington is 21st in pass DVOA but seventh in run DVOA. Washington is also 25th in 4for4.com's schedule-adjusted fantasy points allowed (aFPA) to quarterbacks, but they rank second in aFPA against running backs in PPR formats. The matchup is much better for Matt Ryan and Co. than it is for Freeman.
Philip Rivers is a tier below Ryan this week in terms of expected production, but he's also a tier below Ryan in salary with a price tag that is $500 cheaper. In terms of dollars per projected point, you could argue the two are very similar. Rivers' matchup with Pittsburgh isn't as good as Ryan's, but it's still an above average matchup as the Steelers rank 18th in aFPA against quarterbacks. The odds are that you can find a way to free up an extra $500 for Ryan, but if you can't and don't want to go super cheap at quarterback, Rivers is your guy.
Because Ryan is such a good option at a fair price, paying up for Tom Brady may not be necessary. But if you like to play it super safe at quarterback in cash games, Brady is money in the bank. The revenge tour resumes this week in Dallas, and the Cowboys, who rank 20th in pass DVOA, are not suited to stop the New England machine. The only hesitation I have with Brady is game flow as it seems highly unlikely that a Brandon Weeden-led offense will be able to keep pace. For that reason I'm somewhat interested in the New England running game as opposed to Brady. But again, if you like to pay for safety in cash games, Brady is an option.
If you want to gamble a bit with your quarterback, consider Michael Vick and Alex Smith. Vick wasn't great in his first start in relief of Ben Roethlisberger as he failed to reach the 15-point mark. And his matchup in that start against Baltimore was better than the one he has this week against San Diego according to aFPA. But he's still a guy who will utilize his legs (he had nine carries for 33 yards against Baltimore), and he has very good weapons at his disposal. It's an upside play to be sure, but some of you might be looking for cheap upside.
The other cheap option is Smith against the Bears. Smith really doesn't have Vick's upside, but he does have between 17 and 23 fantasy points in three of his four games. With a good matchup against a Bears defense that ranks 29th in pass DVOA, Smith should have a nice high floor for a very reasonable price.
Running Back
Todd Gurley had a breakout game last week, but that's not necessarily why he is ranked atop this list. The breakout was nice, and he wouldn't top my running back list without it having occurred. But he also wouldn't top the list if his price tag was much higher than $4,300, and he wouldn't top the list if he didn't have an above average matchup against Green Bay. There are 29 running backs that are more expensive with Gurley, and the Packers rank 20th in aFPA against running backs in PPR leagues. I imagine he'll be highly owned so perhaps he's someone to shy away from in GPPs. But if you're not trying to take down a big tournament, his value potential is hard to pass up.
As I mentioned, I'm interested in the New England running game. For me that's still Dion Leiws. LeGarrette Blount had a big second half in a blowout of Jacksonville in Week 3, but Lewis got 14 touches in that game and scored. This game against Dallas could follow a similar script allowing Blount to again have a big day. But Lewis is a more reliable target as he's likely to see some work in the passing game. Using New England running backs is perpetually a scary thing, but it's hard to ignore Lewis at such a reasonable price tag in a good matchup.
Were I to pay up for a running back, I'd go with Jamaal Charles over the likes of Le'Veon Bell, Matt Forte and Eddie Lacy this week. I like the matchup against the Bears who rank 31st in defensive DVOA and 27th against the run. But, in all likelihood, I'm not spending my money at this position this week. I like some pricey receivers and would rather spend my money there.
If you're looking for running backs cheaper than Gurley and/or Lewis, T.J. Yeldon and Ameer Abdullah are backs who can be relied on to get a certain number of touches. Their matchups against Tampa Bay and Arizona are middling according to aFPA, but they're mainly options simply because they can be counted on for touches. Yeldon is averaging exactly 20 touches per game and Abdullah got 15 touches last week with Joique Bell out of the picture, which will be the case again this week. Neither rookie has been spectacular so far, but they could provide a little extra salary relief with a reasonable floor that comes along with touches.
If you really want to go cheap, we've got the injury replacements. Thomas Rawls should start once again for Seattle with Marshawn Lynch out, and Anthony Dixon should get the start as both LeSean McCoy and Karlos Williams are expected to miss Week 5. Both Rawls and Dixon have average-ish matchups according to aFPA, but Rawls has the better matchup of the two against Cincinnati. Dixon has averaged just 3.4 yards per carry in his career of 261 rushing attempts. Rawls has averaged 4.5 yards per carry on 35 attempts this season. For that reason and because he has the slightly better matchup, Rawls is probably a better punt. But with Dixon only costing the minimum, he still warrants consideration if you're desperate for salary relief.
Wide Receiver
Julian Edelman is a bit risky in the sense that he can't be counted on to find the end zone. But he's the ultimate high floor guy in a PPR format. Edelman has played a little over half his snaps out of the slot, and the Cowboys rank 22nd in DVOA against slot receivers, which is better than they rank against either outside receiver or tight ends. They are worse against running backs as receivers, which also makes Lewis more attractive.
Maclin has cleared 28 DK points in each of his last two games, and he'll have an excellent chance to clear that mark again against the Bears secondary. Maclin lines up all over the formation, but he'll likely see Kyle Fuller the most in coverage. Fuller continues to not be any good, and Maclin should have a nice advantage in that matchup. He's not a huge value or anything, but he probably is a tad underpriced.
Alright, now the Falcons. As mentioned, I like the Atlanta passing game this week. The only question is whether I'm stacking Ryan with Julio Jones, Leonard Hankerson or both. If I can afford Julio, I'm getting him in there. Given the cheap options at running back, this should be doable. But if it's not, Hankerson is a fine salary relief option as he has two games out of four with 19+ DK points. In a tournament, using both receivers with Ryan is an option. It's obviously a high volatility play, but that's kind of the idea in big tournaments.
If you need some mid-price receivers to plug into a spot or two, Allen Robinson and Pierre Garcon have decent matchups and decent price tags. Robinson had the big day in Week 2 but has managed double digit performances in each of the last two weeks. A decent floor with upside isn't a bad play. Speaking of decent floors, Garcon has at least 11 DK points in each of his four games this season. He hasn't topped 20 at any point, but you wouldn't own him for upside.
And finally, if you want to get salary relief at the receiver position, Willie Snead is priced at the minimum despite seeing at least six targets in each of the last three games. He scored in one of those games and got to 89 yards in another, so he does have a bit of upside as well. The matchup with Philadelphia is good as the Eagles rank 31st in aFPA against receivers in PPR leagues.
Tight End
Jason Witten – $4,500 – Dallas Cowboys
Owen Daniels – $2,700 – Denver Broncos
Charles Clay – $4,100 – Buffalo Bills
Jason Witten has at least six targets in each of his four games, and he has between 56 and 65 yards receiving in all four games. The floor is pretty well set for Witten, it's just a matter of whether he scores. The Pats rank 29th in aFPA against tight ends in PPR leagues and the Cowboys should be throwing a lot playing from behind, so Witten could have more upside in this matchup.
Speaking of good matchups, both Charles Clay and Owen Daniels also have one. Clay is facing the Titans who rank 26th in aFPA against tight ends in PPR leagues and Daniels is facing the Raiders who rank 32nd. The Raiders have allowed tight ends to rack up 388 yards and six touchdowns in just four games, so Daniels definitely has the better matchup. But Daniels has just 12 catches through four weeks compared to 21 for Clay. If you want to play it safer, Clay is your guy. But given that he's only $400 cheaper than Witten, you might ought to just find a way up to Witten. And if you want to roll the dice, Daniels has much more upside at his reduced price point.
Defense
Denver Broncos – $3,600
New York Giants – $2,900
Jacksonville Jaguars – $2,700
This is kind of cheating, but it's almost 2:00 A.M. Central on Saturday morning, and I still have to write Saturday's NHL DFS post here. So I'm going to link to my post on Fantasy Alarm from this week breaking down defensive options. That post is free so click on over for defensive thoughts.
[/cointent_lockedcontent]