Daily Fantasy Football Strategy: Week 6 DraftKings Breakdown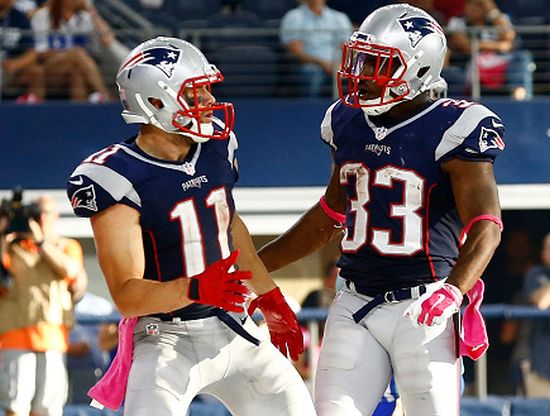 Below is a breakdown of Sunday's Week 6 NFL contests on DraftKings along with player rankings. Keep in mind that price has a huge impact on a player's ranking.
[cointent_lockedcontent article_labels="football"]
Quarterback
Aaron Rodgers – $7,700 – Green Bay Packers
Blake Bortles – $5,200 – Jacksonville Jaguars
Colin Kaepernick – $5,000 – San Francisco 49ers
Picking a cash game quarterback is not too easy this weekend. Aaron Rodgers and Tom Brady are the usual suspects in that consideration, but there are things not to like about each of them. For Brady, I'm just not enamored with his price tag ($8,100), which is $400 more expensive than Rodgers. Price isn't as big of a consideration when trying to pick a safe, cash game QB, but I can't help but feeling like Brady is an overpay at that price.
As for Rodgers, there's just some concern about his matchup as the Chargers are the fifth-least friendly matchup for quarterbacks according to 4for4.com's schedule-adjusted fantasy points allowed statistic (aFPA). He faced the third least friendly matchup last week against St. Louis and managed only 15.5 standard fantasy points. On the plus side, the Packers are up there with the Pats with the highest team totals in Vegas this week, and, again, Rodgers is $400 cheaper than Brady and is as cheap as he has been so far this season.
On the cheaper end off things there are some guys with better matchups. Blake Bortles will face the Texans who rank 28th in aFPA against quarterbacks. Bortles has been a top eight fantasy quarterback in each of the last two weeks and has at least 15 standard fantasy points in each of his last four games. That level of play has two of his receivers, Allen Robinson and Allen Hurns, in the top 12 fantasy receivers of the season so far. T.J. Yeldon has not proved capable of putting the team on his back, and Yeldon might not even play this week. It should be all Bortles in a solid matchup.
If you need to save an extra $200 (mainly joking), you could pass up Bortles and go with Colin Kaepernick against Baltimore, as the Ravens rank 30th in aFPA against quarterbacks. Kaep has been very boom-or-bust this season with two 20-point-plus performances and three games where he didn't reach 11 standard fantasy points. He's coming off one of those good performaces as he threw for 262 yards and two touchdowns last time out against the Giants. I prefer Bortles, but the matchup is good and Kaep is the minimum price, so it's something to consider.
Running Back
Instead of Brady, I'll get my exposure to the Pats with Dion Lewis. Lewis has been a top 16 PPR running back in each of the four weeks in which New England has played this season, and he has been top six in two of those four weeks. The Colts rank 23rd in aFPA against running backs in PPR leagues, so the matchup is plenty good.
If you go cheap at quarterback, you'll have to spend your money elsewhere, and Matt Forte makes the most sense as a spot to spend your money. The preseason concerns about the Bears working in other backs were overblown as Forte is averaging 24 touches per game. And with Jacquizz Rodgers now on IR, Jeremy Langford is the only other back on the roster with a touch this season and he has just 11 touches. Forte has been a top 15 PPR running back in four of five weeks and has a good chance to make it five of six against a Lions team that ranks 24th in aFPA against backs in PPR leagues.
Moving on to the cheaper backs, Charcandrick West figures to be a popular play this week. Plenty has been written about the Kansas City backfield this week, but it has to be mentioned again that West has outtouched Knile Davis 14-2 in the last two weeks. Now, it's entirely possible that Davis ends up taking on more of the rushing workload while West is used frequently as a different type of weapon. But based on recent usage, West feels like the safer play and the guy more likely to return value at their low price tags. The Chiefs will face the Vikings who rank 21st in aFPA against backs in PPR leagues.
Giovani Bernard and Carlos Hyde are similar plays this week in that they have the same price tag, they both have a below average matchup against teams that rank top 10 in aFPA against backs in PPR leagues, and they each have a bit of extra risk. For Bernard, that extra risk is the presence of Jeremy Hill, despite the fact that Bernard worked as the lead back last week. And for Hyde, the extra risk is the fact that he did not practice until Thursday due to a foot injury. He's fully expected to play this weekend, but there's always a concern that he won't be effective or will reaggravate the injury. But despite the concerns, they have very reasonable price tags. They're priced just inside the top 20 most expensive backs, and they should get enough volume to return value at that price.
Similar to Gio and Hyde, Lamar Miller doesn't have a great matchup against the Titans who rank fourth in aFPA against backs in PPR leagues. And the Dolphins have made no commitment to get Miller the ball so far as he's averaging 11.75 touches per game. But with Joe Philbin out, perhaps there's a shift in philosophy in Miami this week as they come off their London-induced bye week. Exactly 25 backs are more expensive than Miller this week, so he could return some value.
Wide Receiver
While I can't quite pay up for Brady, that doesn't mean Julian Edleman isn't a great option. Edeleman has finished as a top seven PPR receiver in three of the four weeks the Pats have played, and he ranked 22nd in that fourth week. He's just money in the bank in PPR leagues. Maybe he doesn't have the upside you're looking for in GPPs, but he's as reliable a cash game play as there is.
If you decide to go cheap at quarterback with Bortles, I see little reason not to stack him with Robinson. ARob no-showed in Week 1, but in his last four games he has at least four catches and 68 yards in each game, and he has gone big twice with two two-touchdown games. Or if you go with Kaepernick, I see no reason not to stack him with Anquan Boldin. As mentioned, Kaepernick has been boom-or-bust with two great games and three bad ones so far, and Boldin's performance has unsurprisingly tracked Kaepernick's exactly. Boldin is up against the Ravens who rank 30th in aFPA against receivers in PPR leagues, so he's a very good salary relief option even if you're not stacking him with Kaep.
In the $6,000-$7,000 range, we've got plenty of good options. The most reliable receiver in that range is Larry Fitzgerald who has at least five receptions and 58 yards in each of his five games this season. In fact, five receptions and 58 yards were his numbers from last week, which were season-lows for Fitz, but he scored a touchdown to make up for it. He truly hasn't had a bad game this season. He'll face Pittsburgh who ranks 19th in aFPA against receivers in PPR leagues.
After that, it gets a bit tough to distinguish between the receivers in the low-$6,000's price range. Jeremy Maclin could benefit from Jamaal Charles' absence, though most of that kind of talk has centered around West and Davis. A potential uptick in volume is never a bad thing. Then there's T.Y. Hilton and Jordan Matthews against the Patriots and the Giants who rank 21st and 26th in aFPA against receivers in PPR leagues, respectively. Hilton has been more steady in terms of receptions and yardage this year, but he has yet to score a touchdown. And while Matthews started strong, he hasn't had more than 50 yards receiving or scored a touchdown in the last three weeks. These three receivers strike me more as GPP plays.
If you're desperate for salary relief, Jamison Crowder is worth considering. The rookie out of Duke has at least six receptions in each of the last three weeks and is very reasonably priced. He hasn't scored and the matchup with Jets isn't great as they rank fourth in aFPA against receivers in PPR leagues. But, again, he's very cheap if that's what you're looking for.
Tight End
Delanie Walker – $3,600 – Tennessee Titans
Richard Rodgers – $3,100 – Green Bay Packers
Larry Donnell – $2,800 – New York Giants
Let's just keep it cheap at tight end this week. Tyler Eifert and Antonio Gates are not unreasonably priced in the $4,500-$5,00 range, but they do not have great matchups. And while I love Gronk, my model just thinks he's too overpriced. So give me the cheap guys with good matchups. Delanie Walker will face the Dolphins who rank 25th in aFPA against tight ends in PPR leagues. If you want to go cheaper, Richard Rodgers will face the Chargers who rank 19th in aFPA against tight ends in PPR leagues and 28th in Football Outsiders' DVOA against tight ends. If you're using Rodgers (Aaron), I would recommend pairing him with his cheap tight end. And if you need to go as cheap as you possibly can, Larry Donnell will face the Eagles who rank 20th in aFPA against tight ends in PPR leagues.
Defense
As I frequently do, I'll cop out here and refer you to the (free) D/ST post I write for Fantasy Alarm each week. You can check that out here.
[/cointent_lockedcontent]