Fantasy Football 2013: Jake Locker Appraisal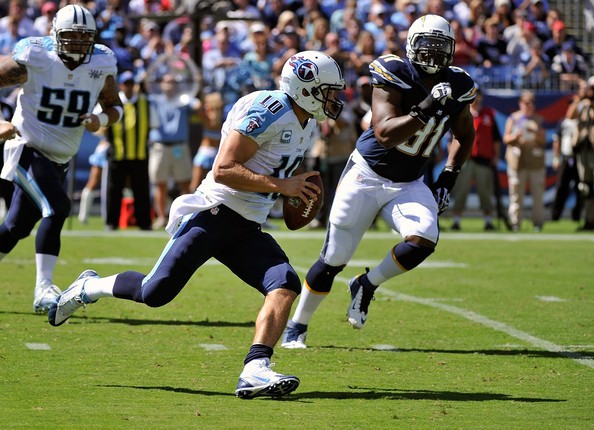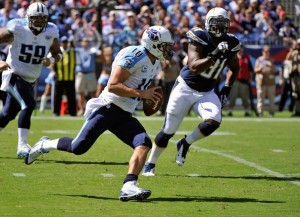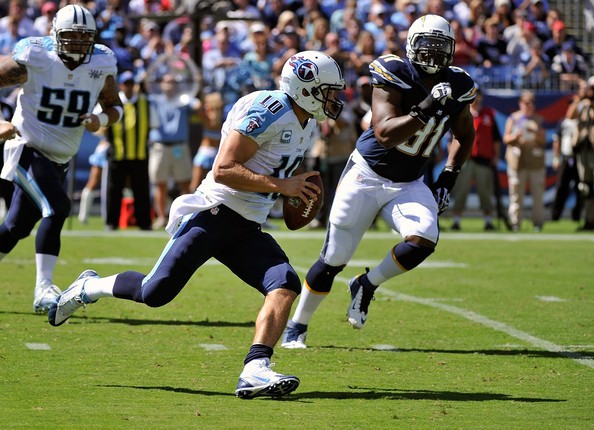 After suffering knee and hip sprains during week four's thrashing of the Jets, Jake Locker returned from a two-week absence on October 20th versus San Francisco. His stat line reads impressively: 25/41 (three drops), 326 yards and two touchdown passes (one interception). Falling in line with the usual overreaction routine, his endorsement from fantasy writers has since increased tenfold. But in reality, his performance is yet another instance of the conventional numbers telling only partial truths. [am4show have='p9;p4;p7;p3;' guest_error='Front Office' user_error='Front Office' ]
Locker in the first half: 11/16 – 104 yards – one interception. The Titans trailed 17-0.
Locker in the second half: 14/25 – 202 yards – two touchdowns. 148 of those yards came on the final two drives (7:36 remaining) with his team down 24-3.
A deeper dig into the manner in which he accumulated those 326 passing yards reveals a great deal, as just 155, or 47.5%, came through the air – Kendall Wright picked up 21 yards on a short cross, 19 of which came after the catch; Wright later picked up 20 yards on a WR screen, the pass was caught two-yards behind the line of scrimmage; the Titans first score came on a 66-yard RB screen to Chris Johnson, caught five-yards into the backfield. 33% of his yardage came on three plays that were received a combined 6-yards behind the line.
YAC-reliance has not been a season long theme for Locker, who ranks third in the NFL in yardage achieved through the air at 62.6%. However, it should also be noted that entering week seven he had thrown for a less than remarkable 180 yards per game. His air shots are not deep shots, but rather intermediate strikes. Locker has completed seven passes 20+ yards downfield at a connection rate of 17%.
Now equipped with a knee brace and far from his typical mobile self, Locker's ability to handle and manage pocket pressure is a major concern. He faced "pressure" on 16 of 47 drop-backs versus SF, completing 5/11 passes (two scrambles) with a yards/attempt figure of 2.9, and taking three sacks. When he was allowed a clean pocket he graded out at 2.6 on Pro Football Focus, but on those 16 pressure drop-backs he graded out at -2.7. On the season, Locker has faced heat 37% of time, completing 45.7% of his passes in those less than comfortable situations. Given the above information, it's not surprising that Locker stands near the bottom of the food chain in third-down (pressure down) pass conversions (40.7%).
Establishing some semblance of a fear-worthy ground game would lift Locker tremendously. The Titans have averaged 3.8 yards per rush through eight games, and as a result their play-action game has been a non-factor. He's attempted 15 passes off the PA, connecting on seven for 47 yards. And if that astounding lack of productivity wasn't bad enough, he's been sacked seven times on 22 PA drop-backs. That is hard to believe, indeed.
I'd like to this end this article on a positive note, because (believe it or not) I do think there's significant upside in Locker. In fact, he'll be my starting QB this week at St. Louis with Matt Stafford on a bye. He spins a pretty ball, possesses the arm strength to make all the throws, and (when healthy) his legs make him a dynamic playmaker outside of the pocket. A look back at positive signs from week seven, using moving pictures created from NFL Game Rewind: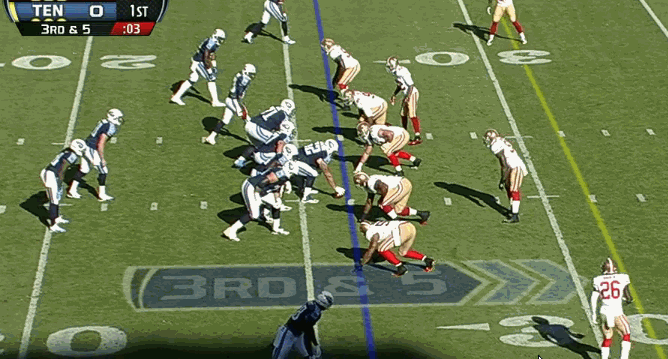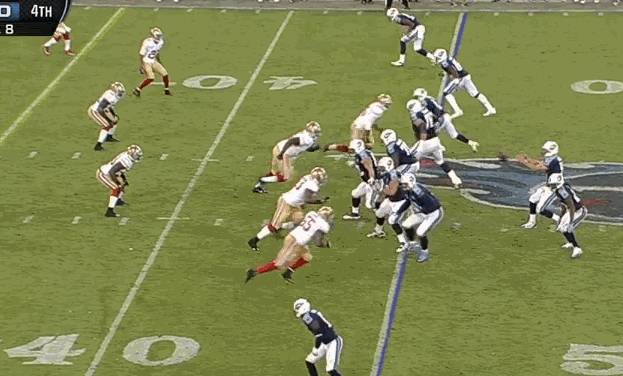 *Premium Stats provided by ProFootballFocus.com*
Follow Adam on twitter @AdamGaneles for NFL analytics and breakdowns
[/am4show]