Fantasy Football 2013: The Lead Back Situation in Carolina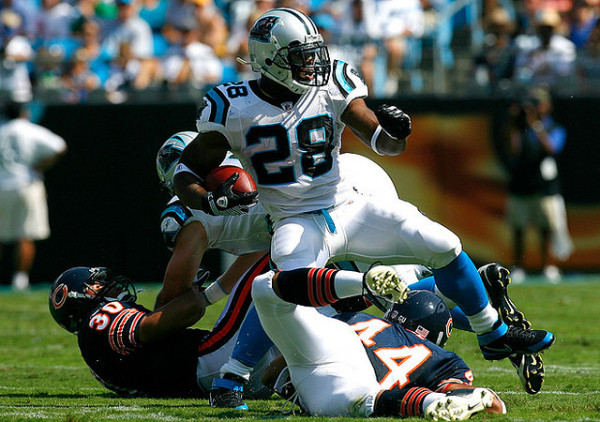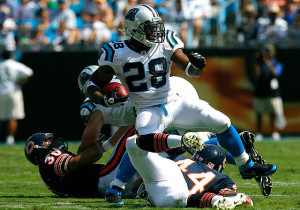 Season opening rushing efforts of 86, 85 and 120 rushing yards for DeAngelo Williams now fall under the category of ancient history. In the five weeks since he's averaged 45.6 yards on 13 carries per game (3.5 YPC). Williams is struggling to carve out double-digit runs, let alone the massive chunk gains he was once upon a time renowned for: five 10+ yard runs (with a long of 22) and four missed tackles in five games. Now 30-years of age, Williams does not possess the same acceleration or elusiveness to break off runs.
To make matters worse for Williams, he's the antithesis of a goal line runner. He's received a paltry five carries inside the opponents 5-yard line (three this past week vs. Atlanta) and has failed to cross the plane on any of them. His only score came from 12 yards out.
| | | |
| --- | --- | --- |
| OPPONENT | YARD LINE | PLAY RESULT |
| Minnesota | 2 | No gain |
| Minnesota | 4 | 3-yard gain |
| Atlanta | 4 | Loss of a yard |
| Atlanta | 5 | 1-yard gain |
| Atlanta | 4 | 2-yard gain |
The window on Jonathan Stewart won't be open much longer – act while you still can.
Stewart returned to the field from the PUP list in week nine looking healthy, fresh and displaying noticeable burst.  He played on 19 of 77 offensive snaps, taking his first carry early in the second quarter and proceeding to lead the Panthers with 43 rushing yards on just nine attempts.  He also caught all three of his targets out of the backfield for 23 yards.
OK. One moderately successful week behind a limited workload; what's the big deal? With the continued diminishing returns offered up by long-standing disappointment Williams, the door is wide open for Stewart to work himself into the lead RB role, and he has the talent to run with the opportunity. The off-season restructuring of Williams' contract (three-years $10 million) should make it easier to gradually delete him from the fold.
Stewart brings a variety of skills to the running back position, but his style is marked by power and balance. All attempts at arm tackles will be made in vain and end in embarrassment. His legs are akin to tree trunks, and at 5'10 there's not a lot of surface area to shoot for. He FINISHES runs. During his healthy 2011 season, Stewart finished seventh in the league in success rate (48%) and averaged three yards after contact per rush. Combine his strength with explosive quickness and vision – what you have is a well-rounded back. Stewart possesses prime receiving skills as well and displays excellent patience in the screen game. When operating at 100%, which hasn't been the case often enough, he's been a tough cookie for opposing defenses to contain.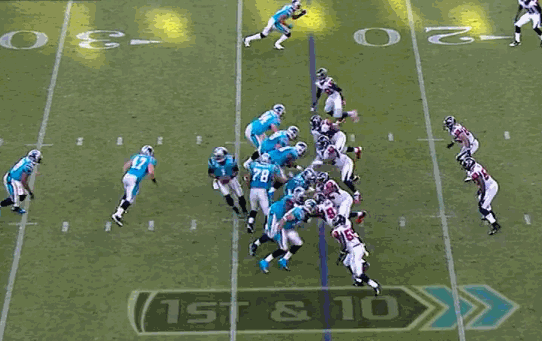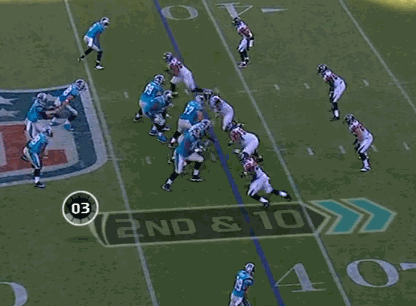 Unfortunately, the goal line carry picture will probably remain a cloudy one going forward. While Stewart fits the bill physically as a short-yardage runner (ten TD's in both 2008 and 2009), there is already qualified competition in place with beefy resumes. Fullback Mike Tolbert has four rushing touchdowns in six weeks, and so does that 6'5 245 pound beast of a quarterback. Nevertheless, the plan of action doesn't change: if you're currently rostering Williams and Stewart is available on your waiver wire, make the swap without hesitation. Downside versus upside; the computation is simple. Stewart's your guy.
*Premium Stats provided by ProFootballFocus.com*
Follow Adam on twitter @AdamGaneles for NFL analytics and breakdowns