Fantasy Football 2013: The Talented (but complicated) Stevan Ridley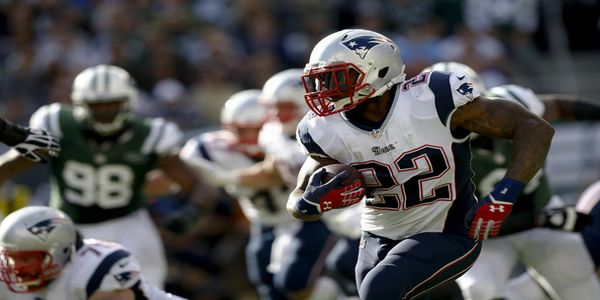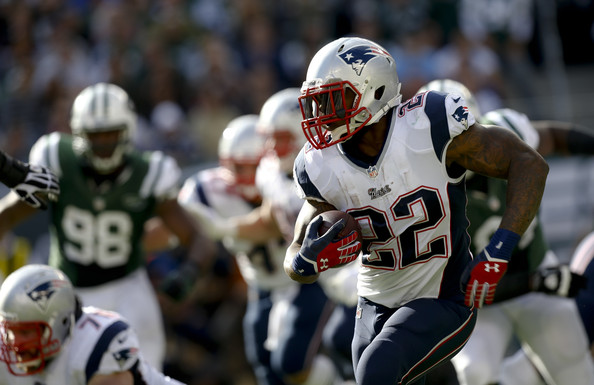 Now at the halfway mark of the NFL season, few (if any) running backs have produced more agita for their fantasy owners than Stevan Ridley. Coming off the heels of a breakthrough 1,260 yard, 12 touchdown season in 2012, the 24-year old's stock was busting at the seams. His ADP was a cool 2.8, comfortably ahead of the usual suspects i.e. Frank Gore, Reggie Bush and DeMarco Murray. Up to this point in 2013, Ridley's limited ground success and limited usage have been head scratching to say the least. Only his four scores have allowed owners to save face, somewhat.
Let's turn back the clocks. Ridley found himself in Bill Belichick's doghouse after fumbling (returned for a touchdown) at Buffalo in week one. Largely as a result of that miscue, he's surpassed the 15-carry mark just once and the 50-yard threshold only three times. He missed week five with a knee/thigh injury and didn't see first quarter action in either of the last two weeks. The coaching staff was apparently ticked off by his celebration antics against the Jets (penalized), but that doesn't explain his first quarter inactivity the week prior. It's a typical New England communication mess.
Despite all the adverse events surrounding Ridley, he's scored all four of his touchdowns in the past three weeks, and he looks to be finding his rhythm in a hurry — when actually on the field. He went for 20/96 and two scores versus New Orleans, 11/50 and a TD at the Jets, and 14/79 and a score versus Miami; all without seeing greater than 43% of the RB snaps. Additionally, four of his five 15+ yard runs have come during this recent stretch of improved performance. The visual evidence: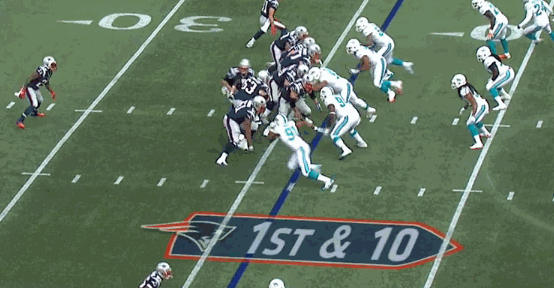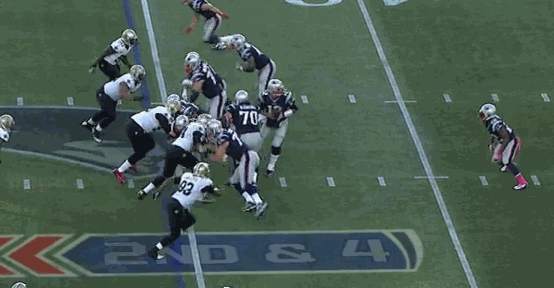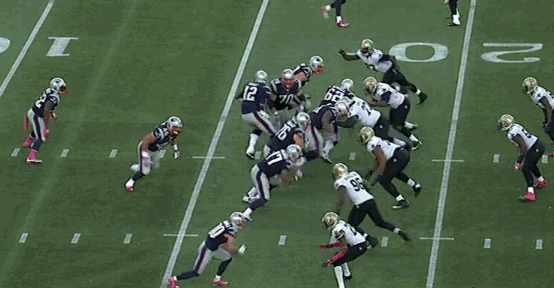 While the magic of Tom Brady still manifests itself on occasion, the Patriots passing game is undeniably operating as a diminished version of its former potency. They'd be wise to rely more heavily on their rushing attack, and perhaps we saw the seeds of that intent on Sunday versus the Dolphins. Brady handed it off to his backs 33 times and threw just 22 passes. Unfortunately for Ridley owners, however, those hand offs are being dispersed between Legarrette Blount and Brandon Bolden as well. Blount got the start with Ridley's benching and carried it 11 times for 46 yards – it should be noted that in prior weeks it seemed he was being phased out of the offense (2.5% of snaps in week seven). Bolden played 44% of the snaps (mostly passing downs), but also vultured a two-yard score.
Versatile back Shane Vereen is expected to return from the "Partial IR" in week 11, which should actually boost Ridley's standing as early-down runner extraordinaire. Meaning, the presence of a healthy Vereen should simplify role allocation – less backs, same production. Right now Belichick is using Bolden on some of Ridley's early rushing downs plus Vereen's passing downs. This needs to end. Blount on the other hand will not be an obstacle to Ridley going forward. Unlike last season's fade to black during the dog days, look for a fresh-legged Ridley in the second half. He is a prime RB2 in week nine versus a Pittsburgh defense that once again looked over the hill against Oakland.
*Premium Stats provided by ProFootballFocus.com*
Follow Adam on twitter @AdamGaneles for NFL analytics and breakdowns