Fantasy Football: Re-Ranking the 2014 Wide Receiver Class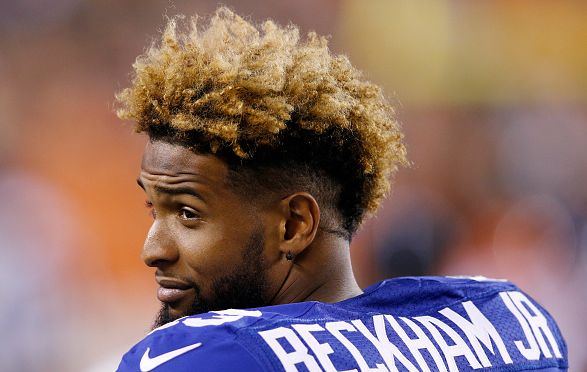 The 2014 wide receiver class is arguably the greatest of all time. I know, it's still early to say that, but it's becoming pretty clear very quickly. I am going to re-rank who I deem the top 10 now. I will also start by posting my pre-draft top 10. I will be re-ranking all the wideouts, not the top 10 drafted, so you will not see the likes of Davante Adams, Marqise Lee or Cody Latimer. As a matter of fact, only one of my original top 10 didn't make the updated top 10. Also, this is based on what I've seen on film, not entirely based off numbers. If you enjoy this article or disagree, I encourage you to head to our forums and CREATE YOUR OWN RANKINGS HERE. Our forums have been a hot spot as of late and we love interaction from our readers.
My original Rankings
1. Mike Evans
2. Odell Beckham Jr.
3. Kelvin Benjamin
4. Brandin Cooks
5. Allen Robinson
6. Sammy Watkins
7. Martavis Bryant
8. Jordan Matthews
9. Jarvis Landry
10. Josh Huff
Re-Ranking the 2014 WR Draft Class
1. Odell Beckham Jr, NYG
Beckham's production speaks for itself. He is setting all types of receiving records. Granted, the game has changed and just because he's breaking records doesn't mean he's better than Randy Moss. One-handed catches are fun to watch, but two-handed catches count just the same. He's reportedly a bit of a diva off the field and we all saw his meltdown against Josh Norman. Nevertheless, there is no denying his talent. Through two seasons he has racked up 187 receptions for 2,755 yards and a whopping 25 touchdowns.
2. Allen Robinson, JAX
I stated when he was drafted that Robinson was the most reliable NFL wideout in the 2014 draft. His route running and hands are exceptional. After seeing his rookie season cut short by injury, he showed why he should have been a no-brainer first-round pick. He grabbed 80 passes for 1,400 yards and 14 touchdowns this past season. That was in an offense that still has a lot of growing to do. He reminds me a lot of a young Larry Fitzgerald.
3. Jarvis Landry, MIA
Juice Landry is absolutely incredible. His versatility gives him a huge boost on this list. Not only is he tremendous on special teams, he can also impact the game on the ground. He leads his entire class with 194 receptions and also leads in total yards. Landry has compiled almost 900 more total yards than Beckham. His route running is exceptional and his hands outstanding. You cannot overlook his leadership and toughness either. I am embarrassed to say I fell victim to something I very rarely do when grading him for his draft. I overreacted to his slow 40 time. As a film guy I'm ashamed to admit that.
4. Kelvin Benjamin, CAR
KB could very well be higher on this list if he didn't miss the entire 2015 season. While very productive, he was still raw as a rookie. I fully expect him to grow as a player and explode in 2016. With Cam Newton now playing on a whole other level, the sky is the limit for Benjamin this upcoming season. His size, hands and athleticism make him a matchup nightmare.
5. Mike Evans, TB
The talent is clearly there for Evans and we've seen him explode at times. Injuries and a rookie QB clearly hindered him early in 2015, but the flashes he's shown are incredible. Still, he's been plagued by drops and inconsistency. I fully expect him to grow and flourish along with Jameis Winston moving forward. That will be a dangerous duo for years to come.
6. Martavis Bryant, PITT
Bryant is as gifted an athlete as we have in the league and is a TD machine. He reminds me a lot of Randy Moss. The only reason his overall numbers are a bit down is because he's missed 11 games, most of which were to develop as a rookie. Despite that fact, he still has 15 touchdowns in 21 games. Of all the wideouts in his class, Bryant is the most dangerous big-play threat.
7. Brandin Cooks, NO
I give Cooks a very slight edge over Watkins. I believe he's a superior route runner and more consistent than Watkins. I prefer a guy that is going to show up over a boom-or-bust guy that disappears often. Cooks did get off to a slow start in 2015 but still piled up 13 TDs, 137 receptions and 1,838 total yards.
8. Sammy Watkins, BUF
Watkins has shown tremendous flashes, however, he's also been wildly inconsistent and his route running could use some improvement. He really came on strong late in 2015 but still had six games of 60 yards or less, most of them much less. In 2014, he failed to reach 60 yards ten times, nine of those times failing to top 35 yards. I love what he did late in 2015, but it just was too little too late for this list.
9. Jordan Matthews, PHI
Matthews has been very good. Being ninth on this list is less an indictment of him but shows how incredible this class really is. Through two seasons he's second only to Beckham with 16 TDs (tied with Robinson for second). Still, he took a step back as a sophomore and his hands often failed him in crucial spots this past season. Butthe fact that he's as low as nine is incredible with his production.
10. John Brown, AZ
Brown has become an exceptional deep threat. Still his total receptions and yards are a bit down. He's another boom-or-bust guy. With Fitz getting older, Brown's role should continue to expand. The health and age of Carson Palmer is a concern, though. Nevertheless, his incredible speed makes him very dangerous and valuable to the Cardinals.
So what do you think of my rankings? Let me know on our forums HERE.