Super Bowl XLVII Preview: Ravens vs. 49ers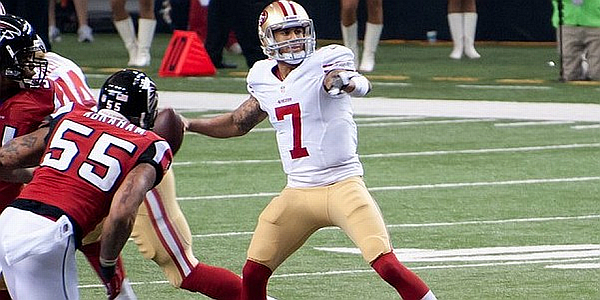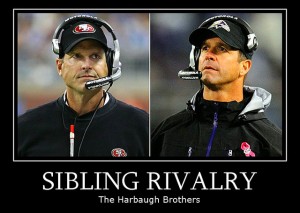 Come 6:30 p.m. EST Sunday all the predictions – experts' and average Joes' alike – will be rendered moot as Super Bowl XLVII kicks off. The game is full of storylines. Can Ray Lewis go out on top? Can Joe Flacco become "elite" – whatever that means? Can Colin Kapernick continue his dominant run? Will we all pass out due to the constant HARBAUGH HARBAUGH HARBAUGH! headlines?
Whether you're just predicting a score, picking against the spread, or betting a money line or an over-under, only one Harbaugh will win.
Super Bowl betting indicates that the San Francisco 49ers as four-point favorites over the Baltimore Ravens with the Niners (-180) and the Ravens (+160). To win $100 betting on the Niners at -180 you'd have to bet $180, while to win $160 on the Ravens at +160 you'd only have to bet $100. The over-under is listed at 47.5, which seems low considering Baltimore has averaged 30 points a game in the playoffs while San Fran has averaged 36.5 in its two games.
So this should be a high-scoring game, right? Right. Even though both teams boast top-12 scoring defenses, they advanced to the Super Bowl by being able to put up points in bunches. The Ravens scored 21 points in just over 10 minutes of game-time in the AFC Championship game; In the Divisional game against the Broncos, Baltimore scored on pass plays of 32, 59 and 70 yards, respectively. San Francisco scored 45 against Green Bay and erased a 17-point deficit two weeks ago, outscoring the Falcons in the NFC Championship game 28-7 from the middle of the second quarter on.
Flacco's been playing arguably the best ball of his career in these playoffs, throwing eight touchdowns with no interceptions. But he hasn't been very efficient with his passes, only completing 55 percent of them. Kaepernick's also played extremely well in his two playoff games, scoring five total times with only one interception, which occurred on the first pass of his first career playoff game. So he's basically been perfect on 99 percent of plays.
Both team's running games are going strong. The Niners have scored seven touchdowns on the ground in two playoff games and are averaging 6.3 yards a carry. The Ravens are averaging 4.3 yards a tote and have scored three rushing touchdowns in three games. Ray Rice is leading all players in postseason rushing yards, with 247. But he's only rushing at 3.9 yards a carry. However, his teammate, rookie Bernard Pierce, is averaging 6.3 yards a carry on 27 attempts. The Niners' ground game is just as effective. Frank Gore is averaging 104.5 yards in the playoffs and has three touchdowns, thanks a lot to the game-breaking ability of Kaepernick. While Gore is no slouch, Kaepernick, who's averaging 11.2 yards a carry in the playoffs, has kept defenses honest with his throwing and running ability. He ran for 181 yards against the Packers, and while he only rushed for 21 yards against Atlanta the constant threat of his breaking off a long run on the read-option kept a Falcon defender occupied and allowed Gore to score two touchdowns. Another rookie, LaMichael James, has 55 yards on eight attempts and scored on an impressive run against the Falcons.
Both defenses warrant a mention, as both are very good with high-quality play-makers. Both have faired very well against very good offenses this postseason, but I'd give the edge to Aldon Smith and San Francisco. When facing Joe Flacco, the Niners won't have to worry about the threat of him taking off and running for an 80-yard touchdown, which the Ravens will have to worry about when defending Kaepernick. And that's what tilts my prediction for the Big Game toward San Francisco. Both teams' receiving corps are fairly similar, and so are their running games. And while Flacco led an impressive comeback over the Broncos I think it's safe to say that the game-tying touchdown pass to Jacoby Jones was more the Broncos defending poorly than the Ravens executing well offensively. While the 49ers falling behind doesn't take away their best asset – Kaepernick – the Ravens falling behind by two scores and/or late somewhat takes away their best option in Rice. Kaepernick's led comebacks against the Packers and Falcons, with his arm, his feet and just the fear of his feet, in dominating fashion, and he provides the Niners more ways to win whether they're ahead or behind. San Francisco should win its sixth Super Bowl, 30-23.