The Diminishing Upside of Antonio Brown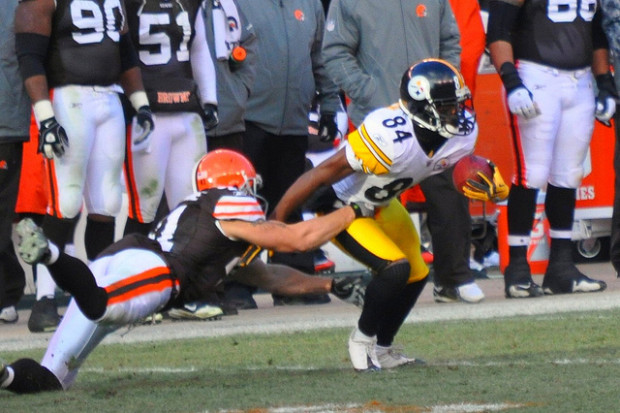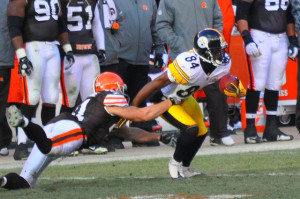 During his first three seasons, Antonio Brown found heaps of success working short to intermediate routes and using his "isolation" skills in space to create additional yardage. He can best be classified as a playmaker with ball in hand, quick and shifty with loose hips, and unafraid to operate in traffic. Now back to that key word; space.  Brown was certainly afforded plenty of it playing alongside vertical threat Mike Wallace, who had the full attention of opposing defenses on every single snap. The 2013 version of the Steelers can boast no such downfield presence, and early returns reveal that Brown is feeling the squeeze. [am4show have='p9;p4;p7;p3;' guest_error='Front Office' ]
In 2011, Wallace caught ten balls 20+ yards from the line of scrimmage at 47.8 per catch. In that same year, Antonio Brown averaged 16.1 yards per catch and 5.0 YAC.
In 2012, Wallace caught six balls 20+ yards from the line of scrimmage at 43.8 per catch. In that same year, Antonio Brown averaged 11.9 yards per catch and 5.4 YAC.
Brown has averaged a solid 11.6 yards per catch thus far in 2013, but his YAC of 1.9 is hard to fathom and highlights an unfortunate reality: the Steelers have shown no semblance of a vertical attack in the opening two weeks. Ben Roethlisberger has attempted 13 passes 20+ yards from the line, completing only two (, and is averaging a meager 6.3 yards per attempt. Emmanuel Sanders, Pittsburgh's most likely deep threat from a physical standpoint, has failed to haul in a reception 20+ yards downfield in six such targets.
Essentially their passing game is operating inside a cardboard box. Brown is the focal point of opposing defenses, and they are restricting his freedom to roam following the catch. They will continue to press receivers off the snap and clog the short-yardage, Todd Haley (extension on the run) passing game until they are burned for doing so.
Brown's long grab of 22 yards came off a legitimate deep middle inside breaking route, about the longest single-move route he'll run. Another catch of 20 yards came off Ben Roethsliberger improvisation, as Brown readjusted his route after Roethlisberger escaped the pocket. His third longest grab of 18 yards came on the final play of Monday night's game, facing a true prevent defense behind by two scores.
Antonio Brown Catch Distribution
| | | |
| --- | --- | --- |
| Catch Point | Targets | Receptions |
| Behind the line (WR Screen) | 4 | 4 |
| 0-9 yards | 4 | 3 |
| 10-19 yards | 4 | 3 |
| 20+ yards | 3 | 1 |
Someone needs to step up and "open the windows" for lack of a better phrase.  Can Brown assist in filling this big-play, deep route void? Quite simply, it's not his strength. He's more versatile than a typical slot receiver, but he lacks the downfield productivity, size (5'10) and ball-in-air aggressiveness of the top outside threats. He might be listed at #1 on an uninspiring WR depth chart, but he's a hybrid-two.
While Brown is capable of pulling the surprise vertical attack out of his bag of tricks — last season he blew past Adam Jones on a crisp double-move along the left sideline for a 60-yard score — make no mistake; this was the exception, not the rule.
Despite the seemingly doomsday angle of this post, it's not time to panic on Brown, particularly in rewarding PPR formats. The truth is, there was reason for concern entering the year, and that concern remains. The positive news is that Brown has been on the field for nearly 93% of his team's offensive snaps. He's also made efficient use of his targets, catching 73% of balls thrown his direction against zero drops. Expect to see a heavy dose of quick slants, short/intermediate hitches and WR screens. Quantity over quality will very likely be the key going forward, as explosive plays will be sparse when Roethlisberger is forced to remain in the pocket.
*Premium Stats provided by ProFootballFocus.com*
Follow Adam on twitter @AdamGaneles for NFL analytics and breakdowns
[/am4show]