2015 Fantasy Football: Week 3 — Deep Sleepers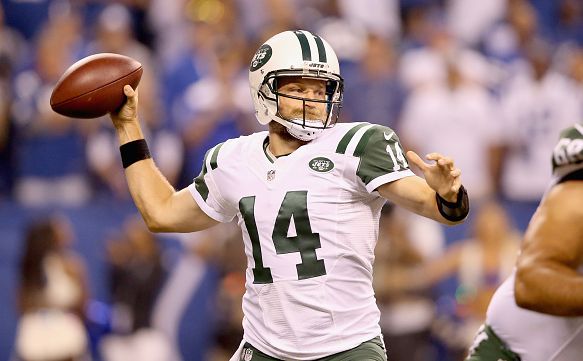 Everybody knows to start Andrew Luck and Julio Jones. In this article we will be covering deep sleepers, guys that a lot of people may be able to find on their waiver wire. If you're desperate for an emergency play or a cheap DFS option, this is where you find those guys. Just remember all these guys are longshots. Don't bench your stars for them!
We hit on a few big time performers last week like Rishard Matthews and Anthony Fasano. We're going to keep bringing you the best deep sleepers in the business for a third week in a row!
Quarterbacks
QB Ryan Fitzpatrick, NYJ
Fitzpatrick has a great matchup this week and it's not even him versus the Eagles defense as a whole. The matchup that will really be exploited is Brandon Marshall being covered by Byron Maxwell. Quite frankly, the Eagles haven't been particularly good at anything on either side of the ball. With that said, Maxwell has been magnificently incompetent. Julio Jones torched him in the opener, which happens. Nevertheless, you can't have the Brandon Weeden–Terrance Williams' connection making you look silly. On top of that, the rest of the secondary is awfu,l too. Fitz could have himself a nice game. I like him as an emergency play but more so as a cheap DFS option.
QB Ryan Mallett, HOU
This is Mallett's second straight appearance on this list. Last week he threw for 244 yards a touchdown and a pick. Not great numbers, however, he did throw the ball a whopping 58 times. Clearly, without Arian Foster in the backfield, the coaching staff has zero faith in the rushing attack. This week he faces the defensively inept Buccaneers. The Bucs were lit up by Marcus Mariota Week 1, who didn't even look like he belongs in the NFL against the Browns Week 2. Their only saving grace Week 2 was the fact that Drew Brees injured his rotator cuff. While Mallett could be a deep sleeper Week 3, it is very important you monitor DeAndre Hopkins. If Hopkins is not cleared from the concussion protocol, Mallett becomes too risky even as a deep sleeper.
Running Backs
RB Josh Robinson, IND
The Colts rookie isn't too far behind Frank Gore when it comes to touches. He was only out-touched 16 to 10 last week by Gore. He hasn't been overly impressive on the ground but is getting more looks in the passing game. Eventually this could result in a spike in production. The miserable offensive line is an issue though. Luckily, this week Indy draws the always unimpressive Titans. It's not all that farfetched to believe the 32-year-old Gore is running out of gas in the tank. Andrew Luck loves throwing to his backs and Robinson may help fill some of the void left by Ahmad Bradshaw.
RB Lorenzo Taliaferro, BAL
Taliaferro returned to action Week 2 after an extended absence and looked surprisingly good. He saw 10 touches to Justin Forsett's 19 and was the clear-cut red zone option. If Taliferro can continue to get double-digit touches and the majority of the red zone work, he could develop into a solid desperation play and a deep sleeper. He's not an awful DFS flier this week.
Wide Receivers
WR Leonard Hankerson, ATL
This is Hankerson's second appearance on this list. A healthy Roddy White saw one target last week to Hankerson's 11. The former Miami Hurricane has already been targeted 14 times and is getting looks in the red zone. It's starting to look like he's surpassing the nearly 34-year-old White as the WR2 in Atlanta. We all know Matt Ryan is going to sling the ball, and if Hankerson continues to see these kinds of targets, he's going to have value, not just this week but moving forward. He may not be the deepest of sleepers, nevertheless, he's important enough to bring to your attention once again for the second time in three weeks.
WR Cecil Shorts, HOU
As I mentioned before, Hopkins could be in danger of missing this week's game with a concussion and the Texans are playing the lowly Buccaneers' defense. Shorts will draw the start if that's the case and will immediately become the biggest playmaker on the offense. This could be the perfect storm for a big day out of Shorts. Nate Washington will deserve some looks on the other side, but I didn't feel he was deep enough a sleeper to make the list.
Tight Ends
TE Gary Barnidge, CLE
Barnidge isn't all that good, but he's playing the Raiders this week. They have been annihilated by opposing tight ends through the first two weeks. All you need to know about this choice is Tyler Eifert and Crockett Gillmore's stat lines against them. Week 1, Eifert caught nine passes for 104 yards and two TDs. The following week, Gillmore put up 88 yards on five receptions and two TDs. Need I say more on why you should start TEs against the Raiders?
TE Jake Stoneburner, MIA
With Jordan Cameron nursing a sore groin and Dion Sims still in the concussion protocol, Stoneburner may be the last man standing for Miami at tight end. Ryan Tannehill proved last week that he's going to utilize his TE no matter who it is out there. When Cameron exited Week 2 late in the third quarter with a groin injury, Stoneburner stepped in and caught two passes for 18 yards and a TD. He could be a very sneaky but good play this week. Nonetheless, if either of the other two TEs are active, he's a no go
.