2013-14 Fantasy Hockey Daily Fix: Thursday, January 30th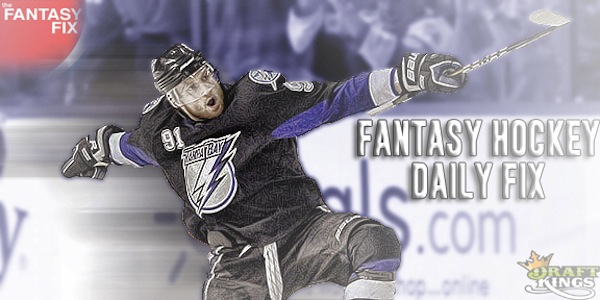 Lots of NHL games on the slate for tonight; strangely enough five of them are late games. But the big question on everyone's mind is "Did Ben Scrivens change the strategy for Daily Fantasy Hockey after his 59 save shutout against the San Jose Sharks? We'll address that shortly.
This post, as per usual, is for The Fantasy Fix's Front Office members only. If you would like to become a Front Office member, it costs only $10 for an entire year-to-date subscription to our "Premium Content package". For a complete list of all the benefits of a FULL Front Office subscription, please view this page. If you are eager, and simply want to jump straight to the signup page, please visit this page, and select the $9.99 Premium Content plan if you wish to just purchase access to these and many other articles during the week.
[am4show have='p4;p3;p7;' guest_error='Front Office' user_error='Front Office' ]
Thoughts and Musings:
There are lots of backup goalies going tonight, making this a night for big offense and cheap goaltenders. Here is a list of "backups" / cheap goaltenders that get the nod tonight:
Frederik Andersen | Anaheim Ducks | $7,900 | Ducks host the Philadelphia Flyers
Thomas Greiss | Phoenix Coyotes | $8,000 | Coyotes host the Buffalo Sabres *Note* Greiss is coming off a shutout of the Los Angeles Kings
Jeff Zatkoff | Pittsburgh Penguins | $7,300 | Penguins travel to Los Angeles to face Jonathan Quick's Kings.
Alex Stalock | San Jose Sharks | $7,600 | Sharks travel to Calgary, looking to avenge their loss last night to the Edmonton Oilers
Peter Budaj | Montreal Canadiens | $6,200 | Canadiens travel to Boston to face the red-hot Boston Bruins.
Scott Clemmensen | Florida Panthers | $6,800 | Panthers travel to Toronto for a meeting with the Leafs. 
Safest plays: Greiss, Andersen, Stalock

Highest upside play: Zatkoff

Line Stacks:
1) Phil Kessel – James van Riemsdyk
2) Ryan Getzlaf – Corey Perry 
3) Ryan Johansen – R.J. Umberger – Nick Foligno
4) Milan Lucic – David Krejci – Jarome Iginla
5) Nazem Kadri – Joffrey Lupul
Lineup: GPP:
Lineup Cash:
[/am4show]