2013 Fantasy Hockey: Five Hole Friday: Goalie Talk and Rankings for Week 7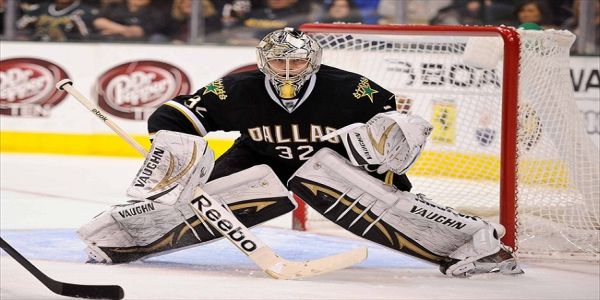 We here at The Fantasy Fix shook things up with the goaltender rankings. With roughly one quarter of the NHL season in the books, it was time to take a good, longer look at how goalies were performing and whether or not this is what to expect going forward. If you are alarmed by some of the risers and fallers, remember that some netminders are dealing with long-term injuries and face a long road back to relevancy.
Jonathan Quick is the latest goalie to be lost for an extended period of time. Quick is expected to miss 3-6 weeks with a Grade 2 groin strain. A goalie without healthy groins is not a good one. Even when Quick returns, there is no guarantee that he will stay healthy or be effective. Short of a complete tear, groins heal over time.
A prominent starter is expected back as soon as this Saturday. Cam Ward practiced in full Thursday according to Chip Alexander of the Raleigh News & Observer. Justin Peters has played well as of late, but could be the back up as soon as this weekend. If you added Peters, hold on to him just in case Ward was to have a setback. Anton Khudobin could also factor into the back up role once he returns from injury.
Welcome Corey Crawford, Ben Bishop, Kari Lehtonen, and Roberto Luongo to the Top 10. Chicago and Tampa Bay are playing like the first place teams they are in may facets of the game, and Bobby Lu has settled in after what has been a colorful past few seasons.
Risers
Kari Lehtonen– Dallas Stars: Since returning from injury, Lehtonen has 7 wins in 11 starts, one shutout, and a save percentage over 92%. If you have watched any Stars games, you have also seen some amazing saves, as well. The Stars are a top 10 team according to everyone's favorite (and most accurate) advanced statistic: Fenwick close.  With the defense playing much better than at the start of the season, Lehtonen can expect to have to worry less about carrying the team and more about playing well enough to win.
Steve Mason– Philadelphia Flyers: Five wins is not the greatest for a netminder ranked just outside the Top 15, but stopping 93% of shots faced and a 2.15 goals against average is sparkling for a Flyers club that is just finally putting the biscuit in the basket. If Philly can keep scoring, Mason could finally see more W's for all of his hard work. Outside of players such as Ben Bishop and Semyon Varlamov, Mason has to be considered the most pleasant surprise in net.
Viktor Fasth– Anaheim Ducks: The goalie situation in Anaheim continues to be a timeshare, but Fasth should get a fair shake at claiming more starts with his return from injury. The Ducks sent down Frederik Andersen despite winning three out of four starts over a five game span. If that does not show management's commitment to the 31-year old, not much else can. Fasth should be started no matter how long or short of a break he has in between starts.
Falling
Mike Smith– Phoenix Coyotes: Player A has 11 wins, a 2.81 GAA, and a 91.7 save percentage. Player B has 7 wins, 2.85 GAA, and a 91.3 save percentage. A is Mike Smith, and B is much-maligned Ondrej Pavelec. Smith has seen more shots than Pavelec and as many as Ryan Miller behind Buffalo's atrocious defense. Wins are saving Smith's diminishing value so be ready to endure his lumps in the immediate future.
Jonas Hiller– Anaheim Ducks: Anaheim has an embarrassment of riches in net, and Hiller has been a victim of the team's need to play the best netminder. The aforementioned Andersen snagged a fistful of starts from the long-time Duck just in time for the return of Fasth from injury. Hiller has started just over half of Anaheim's games, and that does not appear to change for the better from his prospective.
Craig Anderson– Ottawa Senators: The Illinois native's return to net came and went with a whimper. Ottawa continues to play poor defense and Anderson was scrambling all night long against the suddenly-hot Flyers. Robin Lehner played very well in his absence and is a nice handcuff for as long as Anderson gets his feet underneath him. The worry for fantasy owners is that Lehner could end up slowly taking away enough starts to the point that he becomes the starter in Canada's capital. Watch the situation and start Anderson with care.