2013 Fantasy Hockey Waiver Wire Outlook for Week 7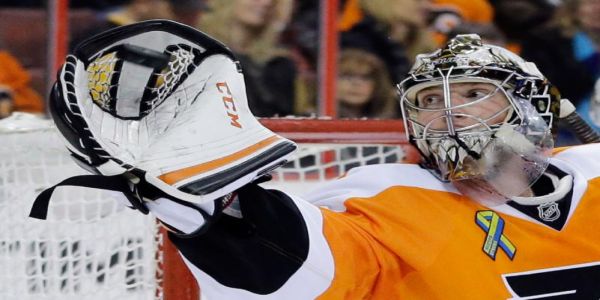 As all or most of you know, Steven Stamkos is out indefinitely with a broken tibia. His scheduled surgery Tuesday was successful and he plans on starting his rehabilitation as soon as possible. TSN's Bob McKenzie has said that the break was not one where the entire bone was broken, so a return this season could come as early as February.
A return date is very flexible with Stamkos still recovering from the procedure, but the fact that analysts have put a positive spin on a gruesome injury is better than assuming his season is done. The loss is huge for fantasy hockey owners that drafted him very early in their draft (raises hand), but there is a light at the end of the fantasy tunnel. There are still lightly owned and diamonds in the rough remaining on the waiver wire, including players on the Lightning.
Stamkos' injury is not the first or last time a superstar has been lost for a significant time with Sidney Crosby's concussions being the most recent, and most likely, to cause pain for your team. I am not saying the world's best player is going to get hurt, but there is no guarantee that his health or any NHL player's health is assured.
Forwards
Clarke MacArthur– Ottawa Senators (owned in 85% of leagues): TFF has highlighted Mikhail Grabovski's success away from his former team in Toronto, and MacArthur is making noise as another waiver wire pick up since moving on from the Leafs. MacArthur had a slow 10-14 days to start the season, but has been able to string games together with points. The known-sniper is slow to score so far, but his nine assists and robust plus/minus (+13) show he is being put in a good position to score or be on the ice to contribute.
Chris Kreider– New York Rangers (60%): The ultra-talented forward has 10 points in his first 11 games in 2013-14, and is getting good chunks of time on the power play. His recall to the show happened later than expected, as there was much debate as to whether he should start the season on the big club. The wait has been worth it. Krieder's shooting percentage is under 10%, so there is a chance he could be set for a consistent goal-scoring pace or a small rise in production.
Alex Killorn – Tampa Bay Lightning (43%): Killorn stands to be one of the biggest benefactors of Stamkos' injury. He is expected to play more center, his natural position, and could even get a shot at top line minutes that are currently being played by Valtteri Filppula. Killorn's 17:21 of ice time per game should also jump. He has played over 43 minutes in the game Stamkos was hurt in and the contest the following night. His ownership should spike to at least 90% in short order.
Patric Hornqvist– Nashville Predators (30%): Lying in the weeds once again is Nashville's most consistent shooter. Hornqvist loves to shoot and has a shot percentage (8.3%) very close to his career average (9.2%). The amount of shots he gets off per game can look like a mountain range, but by season's end, the team's best power play winger will contribute for your team in a reserve role.
Andrew Shaw– Chicago Blackhawks (15%): If you can ignore his ice time per game (under 16:00, a fantasy no-no), Shaw is playing well. The little guy is seeing extended power play time in a Dino Ciccarelli-esque role in front of the net. Shaw has a knack of scoring with deflections and in fantasy a goal is a goal. Shaw is a good spot start/watch list candidate.
Defense
Dougie Hamilton– Boston Bruins (37%): After an abysmal rookie season, Boston's prized offensive defenseman is looking more like the mainstay he was expected to be last season. Hamilton is playing with minute hog Zdeno Chara and is getting better on the man advantage. If Dougie continues to fire pucks at the net like he has the last week-plus, he could end up as a steal on the wire. It also means more goals.
Slava Voynov– Los Angeles Kings (66%): If you have remained patient during Voynov's sophomore slump, then you know that the Russian Olympic hopeful is starting to warm up. He has three assists in his last five games and continues to get over 20 minutes of ice time despite his slump. By the end of the lockout-shortened season, Voynov was a must-own in fantasy. If he was dropped by another owner in your league, snatch him off of waivers before he/she goes looking for him.
Danny DeKeyser– Detroit Red Wings (8%): I was high on DeKeyser's upside after a solid performance at the end of last season. It took nearly a month, but DeKeyser now has five points in his last eight games. If he can get off more shots (24), the ceiling for the undrafted rookie free agent could get even higher.
Paul Ranger– Toronto Maple Leafs (.1%): Ranger has been the butt of many jokes north of the border because of his defensive "limitations" at times, but from a fantasy sense he has been a welcomed surprise. 19 minutes is not very high for a defenseman, but five points and a plus five plus/minus is great for a reserve blueliner on your bench. Toronto can score in bunches even with their injury issues so look for Ranger to continue his modest rise in plus/minus.
Goaltenders
Steve Mason– Philadelphia Flyers (87%): For as bad as Philly has been this season, Mason has been a worthy starter in fantasy. In 13 starts, Mason has given up more than three goals a surprising zero times! The Flyers offense is starting to warm up, which means Claude Giroux is talking to the media and Steve Mason is in your fantasy lineup.
Martin Brodeur– New Jersey Devils (65%): Three straight wins and W's in five of his last six. Wow! His once-abysmal save percentage is now over 90%, and with Cory Schneider rusty since returning from injury, Brodeur is worth the add while he remains hot. This recent stretch could very well bring back a 50/50 timeshare for the foreseeable future.
Robin Lehner– Ottawa Senators (56%): Craig Anderson owners saw how rusty he was in a 5-0 defeat Tuesday night to Philadelphia. Lehner should continue to get starts while Anderson is eased back into the starting role. Lehner had won three consecutive games prior to Tuesday night when he gave way to Ottawa's incumbent goalie.