2013 NHL Division Previews: Atlantic Division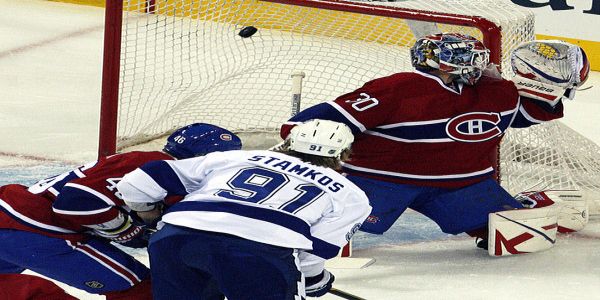 The Atlantic Division is the most top-heavy division in the NHL this year. Teams like Boston, Ottawa and Detroit are the class of this division but Toronto and Tampa Bay can't be counted out. The bottom two teams in the division will be battling with Pacific Division member the Calgary Flames for the worst record in hockey. Here are our projected rankings for the division at the end of the year.
1. Boston Bruins
2. Ottawa Senators
3. Detroit Red Wings
4. Toronto Maple Leafs
5. Tampa Bay Lightning
6. Montreal Canadiens
7. Buffalo Sabres
8. Florida Panthers
And the previews:
Boston Bruins:
Key Losses: D- Andrew Ference, RW- Nathon Horton, RW- Jaromir Jagr, C- Tyler Seguin, C- Rich Peverley
Key Additions: LW- Loui Eriksson, RW- Jarome Iginla
Off-season: The Eastern Conference Champion Boston Bruins shook up their roster quite a bit for the 2013-2014 season. They started by trading away former first round pick Tyler Seguin, face-off and penalty kill specialist Rich Peverley and some prospects to the Dallas Stars for winger Loui Eriksson and young guns Matt Fraser, Reilly Smith, and Joseph Morrow. In addition to bringing on Eriksson (the only fantasy relevant player acquired by the Bruins in this deal), the Bruins signed veteran winger Jarome Iginla to a one-year, six-million dollar deal.
Notable 2012-2013 Team Stats:
First in face-off percentage: 56.4 percent
26th ranked Power-play: 14.8 percent
Fourth best Penalty kill : 87.1 percent
2013-2014 Outlook: The Bruins are a tough physical team that plays excellent defense while also excelling at puck possession. Third-year winger Brad Marchand led the team in goals last year with 18. He also led the team with 36 points in 45 games, and tied for second on the team in plus/minus with departed center Tyler Seguin. The Bruins will be a hot-spot for break-out performers thanks to the departure of Seguin, Rich Peverley and Nathan Horton. All three of those players ranked in the top-six in terms of shots on goal by forwards in 2012-2013 for the Bruins. Seguin's 161 shots, Horton's 114 shots and Peverley's 95 shots were first, fourth and fifth on the team respectively. Enter possible breakout candidates Loui Erikkson, Milan Lucic, and David Krecji. The trio will likely be playing together on the Bruins top line this season. For the Bruins to return to the cup, they will need not only improved production from the
aforementioned Lucic, Eriksson, Krecji, and Marchand, they will need defenseman Zdeno Chara to fend off what is likely going to be a vicious decline in his effectiveness in the next couple years. Goaltender Tuukka Rask will battle with fellow net-minder Henrik Lundqvist of the Rangers for the Vezina Trophy all season.
Buffalo Sabres:
Key Losses: D- Andrej Sekera
Key Additions: None
Off-season: The Sabres predictably did nothing to aid their awful situation and remain one of the leagues' worst teams.
Notable 2012-2013 stats:
29th in the league in power-play percentage: 14.1 percent
29th in the league in face-off percentage: 46.2 percent
Allowed the most shots per game
2013-2014 Outlook: The Sabres look to once again be near the bottom of the league as their youth movement continues. For the Sabres to improve upon last year in any way shape or form, they must get better production out of young defenseman Tyler Myers. The 23-year-old six foot eight inch' goliath struggled mightily last season, as he put up just eight points in 39 games. Since Myers burst onto the scene in 2009-2010 with 48 points in 82 games, he has disappeared to say the least. In addition to added production from Myers, the Sabres need their two young 23-year-old centers Tyler Ennis and Cody Hodgson to step up and continue to grow. Ennis produced nearly the same amount of points (31) as 2011-2012 (34) in just one fewer game. However, Ennis's 18.3 shot percentage from 2011-2012 was twice as good as it was last year and in 2010-2011 as well. If Ennis can increase his shot percentage into at least the 16 percent range for this year, and he continues to shoot, we're looking at a 30 goal scorer. It should be noted of course that all the fantasy relevant forwards on this team; Thomas Vanek, Hodgson, Ennis and possibly Ville Leino will suffer from awful plus/minus numbers. That obviously will obstruct their overall value.
Detroit Red Wings:
Key Losses: C- Valtteri Filppula
Key Additions: C- Stephen Weiss, RW- Daniel Alfredsson
Off-season: The Red Wings attempts to refuel their dynasty continued this off-season with the extensions/re-signings of goaltender Jimmy Howard and defenseman Jakub Kindl. In addition, they swapped out Valtteri Filppula for Stephen Weiss at second-line center. They were also able to sign wily veteran Daniel Alfredsson, in what was a not-so-friendly breakup between he and the Ottawa Senators.
Notable 2012-2013 stats:
Fifth in the league in Goals against average
20th in the league in Goals per Game (ranked seventh in 2011-2012)
14th in the league in Point percentage (win percentage) sixth in 2010, ninth in 2011
2013-2014 Outlook: Unlike their former division rivals the Columbus Blue Jackets, re-alignment couldn't have been worse for the former juggernaut Red Wings. The Wings are mired in a steady decline over the past few years, and facing a full season without their former captain Nicklas Lidstrom does nothing to improve matters. Defensemen Niklas Kronwall and Jonathan Ericsson are the "elder skatesmen" in what suddenly is a young blue-line, as Kronwall and Ericsson are just 32 and 29 years old respectively. Former first round pick Jakub Kindl will be expected to step up in a big way. The 26-year-old defenseman's talent is undeniable, as he has two point-per game seasons on his ledger from his time in the OHL with the Kitchener Rangers. Kindl's plus/minus with the Red Wings has increased in each of the past three seasons, as well as his shot attempts per game. Ultimately however, undrafted free agent defenseman Danny Dekeyser, an unproven 23-year-old, will likely be the deciding factor in how good the Red Wings defense ends up being. Dekeyser only had one point in 11 games last season (his first ever action in professional hockey) but was +4. In the toughest division in hockey, expect the Red Wings to slide into the playoffs but as no more than a "6 seed" at best.
Florida Panthers:
Key Losses: C- Stephen Weiss
Key Additions: C- Aleksander Barkov
Off-season: The Panthers continue ushering in a new age of young stars as they let center Stephen Weiss go via free-agency while replacing him in the draft with the dynamic Aleksander Barkov from Finland. Barkov will join sophomore center Jonathan Huberdeau, creating a dynamic duo at the first and second line center positions. The Panthers brushed up against the idea of improving their defense by signing defenseman Matt Gilroy. With captain Ed Jovanovski now 37-years-old, more than the Gilroy signing was needed to fix what will be a defense that is going to lean heavily on continued improvement from youngsters Dmitry Kulikov and Erik Gudbranson, ages 22 and 25 respectively.
 Notable 2012-2013 stats:
Sixth ranked power-play: 20.4 percent
30th ranked (last) penalty kill: 74..2 percent
30th ranked in goals scored and 30th ranked in Goals against per game
 2013-2014 Outlook: The Panthers couldn't have been more brutal in the lockout shortened 2012-2013 campaign. They finished last in goals scored and last in goals allowed. All this after making the playoffs the season prior (2011-2012) for the first time since the 1999-2000 season. So what went so terribly wrong for Florida in 2012? First, right winger Kris Versteeg scored 54 points in 71 games in 2011 but only played 10 games in 2012. Second, the Panthers lost defenseman Jason Garrison to Vancouver. Garrison had 33 points (16 goals) in 77 games. Third, center Stephen Weiss played only 17 games (out of a possible 48), logging just four points and an abysmal minus-13 rating after a plus-five rating and 57 points in 80 games in 2011. Finally, the defense was terrible and the goalies slacked. All three Florida goaltenders – Scott Clemmensen, Jose Theodore, and Jacob Markstrom – all posted GAA's under 2.70 in 2011. The trio all had GAA's above 3.20 in 2012. The Panthers are only getting younger, and with the lone addition of Matt Gilroy at defense, and the departure of veteran center Weiss, they are going to be in for another long season defensively.
Montreal Canadiens
Key Losses: D- Tomas Kaberle, D- Yannick Weber, LW- Blake Geoffrion, RW- Michael Ryder
Key Additions: RW- Danny Briere, RW- George Parros
Off-season: After an embarrassing showing in the Stanley Cup playoffs, GM Marc Bergevin added a few veterans to mix in with the youth he loves to build around. Danny Briere may not be the player he once was, but Brendan Gallagher can use him as a mentor. George Parros is a steady bruiser who can skate well enough to play majority of the season on the 4th line.
Notable 2012-13 Stats:
Fourth most goals per game: 3.04
Fifth best Power-play: 20.7 percent
23rd ranked Penalty kill: 79.8 percent
2013-14 Outlook: Montreal will look to build off a very disappointing end to 2012-13 with basically the same group. The scoring should be top-10 in the league, especially if youngsters such as Alex Galchenyuk, Lars Eller, and Brendan Gallagher take the next step. All three should put up 50+ points. Max Pacioretty will be, and should be expected to score 30+ goals and 70 points. An area of concern is defense, where the group remains good, but aging. P.K. Subban is a stud, but is the only young defenseman with a proven track record. Raphael Diaz is key on keeping the drop-off in talent on the blue line. New goalie coach Stephane Waite will help shore up any cracks in Carey Price's game.
Ottawa Senators:
Key Losses: D- Sergei Gonchar, G- Ben Bishop, RW- Daniel Alfredsson
Key Additions: LW- Clarke MacArthur, LW- Cory Conacher, RW- Bobby Ryan, D- Joe Corvo
Off-season: The Ottawa Senators were incredibly busy this off-season as they look to stay in contention in a much tougher division. The signings of Clarke MacArthur and Bobby Ryan will really aid a blossoming offense that really lacked excellent wingers to complement super-star center Jason Spezza. Winger Cory Conacher was acquired near the deadline last year for goaltender Ben Bishop. Conacher sports excellent speed and a high hockey IQ. He will have an important role as the second line winger and with excellent production he could find himself playing with Spezza and Ryan on the first line.
 Notable 2012-2013 stats:
Top ranked penalty kill unit in the league; 88 percent
Top ranked in shots per game; 33.2
Second in the league in goals allowed per game (2.08)
2013-2014 Outlook: The Senators are stacked at left wing with Milan Michalek, Conacher, MacArthur, and Colin Greening. They've addressed their biggest need but they still lack great centers since it remains to be seen if Kyle Turris will finally take that big step forward and be able to solidify the #2 center position. The Senators will need Craig Anderson to be excellent once again, (although it remains to be seen if he can stay healthy) if they hope to challenge Boston for the top spot in the very difficult Atlantic Division. Finally, this may be the year that Erik Karlsson lays claim to the title of best two-way defenseman in hockey, and in fantasy he's a Top-10 overall pick.
Tampa Bay Lightning:
Key Losses: C- Vincent Lecavalier, LW- Benoit Pouliot
Key Additions: C- Valtteri Filppula, LW- Jonathan Drouin
Off-season: Following the addition of goaltender Ben Bishop the Tampa Bay Lightning began to turn around what was an ugly, ugly season up until then. The Lightning were 7-16 in games before Bishop's acquisition. The team proceeded to go 11-9 the rest of the year with the 26-year-old netminder posting a 2.67 GAA. The Lightning haven't had a very busy offseason but they did make a couple significant moves. They added will-be super-star Jonathan Drouin through the draft. Drouin, a left winger, was the #3 overall pick and is expected to skate with super-star center Steven Stamkos and Martin St. Louis. Perhaps the biggest move though for Lightning fans was the departure of "face of the franchise" captain Vincent Lecavalier. The Lightning decided on a compliance buy-out for Lecavalier, who had still had seven years  left on his contract with a $7.7 million cap hit. According to cbc.ca and the official NHL buy-out clause, Lecavalier will be paid out two-thirds of his remaining contract ($30 million) over 14-years (twice the number of years remaining). The Lightning replaced him with former Detroit center Valtteri Filppula. Filppula will assume the role of the second-line center position.
 Notable 2012-2013 stats:
Third most goals-per-game (3.06)
Fifth most goals-allowed-per-game (3.06)
Eight best face-off percentage; 51.1 percent
2013-2014 Outlook: The Lightning made a historically futile mark on the NHL last season. Tampa was 5-16 (.238 win percentage) in games decided by one goal. This mark is the lowest since 1997-1998 when Vancouver was 4-14 (.222 win percentage) in one-goal games. Additionally, the Bolts .214 win percentage in two-goal games left them with the honor of having the lowest winning percentage in two-goal games in back-to-back seasons. That feat has yet to be matched in the expansion era with Colorado being the only team to come close in futility as they ranked 29th in 2010-2011 and 2009-2010 for two-goal game win percentage.  That is not a recipe for success. When the offense has to carry you that much, you run the risk of losing games pretty easily. In fact, the Lightning were 15-4 when scoring four goals or more. That means they were 3-22 in games when they scored three goals or fewer; simply atrocious. The Bolts keys are very simple. Forward Ryan Malone must stay healthy, defenseman Eric Brewer must return to the level of play that he put up in 2011 with Tampa and in years prior with St. Louis, defenseman Victor Hedman must continue to grow and improve defensively (and become tougher!), and Ben Bishop must be what the Lightning expect and need him to be in net. Believe it or not, if those things happen, the Bolts are cup contenders. Not too often does a team that has the third pick in the previous years' draft become a title contender the year after, but the Bolts can do it if they can just get consistent goaltending.
Toronto Maple Leafs:
Key Losses: LW- Clarke MacArthur, C- Mikhail Grabovski
Key Additions: G- Jonathan Bernier, C- David Clarkson
Off-season: The Toronto Maple Leafs had been entangled in free-agency discussions with key players Nazim Kadri (center) and defenseman Cody Franson for most of the off-season. Recently, before training camp, Kadri signed a two-year bridge contract worth $1.72 million per season. The specificity of the contract is due to the Leafs still being hamstrung by the salary cap. Franson can now sign a one-year $3 million deal (what he wants) or a two-year $3 million per year deal that the team wants. As of this writing, the two sides are still separated on the contract issue. This problem for the Leafs is not unique to their team, as many teams are finding the salary cap era quite constricting – see Pittsburgh Penguins. As for the players that Toronto brought in from other teams, goaltender Jonathan Bernier and center David Clarkson, they will be expected to fill important roles for the Leafs if they hope to stay in the upper half of the toughest division in hockey.
Notable 2012-2013 stats:
Most giveaways last season; 554
Most blocked shots; 826
Most hits; 1626
2013-2014 Outlook: The Toronto Maple Leafs enter this season as a likely playoff team in an extremely tough division. They will have a significant amount of trouble beating out division opponents Ottawa, Detroit and Boston for a Top-3 automatic qualifier spot, but they should have no trouble locking up a wildcard spot. Other than the must sign scenario involving defenseman Cody Franson, the Leafs biggest issue is how they will handle the goalie situation. Assumed starter James Reimer was excellent in the lockout-shortened season posting a career best 2.46 GAA and .924 save percentage. The Leafs, hell bent on becoming a contender again, decided on some insurance and signed former Kings goaltender Jonathan Bernier to a two-year $5.8 million contract. Bernier put up astounding numbers last season. He had a 1.88 goals-against average and a .922 save percentage in 14 games last year. The competition for both goalies should be extremely healthy and look for Bernier to emerge victorious with the majority of the starts (60%-40%) split is our expectation. The Leafs should finish fourth or fifth in the Atlantic Division.