2013 NHL Fantasy Hockey Rankings Update, Week 10: "Malkin" Some Noise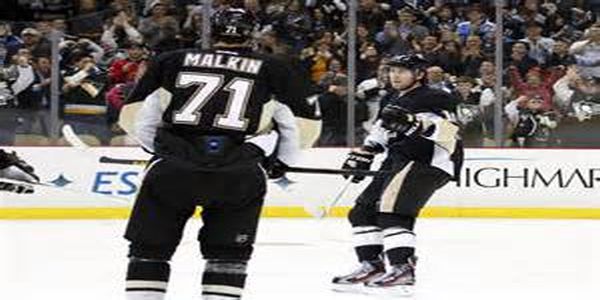 Week Ten of the NHL season is upon us and so it's time to once again update our Fantasy Hockey rankings. These rankings reflect a standard ESPN.com league that uses "Goals, Assists, Plus/Minus, Average Time on Ice, Penalty Minutes, Power-play points, Shots on Goal, Wins, Save Percentage, and Goals against Average.
We encourage you to leave us comments and questions at the bottom of this article, as well as on twitter. @JoshKay_Fantasy and @jeffrotull44.
Forwards:
Moving Up:
Max Pacioretty– Montreal Canadiens: (Last Week's Ranking: 63, This Week: 52) The 6'2 power-forward has been a shooting machine since (and including) November 12th. The 25-year-old winger has recorded one game with eight shots and two games with ten shots during this ten game stretch. Thankfully for Montreal, the barrage of shots that the native of New Canaan, Connecticut has been firing on net, has translated into eight goals during this stretch. Pacioretty has ten goals on the season, along with three assists, good for thirteen points — ten of which have come in his past ten games — on the season. Pacioretty could be flying high off chemistry with new linemates Brendan Gallagher and David Desharnais, or it could be that the former first-round pick is finally healthy and having his breakout season.
Nick Bonino– Anaheim Ducks: (Last Week's Ranking: N.R., This Week: 94) The 25-year-old center has been a power-play specialist for Bruce Boudreau's Ducks team. A native of Hartford, Connecticut, Bonino has played all year long on the number one power-play unit for the Ducks — skating 2:41 per-game on the power-play. The former sixth-round pick has eight power-play points on the year — which is substantially more than Ducks super-star Corey Perry has. Perry has just four power-play points on the year. Bonino has been skating only 11 minutes and 47 seconds per game during 5-on-5 play, so his upside is limited, but 19 points in 29 games — along with his eight power-play points — are definitely worth an add.
Other big movers: Evgeni Malkin– Pittsburgh Penguins (Last Week's Ranking: 10, This Week: 3), James Neal– Pittsburgh Penguins (Last Week: 17, This Week: 10), Thomas Vanek– New York Islanders (Last Week: 72, This Week: 51) Jaromir Jagr– New Jersey Devils (Last Week: 65, This Week: 54), Jeff Carter– Los Angeles Kings (Last Week: 80, This Week: 55), Dustin Penner– Anaheim Ducks (Last Week: 97, This Week: 87), Ryan Johansen– Columbus Blue Jackets (Last Week: N.R., This Week: 90), Radim Vrbata– Phoenix Coyotes (Last Week: 99, This Week: 91) Sean Couturier– Philadelphia Flyers (This Week: N.R., This Week: 100)
Moving Down
Frans Nielsen– New York Islanders: (Last Week's Ranking: 53, This Week: 65) Mostly in the month of November, it's just been normal shot percentage regression for the 29-year-old center. Nielsen, a native of Herning, Denmark has scored ten goals this season but just three this month. This is largely due to regression from his 26.7 percent shot percentage he recorded in the month of October. While we acknowledge Nielsen is still good for a 65-70 point season, the month of November has brought about a great deal of concern with the Islanders as a team. The lack of success in the past month for the hockey team heading to Brooklyn – in the near future – is a big reason why Nielsen is now at a minus-5 after being a plus-3 in the first month of the season. That concern spawns our lowering of Nielsen.
Other big movers: Kyle Okposo– New York Islanders (Last Week: 52, This Week: 61), Tomas Hertl– San Jose Sharks (Last Week: 76, This Week: 95), Ryan Callahan– New York Rangers (Last Week: 87, This Week: Not Ranked), Cody Hodgson– Buffalo Sabres (Last Week: 91, This Week: Not Ranked) 
Defense
Moving Up
Torey Krug– Boston Bruins: (Last Week's Ranking: 42, This Week: 35) The 22-year-old defenseman from Livonia, Michigan caught the league by storm in the playoffs last year with four goals. During the regular season he's upped his point per game totals to impressive levels. The undrafted sophomore has 16 points in 27 games this season. The fly in his ointment is a lack of ice time. He currently is logging just over 17 and a half minutes per game.
Victor Hedman– Tampa Bay Lightning: (Last Week's Ranking: N.R., This Week: 36) The former number two overall pick might finally be finding his game in the National Hockey League. In 2011-2012 Hedman averaged 0.38 points per game. In 2012-2013 Hedman averaged 0.45 points per game, and this year he's upped it to 0.58 per game. The 22-year-old blue-liner has been much maligned in Tampa Bay, but it's easy to forget just how young he is. He's got a bright future.
Other big movers: Duncan Keith– Chicago Blackhawks: (Last Week: 12, This Week: 10), Andy Greene– New Jersey Devils (Last Week: 50, This Week: 44)
Moving Down: 
Mike Green– Washington Capitals: (Last Week: 17, This Week, 22) Mike Green's saving grace has always been his ability to quarterback the leagues' best power-play unit along with Nicklas Backstrom. Since John Carlson's onslaught on the league, Green has lost his playing time on the top unit. The demotion has had a profound effect on the 28-year-old defenseman from Alberta, Canada. Green still has zero goals this season, and he remains a far-cry away from his 23-year-old season during which he potted 31 goals and added 3.57 shots per game. The former first-round pick is only firing 2.58 shots on net per game this year.
Other big movers: Dion Phanuef- Toronto Maple Leafs (Last Week: 10, This Week: 12), Cody Franson– Toronto Maple Leafs (Last Week: 23, This Week: 26), Radko Gudas– Tampa Bay Lightning (Last Week: 41, This Week: 49)