2013 NHL Fantasy Hockey Rankings Update, Week 8: Alex Steen Can't Be Stopped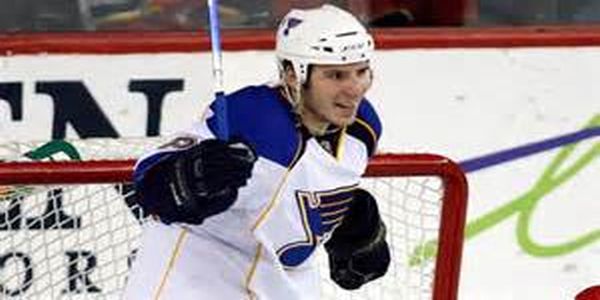 Week Eight of the NHL season is upon us and so it's time to once again update our Fantasy Hockey rankings. These rankings reflect a standard ESPN.com league that uses "Goals, Assists, Plus/Minus, Average Time on Ice, Penalty Minutes, Power-play points, Shots on Goal, Wins, Save Percentage, and Goals against Average.
We encourage you to leave us comments and questions at the bottom of this article, as well as on twitter. @JoshKay_Fantasy and @jeffrotull44.
Forwards:
Moving Up:
Mike Cammalleri- Calgary Flames: (Last Week's Ranking: 91, This Week: 62)  The 31-year-old Cammalleri is off to a torrid start to the season, scoring eight goals and recording three assists in just 13 games this year. The former second-round pick's near point-per-game pace shouldn't be expected to continue for a couple reasons. First, Cammalleri's career year came with Calgary in his age 26 season, scoring 39 goals and tallying 43 assists — five years ago. The native of Richmond, Ontario also tallied 80 points in his age 24 season with the Los Angeles Kings, but in both of those seasons Cammalleri was averaging over three shots per game. This brings us to the second point; the fact that Cammalleri is not only just firing 2.54 shots per game on net, he's also got a shot percentage of 24.2%, an unsustainable clip. Cammalleri's best mark is 17 percent for a full season. While this sounds like a paragraph digging on the 5'9″ forward, it really isn't. We like Cammalleri if he can continue to see his current 19 minutes and 42 seconds per game (which would be a career high) he seems like a lock for 30 goals (always a valuable fantasy characteristic).
Alex Killorn- Tampa Bay Lightning: (Last Week's Ranking: 82, This Week: 58) We have been pumping up the hype on this 24-year-old forward since the preseason. That hype couldn't look more well deserved at this point, as Killorn is a plus-6 with 15 points in 20 games. The native of Halifax, Nova Scotia is also playing a valuable role as the number one center aside super-star Martin St. Louis since the injury suffered by Steven Stamkos. The amazing thing about Killorn, is that he will always succeed in any role he is placed in. The former third-round pick, has an incredible hockey IQ, always knowing where to be at all times. He is a legitimate candidate to flirt with a 60 point season at this point. Enjoy the ride because it's not ending.
Martin Hanzal- Phoenix Coyotes: (Last Week's Ranking: 81, This Week: 60) Hanzal has been en-fuego on the season so far, tallying 18 points in as many games. Additionally, the 26-year-old center is skating 19:15 per game and is benefiting from playing with sniper Radim Vrbata, as 10 of Hanzal's 11 even-strength points have come when Vrbata has been on the ice. Hanzal's pace can be sustained if Phoenix continues to score this much, because Hanzal, a native of Pisek, Czechoslovakia, holds a 12.8 percent shot percentage on the year (a totally reasonable amount). One of the differences has been Hanzal's career high 2.61 shot per game pace to date. If Hanzal's value in standard leagues using the categories mentioned at the top of the article isn't enough for you, he's also in the Top-20 in hits.
Moving Down:
Chris Kunitz- Pittsburgh Penguins: (Last Week's Ranking: 11, This Week: 25) There's no other way of saying this: Kunitz is mostly a product of being able to skate with Sidney Crosby. Thus, when the Penguins struggle Kunitz struggles. He doesn't create his own offense, and thus why he drops in the rankings this week. The 34-year-old native of Regina, Saskatchewan became a point-per-game player for the first time in his career last year, in large part to Crosby's absurd 56 points in 36 games. If Crosby and the Penguins heat up again in a big way, Kunitz will raise again. It's as simple as that.
Ryan Nugent-Hopkins- Edmonton Oilers: (Last Week's Ranking: 71, This Week: 86) While reading this article, the 20-year-old center was probably on the ice for a goal against somewhere. RNH's special skill-set involves giving fantasy owners a minus for every point he records. Currently with 13 points in 20 games, and a minus-13 rating, RNH destroys any chance you have at a respectable plus/minus rotisserie ranking. The talent is undeniable. Speaking of undeniable; opposing team goals when RNH is on the ice.
Alex Galchenyuk- Montreal Canadiens: (Last Week's Ranking: 68, This Week: 87) The 19-year-old super-phenom is putting up points. To be precise, 15 of them in 21 games. The problem for Galchenyuk has been playing time. He is centering for wingers Lars Eller and Brendan Gallagher, on the third line for Montreal. The Milwaukee, Wisconsin native is only seeing 13 minutes of even strength time per game, although he's supplanting that with two minutes and 40 seconds on the power-play time per game. Galchenyuk needs to continue to put up power-play points (five so far) and get more playing time, or he won't recover in our rankings.
Defense
Moving Up:
Kris Russell- Calgary Flames: (Last Week's Ranking: 52, This Week: 37) Russell is have the prototypical 26-year-old breakout. Having averaged 17 minutes of ice time per game over his career, the native of Caroline, Alberta is skating 23 minutes per game right now for Bob Hartley's Flames and the results have been excellent. After scoring just seven points in 33 games with the St. Louis Blues last year, Russell has already tallied 10 points in 20 games. He's currently on the number one defensive pairing with T.J. Brodie. 
Brenden Dillon- Dallas Stars: (Last Week's Ranking: Un-ranked, This Week: 62) Dillon has been the best defender for the Dallas Stars this season, much to the relief of Kari Lehtonen. The Dallas net-minder has benefited from Dillon being on the ice as often as he has (20:55, second on the team, but most if power-play time is deducted), as Lehtonen's Corsi-For Percentage is highest when Dillon or Trevor Daley is on the ice. The only negative against Dillon, who has been amazing, is the fact that head coach Lindy Ruff likes to utilize all his six defensemen quite a bit (all defensemen on Dallas skate more than 18 minutes per game). Nevertheless, Dillon needs to be owned.
Moving Down: 
Jack Johnson- Columbus Blue Jackets: (Last Week's Ranking: 28, This Week: 40) There are two schools of thought with the 26-year-old defenseman. One, he just isn't very good. Or two, he's just having a bad year. Whatever the reason, the former number three overall pick in the 2005 NHL Entry Draft, is putting up atrocious numbers. Johnson has just five points in 20 games, to go along with a minus-7 plus/minus rating. Those numbers suggest a bad year given the fact that he has three seasons on his ledger where he recorded 36+ points. The other thought, that which suggests he just isn't very good, has solid evidence as well (minus-97 career rating). Johnson doesn't even block many shots or record many hits (comparative to his peers across the league), as he doesn't rank in the Top-30 in blocked shots or hits this year (66th in hits last year and 27th in blocked shots). Johnson is in free-fall mode. Avoid.
Dennis Seidenberg- Boston Bruins: (Last Week's Ranking: 38, This Week: 67) The minutes hog for the Bruins hasn't been his usual self lately. The 32-year-old from Schwenningen, Germany is skating only 22:08 (sounds like a lot) but it's actually the lowest mark for him, since 2007-2008 with the Carolina Hurricanes (and at age 26 mind you). He's been skating with Torey Krug, which is more about line balance than it is about Seidenberg being poor thus far. Krug is very offensive minded, and pairing him with a stay at-home, responsible defenseman like Seidenberg, gives the Bruins the best balance on defense. Feel free to drop him.