2013 NHL Fantasy Hockey Rankings Update, Week 9: James Neal is a beast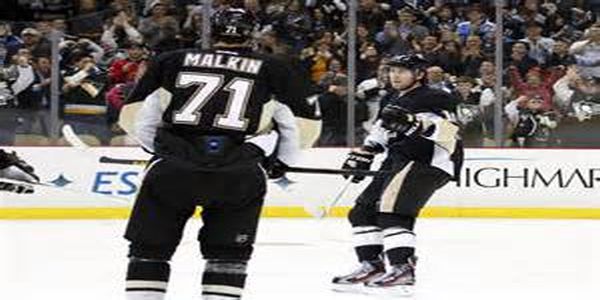 Week Nine of the NHL season is upon us and so it's time to once again update our Fantasy Hockey rankings. These rankings reflect a standard ESPN.com league that uses "Goals, Assists, Plus/Minus, Average Time on Ice, Penalty Minutes, Power-play points, Shots on Goal, Wins, Save Percentage, and Goals against Average.
We encourage you to leave us comments and questions at the bottom of this article, as well as on twitter. @JoshKay_Fantasy and @jeffrotull44.
Forwards:
Moving Up:
Evgeni Malkin– Pittsburgh Penguins: (Last Week's Ranking: 20, This Week: 10) The 27-year-old Russian really stuck to us this week. After seven weeks of less than normal production for the young Penguins super-star, we decided to finally move him down due to plus/minus concerns. "Not so fast", said the former number two overall pick. Malkin tallied one goal and eight assists, along with a plus-6 rating this past week (five games). We apologize for doubting your excellence Evgeni.
James Neal– Pittsburgh Penguins: (Last Week's Ranking: 30, This Week: 17) The 26-year-old left winger was in the Top-15 in our preseason rankings, and once he got healthy it was just just a matter of time before he found his way back into our good graces. A native of Whitby, Ontario, Neal tallied five goals and recorded four assists this past week. He's back ladies and gentlemen. Neal and Malkin are back to being one of the most formidable duo's in hockey.
Claude Giroux– Philadelphia Flyers: (Last Week's Ranking: 29, This Week: 18) The 25-year-old captain, has been one of the driving forces of the excellent surge by the 'Broad Street Bullies'. El' Capitan, has 32 shots on goal, nine points (3 G, 6 A), and a plus-7 rating since (and including) the Flyers 4-2 win against the Edmonton Oilers, a game that saw Giroux record his first goal. He's making his ascent back toward fantasy stardom.
Patrick Sharp– Chicago Blackhawks: (Last Week's Ranking: 26, This Week: 20) The performance that "Sharpie" has been putting on this season has been quite impressive. Thanks to an increased shots per game rate (3.60 this year, 3.14 last year), another great year is in store for the native of Winnipeg, Manitoba. The 31-year-old forward is skating with Jonathan Toews and Marian Hossa this year, and to say he has been thriving in that role would be an understatement of epic proportions. Sharp's eight goals, 13 assists and a plus-12 rating along with 90 shots and solid power-play points, are all factors for why the former third round pick has his name in permanent marker inside our Top-25 now.
Other big movers: Rick Nash (Last Week: 55, This Week: 35) Bryan Little (LW: 54, TW: 45), Brent Burns (LW: 86, TW: 48) David Perron (LW: 68, TW: 54), Paul Stastny (LW: 69, TW: 57), Jaromir Jagr (LW: 89, TW: 65)  Ryan Nugent-Hopkins (LW: 86, TW: 67), Clarke MacArthur (LW: 90, TW: 73)
Moving Down:
Jason Spezza– Ottawa Senators: (Last Week's Ranking: 33, This Week's Ranking: 43) The 30-year-old captain has been putting up the points (10 G 10 A) like usual, but his plus/minus has suffered mightily. The former number two overall pick in the 2001 NHL Entry Draft, sits with a minus-9 rating while skating alongside Milan Michalek (who also has a minus-9). His plus/minus will remain a concern for us all season.
Joffrey Lupul– Toronto Maple Leafs: (Last Week's Ranking: 53, This Week's Ranking: 64) Lupul has reached his low-water mark for now, as we are unlikely to move him much below number 70. However, given the Maple Leafs problems at center, and the fact that Lupul has been bumped off the first line, the 30-year-old winger looks lost at sea. Additionally, it was reported that Lupul pulled his groin on Monday in the Leafs 6-0 defeat to the Columbus Blue Jackets. 
Matt Moulson– Buffalo Sabres: (Last Week's Ranking: 52, This Week's Ranking: 68) The left winger, as expected, is not finding Buffalo very hospitable to an offensive player of his caliber. Moulson is often finding himself the sole subject of the opposing teams' defensive focus. The 30-year-old from North York, Ontario has yet to score a goal since his debut with the Sabres on October 28th against the Dallas Stars.
Defense:
Moving Up:
Dustin Byfuglien– Winnipeg Jets: (Last Week's Ranking: 5, This Week's Ranking: 3) "Big Buff" has been the hottest player in hockey over the past two weeks. Dating back to November 6th against his former team the Chicago Blackhawks, the 28-year-old defenseman from Minneapolis, Minnesota has six goals and six assists (10 games). Most of that output has come in his last six games though — racking up nine points, including five goals and five power-play points. 
Slava Voynov– Los Angeles Kings: (Last Week's Ranking: 42, This Week's Ranking: 24) Voynov has turned on the jets in the past couple weeks — racking up seven points in just nine games. Additionally, on this streak, he is a plus-8 which brings his year-to-date total to plus-4. The 23-year-old Slovakian has not been a minus player in November.
John Carlson– Washington Capitals: (Last Week's Ranking: 43, This Week's Ranking: 34) The normally bland and vanilla defenseman from my dad's hometown of Natick, Massachusetts, has added some chocolate sauce to his game. Like Voynov, the month of November has been very kind to the former first round pick. Carlson has all five of his goals, and four of the six assists he has tallied this year, in the month. Additionally, Carlson is a plus-5 during the month.
Moving Down:
Matt Carle– Tampa Bay Lightning: Last Week's Ranking: 25, This Week's Ranking: 35) In the last 30 days the 29-year-old native of Anchorage, Alaska has just three points and just one shot on goal per game (14 shots, 14 games). There are much better options available right now.

Jason Garrison– Vancouver Canucks: (Last Week's Ranking: 17, This Week's Ranking: 36) After ending a 14-game scoring drought on Saturday vs. the Blackhawks, the 29-year-old defenseman followed that game up with another point against the Kings on Monday. We are unconvinced by the turnaround unless he can get their power-play going.