2015 Fantasy Hockey Team Preview: Ottawa Senators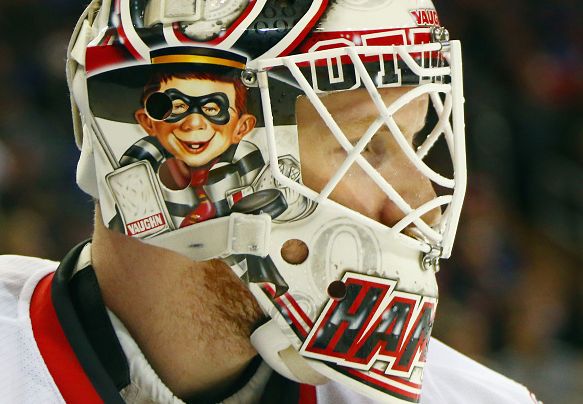 Welcome to NHL team previews, a series that will breakdown every NHL team this offseason. You can expect to see new posts all summer, from the 30th place team to the Stanley Cup champions. With so many changes coming in the offseason, some teams will be improving dramatically, while others will be forced to make some tough decisions for the future. It's going to be a fun summer of hockey talk, so sit down, hold on tight and enjoy the ride.
 Year in Review
 2014-2015 Stats
Record: 43-26-13 (99 points)
Goals per game: 2.83 (9th)
Goals against per game: 2.54 (13th)
Power play: 16.8% (22nd)
Penalty kill: 82.9% (11th)
Shots per game: 31.0 (9th)
Shots against per game: 32.1(25th)
The Ottawa Senators weren't ticketed to make the playoffs last season, but they found a way to prove people wrong and enter this season with hopes of improving on their first round exit at the hands of the Montreal Canadiens.
The Sens started off the season slowly, posting an 11-11-5 record after two months. General Manager Bryan Murray decided that the team needed a wake up call, so he proceeded to fire head coach Paul MacLean and promote assistant coach Dave Cameron as the new bench boss. The move would come as a shock to the hockey world, seeing as MacLean won the Jack Adams Trophy in 2013 when he lead the Senators to a 25-17-6 record. The move would prove to be the right one, as the Senators went 32-15-8 under Cameron—including an 11-3-2 record in the month of March.
The biggest reason for Ottawa's success down the stretch is in large thanks to the outstanding play of Andrew Hammond. Better known as "The Hamburglar" thanks to the McDonald's character design on his mask, Hammond posted a crazy 20-1-2 record after starter Craig Anderson went down with a hand injury. He was deemed the "Savior" of Ottawa's season, but his magic ran out in the first round against the Canadiens, and he was replaced by Anderson after a 3-2 OT loss in game two.
Offseason Game Plan
Heading into 2014-15, Sens fans had a lot of doubts about their team. Going into this season, they still have some question marks that will need to be answered. But when you look at this team as a whole, they look like the same team that can compete in the Eastern Conference for a top playoff spot.
The biggest surprise last season came from the amount of production their young players were able to contribute on a nightly basis. Outside of two-time Norris Trophy winner Erik Karlsson, Ottawa doesn't have a star-studded team that opponents fear, but that will change heading into next season.
Mike Hoffman, Mika Zibanejad and Mark Stone all broke out last season and were key parts in the success of the Senators last season. Stone would be named a finalist for the Calder Trophy after scoring 26 goals and totaling 64 points, Zibanejad would set career highs in goals (20), assists (26), points (46) and games played (80), while Hoffman would score 48 points (27 G, 21 A) in 79 games. All three players will be expected to produce at a high level in 2015-16 and there is no reason why all three won't be able to top the 50-point plateau by seasons end.
The emergence of those three should help take the pressure off players like Bobby Ryan and Kyle Turris. Both players are top line studs that will be counted on to produce every night, but with a better supporting cast around them, the onus no longer falls on them to lead the team. Instead, they'll have scoring by committee from all the forwards. Ryan may still feel the pressure to live up to his seven-year/$50.75 million contract he signed last summer, especially after scoring just 18 goals in 76 contests last season. The four time 30-goal scorer hasn't produced at the same level since being traded from the Ducks in 2013, but Senators fans are still hopeful that Ryan can return to his goal scoring ways with the new wave of youth talent on the team.
On the back end, Ottawa still remains a team that will give up a ton of shots and scoring chances. Ottawa finished 25th in shots against per game and finished 18th in CF% (50.2%), as per Stats.hockeyanalysis.com.
Karlsson remains one of the best offensive defensemen in the NHL, but his defensive game is something opposing teams can consistently exploit. The 25-year-old finished a plus-7 last season—an improvement from his minus-15 the year before—but tallied only 66 points compared to 74 the previous year. He's still the best offensive defenseman in the game right now, but if Ottawa wants to limit how many shots they give up a night, they'll need Karlsson to play better in his own end, meaning he may be asked to take less risks and thus have less opportunities to produce points.
The rest of the team's defense remains largely intact, which is always a good thing. Marc Methot and Chris Phillips will come into next season as the only two players over the age of 30. Methot will most likely play alongside Karlsson to start the season to help cover up and defensive mistakes the talented Swede may make, while Philips should prove to be a reliable bottom-pairing defenseman that can play the penalty kill. There will be growing pains as some of the younger defenseman continue to adjust to life at the big league level, but as a group they should only continue to improve and be at least a middle-of-the-pack defensive team.
If the Senators do want to be a decent defensive team, they will need their goaltending to be exceptional.
Ottawa decided over the offseason to deal back up goalie Robin Lehner to the Buffalo Sabres in exchange for a first-round pick in the 2015 draft and sign Hammond to a three-year $4.05 million contact to back up starter Craig Anderson. Fans will certainly debate over who should start the season as the team's number one goalie, but it wont matter very much if Anderson is unable to stay healthy, and recently that hasn't been the case.
Hammond has only played 25 games in the NHL, so management may turn to the veteran early on to lead the team, but should Anderson falter, Cameron will have no problem in making a switch and letting Hammond run with the job. No one expects him to put up the same numbers that he did at the end of last season, but he shouldn't be as bad as he was in the playoffs games one and two.
This is definitely a statement season for the Ottawa Senators to prove to everyone that last season wasn't just a fluke. They won't be able to wait till February to go on a crazy 11-game winning streak to just squeak into the playoffs; they'll need to be good right from the start. The Atlantic division may not look like a competitive division, but the Eastern Conference as a whole has certainly gotten better, so Ottawa will need to elevate their game from last season in order to stay competitive. It should be another exciting season in Canada's capital city.