Arizona Coyotes Acquire Taylor Hall From Devils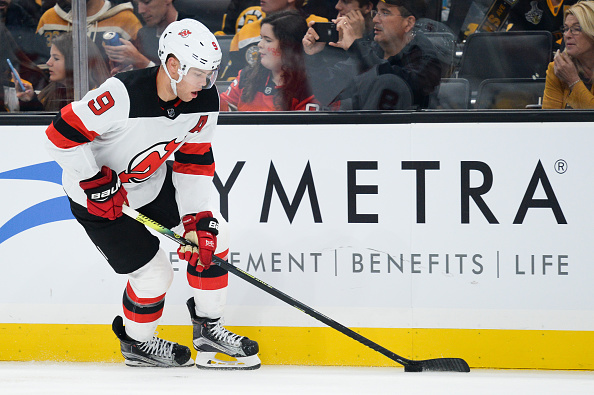 The rumours have been swirling since the beginning of the season about Taylor Hall being traded, and today, it happened. It should come as a shock to no one that he was moved; he was  held out of the lineup the last two games to avoid injury. Devils' fans wish the team wasn't in this situation, that their season wouldn't be a joke after all the moves they made over the summer, but the bitter reality was that Hall was most likely going to walk away on July 1st, so general manager Ray Shero went out and got what he could for his former MVP winger.
Here's how the deal breaks down:
New Jersey acquires: Nick Merkley (F), Nate Schnarr (F), Kevin Bahl (D), conditional 1st round pick in 2020, conditional third round pick in 2021.
Arizona acquires: Taylor Hall (F), Blake Speers.
According to CapFriendly, the conditions attached to the draft picks are as followed:
The 2020 first-round pick is top three protected. Should the Coyotes draft in the top three in the upcoming draft, they will keep their pick and New Jersey would receive their first round pick in 2021.

The third-round pick in 2021 can become a second round pick if Arizona wins a playoff round, or, if Hall resigns with the team. The pick is upgraded to a first round pick if both happen.
It's also worth noting that New Jersey will retain 50% of Hall's salary for this season, which was key in helping Arizona fit their new player under the salary cap. 
The conditions attached to the draft picks are key for the Devils. At first glance, it doesn't look like they have acquired much for arguably one of the best wingers in the game, but they could end up with two first round picks, which would be a nice turn of events. There is no certainty that Hall resigns with Arizona at the end of the season, but they will have every opportunity to get him signed before anyone else. 
Let's take a look at who these three prospects going to New Jersey are. 
Kevin Bahl is 19-year-old giant– standing at 6ft6, 220lbs– and is currently playing in the OHL with the Ottawa 67's. Now in his fourth season with the team, the Canadian blueliner has 20-points (5G, 15A) in 28-games. He's currently part of Team Canada's world junior team, so the Devils will have an opportunity to see their new defenceman play at the highest level for his country. 
Nate Schnarr is a 6ft3 centerman playing in his first season in the AHL, after four seasons in the OHL– where he totaled 181 points in 182 games– the Waterloo native is still trying to adapt to the faster, stronger game in the AHL. He only has nine points  in 22-games, but no one is really worried about his slow start. His passing skills are elite, and if he can find his game in the AHL, he could become a serviceable forward in the NHL one day. 
The last prospect is Nick Merkley– the 22-year-old from Calgary– playing in his third season in the AHL. Merkley is a smaller player; 5ft10, 194 lbs, but he's the oldest of the three, and he could one day find a spot on this Devils team that is lacking skill. There's a good chance that he reports to Binghamton in the AHL, along with his new teammate Schnarr.
At first glance, many people will say that Shero didn't get enough for his best winger, and those people are probably right. There were reports of teams dropping out of the race for Hall– including Montreal and Florida– and you have to believe that neither team was willing to give up elite prospects, plus picks, for a rental player. Hall was probably unwilling to sign a deal before being traded, and this hurt the Devils' bargaining power. At the end of the day, Ray Shero got the most that he could, without dragging the process out. The draft picks are key here, and hopefully, one of these three young men can turn into a decent NHL player. 
From a fantasy perspective, Hall is moving from a terrible New Jersey team to mediocre Arizona team in terms of scoring. The Coyotes are ranked 24th in goals per game, which is still an upgrade from 30th. Arizona acquired Phil Kessel over the summer, but he isn't the same goal-scoring machine that he was in his youth. Adding Hall certainly gives the Coyotes another elite scoring option that can help them continue to push for a playoff spot. Are they a Stanley Cup contending team? Maybe, but the next few weeks will help clarify that question. 
It's certainly an exciting time to be a Coyotes fan. They currently sit in first place in the Pacific Division–one point ahead of the Las Vegas Golden Knights– and now have a real elite scoring winger that can only make them better. Hall is in a contract year, so he's going to want to have a real strong second half to help bump his price tag up. The Coyotes will gladly take that if it means helping them make it to the playoffs, and hopefully, make a deep run in the playoffs.