Daily Fantasy Hockey Strategy: DraftKings & FanDuel Value Picks, January 13th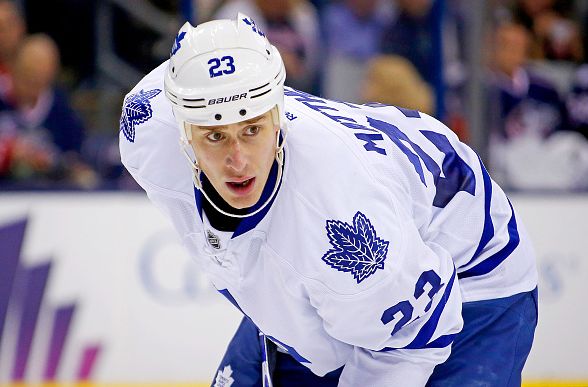 The Fix always has a full breakdown of significant NHL slates for our Front Office subscribers, but now we're also going to be highlighting a few value plays for everyone on most days with big NHL slates. Below you'll find three or four players who are cheap and undervalued in today's DraftKings contests.
DraftKings
Shawn Matthias—Toronto Maple Leafs–$2500
On most nights, Shawn Matthias wouldn't even be an option to consider, but because there are only four games on tap tonight, he becomes a pretty decent value play. With James Van Riemsdyk out 6-8 weeks with a foot injury, a spot on the top line has opened up and Matthias will get the first opportunity to show what he can bring to that line. The Leafs will take on a Columbus team that played yesterday in Brooklyn (and didn't look particularly good) and should have no problem imposing their will on them.
Michael Raffl—Philadelphia Flyers–$3500
The Flyers have decided to do some line juggling—moving Wayne Simmonds onto the top line with Claude Giroux and Jakob Voracek and moving Michael Raffl down to the second line with Brayden Schenn and Sean Couturier. The Bruins will have the Patrice Bergeron out against the Grioux line all night, so Philadelphia's second is the line to target—specifically Raffl. In his last ten games, the 27-year-old has picked up six points (3G, 3A), has a plus-7 rating and is averaging 2.6 FPPG—a significant increase from his season average 1.8 FPPG. As long as his price tag stays below 4K, Raffl is an option to consider in favourable matchups, including tonight.
FanDuel
Michael Ferland—Calgary Flams–$4000
Ferland is one of my favourite value plays on FanDuel. The 23-year-old is skating on the top line with Sean Monahan and Johnny Gaudreau and is playing on the top power play unit. Ferland picked up two points in his last game against San Jose and could easily pick up two more against the Panthers tonight. Florida is a much better team than San Jose, but Calgary's top line is much better at home, specifically Gaudreau. As long as Ferland plays on the top line, he's an option to consider if you need salary relief.
Jimmy Hayes—Boston Bruins–$3700
I absolutely love Jimmy Hayes as a value play tonight. The Massachusetts native is skating on the top line with Patrice Bergeron and Brad Marchand and is seeing some time on the second power play unit. At $3700, Hayes is a steal. As I mentioned earlier, Bergeron and Marchand will have the tough task of shutting down Giroux and company, but they should be able to find a way to score some goals. Philadelphia is in the top five in GA/60 at home (1.69), but Boston is in the top five in GF/60 on the road (2.77). I'll take my chances and roll with the Bruins, hoping that Hayes can finish with at least a point and a couple of shots on goals.