Daily Fantasy Hockey Strategy: Value Picks, January 22nd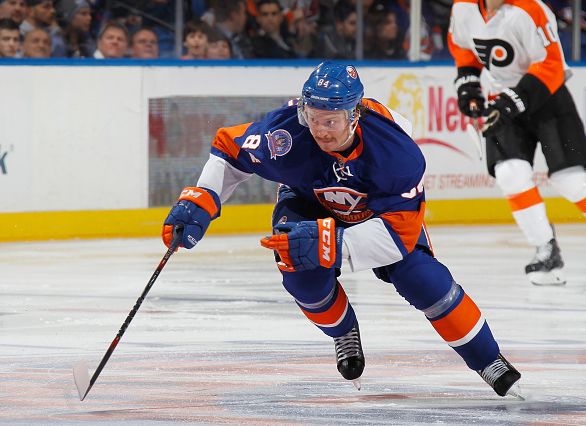 The Fix always has a full breakdown of significant NHL slates for our Front Office subscribers, but now we're also going to be highlighting a few value plays for everyone on most days with big NHL slates. Below you'll find three or four players who are cheap and undervalued in today's DraftKings contests.
If you'd like to read our full breakdown of tonight's slate, complete with player rankings, you can become a Front Office member or purchase today's breakdown individually right here.
DraftKings
Robby Fabbri—St. Louis Blues–$3300
Here's a simple rule to follow: as long as Fabbri is below $4K on DraftKings, you play him. The 22-year-old is expected to play on a line with Jori Lehtera and Vladimir Tarasenko, pushing his ceiling way up. Over his last ten games, the Mississauga native has recorded five points (2G, 3A), but has only 13 shots on goal. His shot total is a little disappointing, but as long as he plays with the team's best player, it shouldn't be a problem. Fabbri is a great salary relief option that can also pick up points. Start him and don't look back.
Mikhail Grabovski—New York Islanders–$3200
Just like Fabbri, Grabovski is getting an opportunity to play with the team's best player (Tavares). The 31-year-old hasn't done much all season, but in an above-average matchup against the Senators, I'll take my chances with him and hope it works out. The Belarus native is a high risk-high reward play, and with so few options to choose from tonight, you'll need a few risky plays to differentiate from the pack. The last time I played Grabovski, it backfired, but I'm hopeful history won't repeat itself.
FanDuel
Ty Rattie—St. Louis Blues–$3600
I absolutely love Ty Rattie on FanDuel tonight. The kid has been excellent since being recalled from the AHL, and he's found a home on the third line with David Backes and Patrick Berglund. The 22-year-old has five points (3G, 2A) and a plus-2 rating in nine games this season with the big club. He isn't seeing any power play time, so his ceiling is pretty low, but he's still found a way to produce despite his limited ice time. Colorado's depth lines haven't been good all season, so St. Louis could easily dominate that matchup. If you need a cheap option to fill out your lineup, Rattie is as good as it gets. He may not win you a GPP, but he certainly won't hurt your chances.
Cal O'Reilly—Buffalo Sabres–$3000
Here's a player no one will be on tonight. Cal O'Reilly (brother of Ryan O'Reilly) is expected to play on a line with Jamie McGinn and rookie sensation Jack Eichel. In his first stint with the club, the Toronto native picked up an assist while averaging just six minutes of ice time per game. This time around, O'Reilly will have a chance to showcase his talent playing in the top six. My expectations for him are limited, but there's a possibility that he finds his way onto the score sheet playing alongside Eichel. The 29-year-old has put up 24 points with the AHL Rochester Americans, but his success in the AHL has never translated in to NHL success. Still, on a short slate like tonight, he's worth a shot if you're desperate for salary relief.