Daily Fantasy Hockey Strategy: April 4, 2016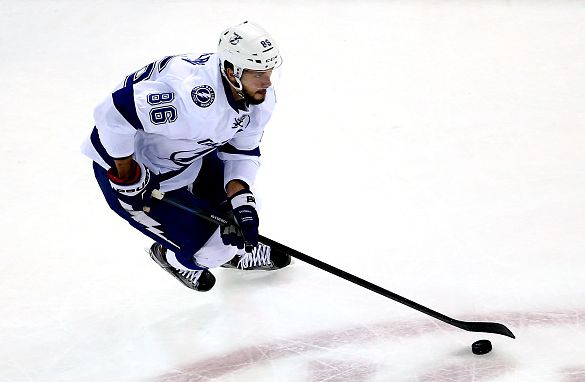 Welcome to The Fantasy Fix daily fantasy hockey strategy. Below you will find rankings and projections for tonight's NHL action. Building a winning lineup isn't easy, so we'll do our best to guide you in the right direction and help you win some serious cash. This is a short slate so we will keep this brief. With that, let's take a look at some match-ups you should be targeting tonight.
As always, make sure to check out LeftWingLock for goalie confirmations.
All shot attempt numbers discussed are at even strength and score-adjusted unless otherwise noted.
TEAMS TO TARGET
[cointent_lockedcontent article_labels="hockey"]
Los Angeles Kings V. Vancouver Canucks
This is the final week so maybe volumes will be off but maybe some DFS baseball players will come on over to the hockey side. Vancouver has managed to win a couple games in a row after going on a nine game losing streak. When one considers that they defeated San Jose and Anaheim, that looks very impressive on the surface. However, the Sharks have a god awful time trying to get to .500 at home and Anaheim every so often just has trouble versus the Canucks. It is hard to explain but this just happens.
Remember that this game is a road game for Los Angeles. Oddly, Vancouver is just horrendous at home where they just average 2.26 goals per game and allow 2.87 per contest. They only have 13 home wins which seems incomprehensible but yet is true. Daniel Sedin and Henrik Sedin have heated up in the past few outings but will that be a mirage against a Kings team eager to start trying to seal up this Pacific Division crown?
Watch out to see who may start for Vancouver as that may be an extreme contrarian risk once more. Jonathan Quick is not that safe only because no one knows how many shots the Canucks will generate. The Kings second line is one to look at as far as a stack and the best play from this game.
New York Rangers V. Columbus Blue Jackets
Lets think about this. There is a chance that Antti Raanta starts this one for the Rangers since Henrik Lundqvist was pulled for the seventh time this season over the weekend. Again, just wait for confirmation but both of these division rivals are capable of scoring as well as giving up goals. Between Cam Atkinson and Boone Jenner, the Rangers defense will have their hands full. That is one beleaguered defense which needs the playoffs to really start.
Columbus really has to wonder who they will put in net but the expected is Sergei Bobrovsky. "Officer Bob" has really not been on the case all that much either. He has allowed three or more goals far too often even in his return. The Blue Jackets defense has given up 3.03 goals per contest at home. This could mean a nice night for any of the Rangers top six players. Mix and match as one needs to at this point. Much can be said about Columbus as far as trying to play parts of the Brandon Saad line. Goal projection has this near six goals, especially if Lundqvist does not start.
Expect a bumpy night with this short five game slate and this Rangers-Blue Jackets game could feature a whole lot of unexpected as both teams have a ton of urgency for different reasons.
Tampa Bay Lightning V. New York Islanders
The Islanders are in free fall and everyone knows it. Yes, we mean everyone! New York has won three of their last five games but that home stinker on Saturday against Pittsburgh left a really sour taste in their mouths and so many noticed. Ben Bishop and Thomas Greiss should start in this tilt and it is important for both teams. Tampa has no Steven Stamkos and Anton Stralman while the Islanders are without Travis Hamonic. A triplets stack seems to be on the horizon. It just makes too much sense but keep an eye on line combinations during the day on Monday. If adversity hits, no one should be surprises to see this occur.
No one knows what will happen in this game and that it is why it is our wildcard. The recommendation is simple. Watch for events and any significant line shifts before morning skates and/or warm-ups. Hopefully, the betting lines will shift a little from all of this chaos and give us a better idea of what to look for too.
---
Again, it should be a wild and crazy night on the short slate. Something different we may do is list some value plays on Twitter so keep an eye out for that. There will be more updates and such via social media.
PLAYER RANKINGS
Rankings are price sensitive
DraftKings
Centers
Tyler Johnson — Tampa Bay Lightning — $5300
Bo Horvat — Vancouver Canucks — $3500
Alexander Wennberg — Philadelphia Flyers — $3600
Alex Barkov — Florida Panthers — $6900
Derek Stepan — New York Rangers — $5900
Jeff Carter — Los Angeles Kings — $6400
Wingers
Jannik Hansen — Vancouver Canucks– $4100
Oliver Bjorkstrand — Columbus Blue Jackets — $3100
Milan Lucic — Los Angeles Kings — $5000
Mats Zuccarello — New York Rangers — $5900
Nikita Kucherov — Tampa Bay Lightning — $7000
Kyle Okposo — New York Islanders — $6100
Boone Jenner — Columbus Blue Jackets — $5500
Defenseman
Kevin Kline — New York Rangers — $4000
Nick Leddy — New York Islanders — $4600
Oliver Ekman-Larsson — Arizona Coyotes — $6100
David Savard — Columbus Blue Jackets –$4300
Aaron Ekblad — Florida Panthers –$4900
Kevin Shattenkirk — St. Louis Blues — $6900
Goalie
Jonathan Bernier — Toronto Maple Leafs — $7100
Sergei Bobrovsky — Columbus Blue Jackets — $6800
Brian Elliott — St. Louis Blues — $8400
Ben Bishop — Tampa Bay Lightning — $8400
Jonathan Quick — Los Angeles Kings– $8200
FanDuel
 Centers
Alexander Wennberg — Columbus Blue Jackets — $3600
William Nylander — Toronto Maple Leafs — $3500
Bo Horvat — Vancouver Canucks – $4000
Paul Stastny — St. Louis Blues — $6200
Tyler Johnson — Tampa Bay Lightning — $6100
Aleksander Barkov — Florida Panthers — $6500
John Tavares — New York Islanders — $8100
Wingers
 Right Wing
Oliver Bjorkstrand — Columbus Blue Jackets — $3200
Tyler Toffoli — Los Angeles Kings — $6000
Mats Zuccarello — New York Rangers — $5700
Jannik Hansen — Vancouver Canucks — $5400
Vladimir Tarasenko — St. Louis Blues — $8100
Left Wing
Milan Lucic — Los Angeles Kings — $5900
Chris Kreider — New York Rangers — $5500
Jaden Schwartz — St. Louis Blues — $5700
Boone Jenner — Columbus Blue Jackets — $6700
Jonathan Huberdeau — Florida Panthers — $6900
Defenseman
David Savard — Columbus Blue Jackets — $3700
Aaron Ekblad — Florida Panthers — $4100
Kevin Klein — New York Rangers — $3500
Kevin Shattenkirk — St. Louis Blues — $5500
Oliver Ekman-Larsson — Arizona Coyotes — $6200
Nick Leddy– New York Islanders — $4300
Goalie
Jonathan Bernier — Toronto Maple Leafs — $7600
Thomas Greiss — New York Islanders — $8600
Jonathan Quick — Los Angeles Kings — $8600
Brian Elliott — St. Louis Blues — $9500
Sergei Bobrovsky — Columbus Blue Jackets — $7500
FantasyDraft
Centers
Bo Horvat — Vancouver Canucks — $7000
Brock Nelson — New York Islanders — $7900
William Nylander — Toronto Maple Leafs — $8400
J.T. Miller — New York Rangers — $9200
Boone Jenner — Columbus Blue Jackets — $11,300
Tyler Johnson– Tampa Bay Lightning — $11.000
Jeff Carter — Los Angeles Kings — $13,200
John Tavares — New York Islanders — $15,500
Wingers
Oliver Bjorkstrand — Columbus Blue Jackets — $6100
Troy Brouwer — St. Louis Blues–$8500
Jannik Hansen — Vancouver Canucks — $8200
Shane Doan — Arizona Coyotes — $9200
Tyler Toffoli — Los Angeles Kings — $11,800
Mats Zuccarello — New York Rangers — $12,100
Nikita Kucherov — Tampa Bay Lightning — $14,500
Vladimir Tarasenko — St. Louis Blues — $15,400
 Defenseman
Calvin de Haan — New York Islanders — $8700
Kevin Klein — New York Rangers — $7700
Alec Martinez — Los Angeles Kings — $9700
Aaron Ekblad — Florida Panthers — $10,100
Seth Jones — Columbus Blue Jackets — $10,500
Kevin Shattenkirk — St. Louis Blues — $14,200
Team G
Columbus Blue Jackets –$14,300
Arizona Coyotes — $15,100
Toronto Maple Leafs — $14,000
New York Islanders –$16,500
New York Ranger –$17,300
St. Louis Blues –$17,500
[/cointent_lockedcontent]