Daily Fantasy Hockey Strategy: December 10, 2015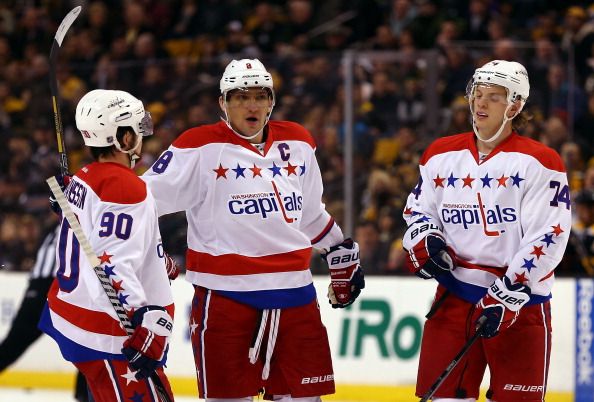 All shot attempt numbers discussed are at even strength and score-adjusted unless otherwise noted.
And as always, make sure to check Twitter for any injury news, and check LeftWingLock for starting goalies and line combos.
Editor's Note: If you haven't deposited at DraftKings yet, we'll help you get started & give you access to our #FrontOffice for free if you use this link.
If we're just looking at possession stats, taking Tampa at home over Ottawa tonight would figure to be one of the best matchups on the night. However, Ottawa is hot right now – they are 7-3 in their last ten games – and Tampa has struggled at home. This is one instance where I will be fading Tampa and the Corsi line in favor of some other matchups. If anything, I'd actually lean towards Ottawa here, especially anyone on their power play, as it is much better than Tampa's PK right now. Let's get into it…
TEAMS TO TARGET
Washington at Florida
We have to start with the hottest team in the NHL right now, the Washington Capitals. The Caps are controlling play on the road almost as much as they do at home, they difference is they've actually had much more success scoring goals on the road. On the other hand, Florida has not been very good at home, and they will be playing without center Nick Bjugstad, who has been one of their more productive players in terms of creating and defensing scoring chances this season.
The Panthers haven't given up a ton of goals this season – especially at home, but they are giving up a lot of shots, and the Caps have one of the best shooting percentages in the league while on the road. If there is a team who can bring Florida's numbers back to reality right now, it's Washington.
The defensive pairing that you'll want to avoid is that of Aaron Ekblad and Brian Campbell, who are both have possession numbers over 54%. They have actually been one of the most reliable tandems in the league this season. When the Panthers played the Caps at home back on October 31, they spent most of the night matched against the Caps bottom-six. Not a smart move there, and we hope they repeat it tonight. If so, it opens the door for the Caps top-six to potentially have a big night, as the rest of the Panthers defense is rather porous. Alex Ovechkin, Evgeni Kuznetsov, Nicklas Backstrom, Justin Williams and T.J. Oshie should all be in play tonight.
Winnipeg at home against Columbus
The Columbus Blue Jackets are one of the worst possession teams in the league, have lost four of its past five, and will be without goaltender Sergei Bobrovsky when they visit the Winnipeg Jets tonight. The Jets are by no means an offensive juggernaut, but they are a positive possession team and have one of the more productive lines in hockey in Drew Stafford, Mark, Scheifele and Mathieu Petterault. Those players should be good bets tonight, along with Mark Stuart and Dustin Byfuglien from the backend, as Columbus gives up a lot of points to defensemen.
The Jets top line should be the line to target, however. They will likely be matched away from the Blue Jackets best possession players right now, Scott Hartnell and Brandon Dubinsky, who have been the only consistent possession players for Columbus this season. The price tag may be steep, but if you're building your team around a player not named Alex Ovechkin or Patrick Kane, I'd suggest it be Blake Wheeler.
Buffalo and Calgary
Finally, and this is a weird one, but since this is such a tough night for matchups, we have to think outside the box, and I love the potential for goals in the Buffalo-Calgary game tonight. Buffalo actually has a decent power play, and will finally reunite Jack Eichel with Evander Kane on a line at even strength. Both should be in play tonight against a Calgary team who is giving up the most goals in the league this season.
For Calgary, they have been red hot at home as of late, winning their last seven games at the Saddledome. Their power play could be in for a big night, as they match up against one of the worst in the league. Johnny Gaudreau, Sean Monahan and Sam Bennett, along with Mark Giordano (five points in his last five games) should all be in play tonight.
PLAYER RANKINGS
[cointent_lockedcontent article_labels="hockey"]
Remember, these are price sensitive.
Center
1.) Evgeni Kuznetsov – $5,900 – Washington Capitals
2.) Jonathan Toews – $6,000 – Chicago Blackhawks
3.) Paul Stastny – $5,200 – St. Louis Blues
4.) Mathieu Perreault – $4,000 – Winnipeg Jets
5.) Kyle Turris – $6,200 – Ottawa Senators
6.) Steven Stamkos – $7,200 – Tampa Bay Lightning
Winger
1.) Alex Ovechkin – $9,100 – Washington Capitals
2.) Blake Wheeler – $7,100 – Winnipeg Jets
3.) Patrick Kane – $8,800 – Chicago Blackhawks
4.) Max Pacioretty – $7,600 – Montreal Canadiens
5.) Evander Kane – $5,500 – Buffalo Sabres
6.) Andrew Ladd – $5,200 – Winnipeg Jets
7.) Vladimir Tarasenko – $7,700 – St. Louis Blues
8.) Johnny Gaudreau – $6,300 – Calgary Flames
Defense
1.) Erik Karlsson – $7,400 – Ottawa Senators
2.) Mark Giordano – $5,800 – Calgary Flames
3.) Roman Josi – $6,600 – Nashville Predators
4.) Dustin Byfuglien – $6,500 – Winnipeg Jets
5.) Alex Pietrangelo – $5,200 – St. Louis Blues
6.) John Carlson – $6,500 – Washington Capitals
7.) Dennis Wideman – $4,400 – Calgary Flames
8.) Colton Parayko – $4,400 – St. Louis Blues
Goaltender
1.) Braden Holtby – $8,000 – Washington Capitals
2.) Brian Elliott – $7,100 – St. Louis Blues
3.) Jimmy Howard – $7,400 – Detroit Red Wings
4.) Corey Crawford – $7,900 – Chicago Blackhawks
[/cointent_lockedcontent]