Daily Fantasy Hockey Strategy, February 29th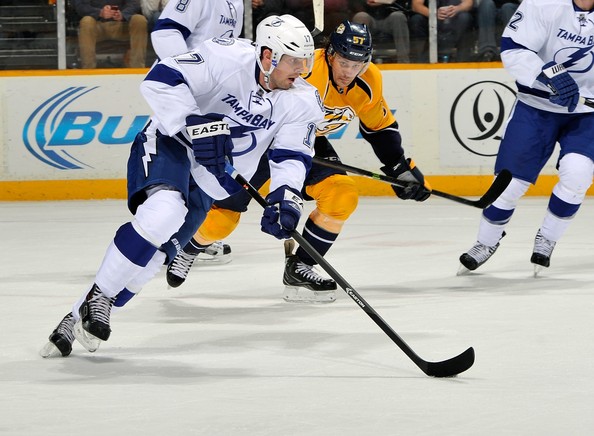 Christopher Morais
Welcome to The Fantasy Fix daily fantasy hockey strategy. Below you will find rankings and projections for tonight's NHL action. Building a winning lineup isn't easy, so we'll do our best to guide you in the right direction and help you win some serious cash. With that, let's take a look at some matchups you should be targeting tonight.
[cointent_lockedcontent article_labels="hockey"]
As always, make sure to check out LeftWingLock for goalie confirmations.
All shot attempt numbers discussed are at even strength and score-adjusted unless otherwise noted.
 Teams To Target
Tampa Bay Lightning V. Toronto Maple Leafs
 The Leafs are in action tonight, which means it's probably a good idea to stack the team playing against them. With today being Trade Deadline day, there's a 100% chance that the Leafs roster will get even worse by the time 7:30 rolls around. Even though Tampa played last night in Boston, there's no reason to fade them, especially not against Toronto.
Let's start with Tampa Bay's top line of Alex Killorn, Ryan Callahan and future Leaf (haha! Not a chance) Steven Stamkos. Stamkos is the priciest option of the three, but Killorn's value really helps balance it out. Stammer loves to play in Toronto, so if you're going to pay up for a superstar, he's my top choice.
Tampa Bay's second line is also an option to consider. Ondrej Palat, Tyler Johnson and Nikita Kucherov play together five-on-five and on the power play. Toronto's will have a hard time shutting down Stamkos, let alone containing the triplets. Palat has the best value of the three, so it may be best to pair him with Kucherov and throw in Victor Hedman, who joins them on the second power play unit.
In goal, Andrei Vasilevskiy is likely to get the start, considering Ben Bishop got the nod in Boston yesterday. His price tag on DK is a little high for my liking, but you know he gives daily owners the best chance of picking up a win. You can fade him in GPPs, but in cash games, it's hard to say no.
Arizona Coyotes V. Pittsburgh Penguins
The Coyotes aren't a very good team in general, and Louis Domingue isn't as hot as he was earlier this season. The Penguins are fighting for a playoff spot, so they need to come out strong against Arizona, and they will. Pittsburgh is finally starting to get healthy, and with Evgeni Malkin back in the lineup, the Pens have two lines that can do some damage.
The top line of Chris Kunitz, Patric Hornqvist and Sidney Crosby is the line most people will be targeting in this game. They play together five-on-five and on the top power play unit, which is a huge advantage. Carl Hagelin, Phil Kessel and Malkin don't play together on the man advantage, but they are an option to consider in GPPs because of their favourable matchup. It may be impossible to fit Kris Letang in any lineup with Crosby, but if you can make it work some how, do it!
As for goaltending, Marc Andre Fleury is an elite option tonight. The Quebec native is having himself another excellent season and Arizona is a middle of the pack team when it comes to scoring goals on the road (14th, 2.13 GF/60).
Montreal Canadiens V. San Jose Sharks
 I hate this matchup so much. On one hand you have the Sharks who are terrible team at home, and on the other hand you have Montreal; a team that doesn't play well out west. Logic says to go with San Jose, but there's a good chance that the Habs find a way to pull out a win. Maybe it's the homer in me talking, but Montreal offers the best value for DFS players.
The Habs second line of Alex Galchenyuk, Lars Eller and Sven Andrighetto is the line I'll probably stack in a GPP. The Sharks best possession line is there top line, and there's a good chance that they spend the majority of the night matched up with Montreal's top line. On top of it, Galchenyuk has been red hot over his last ten games—recording seven points (5G, 2A) with 31 shots on goal. He's listed as a C on DK, so you'll have to burn two C spots if you want to roster the entire line. The best-case scenario would be to mini-stack Andrighetto/Galchenyuk and throw in P.K. Subban if you're feeling lucky.
If you really want to trust the Sharks, their top line of Tomas Hertl, Joe Thornton and Joe Pavelski is the obvious choice. Thornton & Pavelski play together five-on-five and on the power play, while Hertl centers the second PP unit. Brent Burns is going to be a popular play tonight, but value wise, I prefer Letang to Burns.
Player Rankings
 Ranking are price sensitive
DraftKings
Forwards
Wingers
Defenseman
Goalie
Antti Niemi—Dallas Stars–$6900
Andrei Vasilevskiy—Tampa Bay Lightning–$7900
Marc Andre Fleury—Pittsburgh Penguins–$8100
Henrik Lundqvist—New York Rangers–$8700
James Reimer—San Jose Sharks–$6700
FanDuel
Forwards
Wingers
Right Wing
Left Wing
Defenseman
Goalie
Andrei Vasilevskiy—Tampa Bay Lightning–$7900
Antti Niemi—Dallas Stars–$7100
Marc Andre Fleury—Pittsburgh Penguins–$9200
Henrik Lundqvist—New York Rangers–$10,000
James Reimer—San Jose Sharks–$6600
FantasyDraft
 Forwards
Wingers
Defenseman
Team G
Tampa Bay Lightning–$16,100
Dallas Stars–$13,900
San Jose Sharks–$15,200
Pittsburgh Penguins–$16,500
New York Rangers–$17,600
[/cointent_lockedcontent]