Daily Fantasy Hockey Strategy: February 4, 2015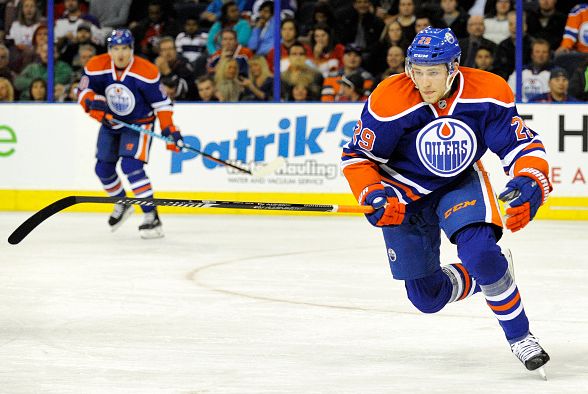 Welcome to The Fantasy Fix daily fantasy hockey strategy. Below you will find rankings and projections for tonight's NHL action. Building a winning lineup isn't easy, so we'll do our best to guide you in the right direction and help you win some serious cash. With that, let's take a look at some matchups you should be targeting tonight.
As always, make sure to check out LeftWingLock for goalie confirmations.
All shot attempt numbers discussed are at even strength and score-adjusted unless otherwise noted.
Teams To Target
Edmonton Oilers @ Ottawa Senators
[cointent_lockedcontent article_labels="hockey"]
This matchup is impossible to pass up on. The Senators allowed six goals against the Penguins on Tuesday, while Edmonton scored five in Connor McDavid's return to the lineup. Ottawa allows a ton of shots, and even if Edmonton hasn't had a ton of success scoring goals on the road, they could easily fill the net by the time its all said and done.
The question now becomes: which Edmonton line do you stack? In terms of value, McDavid and Jordan Eberle are the way to go. No matter what site you play on, Eberle is undervalued and McDavid should be able to bring his game to a whole other level (like he did with Yakupov). Edmonton's top line of Leon Draisaitl, Taylor Hall and Teddy Purcell will most likely matchup with Ottawa's "top line," but their ownership levels will be much lower, especially after what McDavid did in his return. If you really cant decided, go with a double mini-stack in a GPP. It's not ideal, but it will save you from pulling all your hair out.
In terms of defense, Andrej Sekera is the only defenseman worth taking a look at. He's seeing time on the top power play unit and is reasonably priced on both DK and FD.
Boston Bruins @ Buffalo Sabres
The Bruins have a juicy matchup against a Buffalo team that played last night in Montreal. Boston is ranked 3rd in GF/60 on the road (2.74) and should be able to walk out of Buffalo with two points.
There is a 99.9% chance that Ryan O'Reilly and his line will face off against Patrice Bergeron and his line, so Boston's second line of Loui Eriksson, David Krejci and David Pastrnak is the line to roster. If you want to go with a mini stack, Krejci-Eriksson is the way to go. Both skate on the top power play unit and both should be able to avoid Buffalo's shut down line. Defenseman Torey Krug joins Eriksson and Krejci on the power play, so stacking all three would be a wise decision.
My favourite goalie of the night is by far Tuukka Rask. His value on FD is unbeatable and he's the 8th most expensive goalie on DK—way too low in my opinion. At this exact moment, Boston is a -150 favourite to win, and that total should continue to grow as the day moves on. Rask should be the easiest decision anyone makes all night.
Chicago Blackhawks @ Arizona Coyotes
The Coyotes took a beating at the hands of the Los Angeles Kings and they could be in for another one tonight against Chicago. Despite the Blackhawks not being a great scoring team away from United Centre, they have had a ton of success playing in Arizona.
Jonathan Toews will make his return to the lineup after sitting out one game for missing the All-Star Game and will take his place on the top line with Andrew Shaw and Marian Hossa. That top line will have to deal with Oliver Ekman-Larsson all night, so that line might be one to fade on a large slate like tonight. The easy play of course is to go with Patrick Kane and Artemi Panarin. For some crazy reason, Kane is below 9K on and Panarin is below 6K. As chalky as both these players are, it's going to be hard to pass up on them in cash games. If you want to save some salary, roster Panarin with Artem Anisimov and throw in Duncan Keith for the power play stack. Keith is just a tad more expensive than Brent Seabrook, but he's definitely worth it.
In goal, Corey Crawford is expected to get the start. He's been MVP-like this season, but his price tag is really hard to swallow right now. He's the most expensive option on both FD & DK, and with so many great options at the goaltending position, there's no reason to pay up for him.
Dallas Stars @ Colorado Avalanche
The Dallas Stars will travel to Colorado to take on the Avalanche—a team that is allowing 32.8 SA/60 at home—the second most in the NHL. Colorado was starting to step their game up before the All-Star break, but Dallas is a machine that just can't be stopped.
Once again, Jamie Benn, Tyler Seguin and Patrick Sharp are all options to consider. Benn & Seguin play together on the power play; so if you want to mini-stack them, go right ahead. John Klingberg joins them on the top unit, but Alex Goligoski offers a much better value if you need to save some salary. Jason Spezza and Patrick Eaves is a mini-stack option to consider, but they don't play on the same power play unit, so that does hurt their value a bit.
Antti Niemi is an option to consider most for GPP lineups. The Avalanche don't average a ton of shots per game, but Colorado has a ton of talent up front and Dallas can give up their fair share of goals. His value on FD is going to be hard to pass up on, but as Admiral Ackbar would say—IT'S A TRAP!
Other Matchups to Consider
The Columbus Blue Jackets travel to Vancouver to take on the Canucks. We all know Columbus is terrible and Vancouver's best line is their top line. Henrik Sedin & Daniel Sedin are worth a look in cash games and could be paired with Alex Edler for a power play stack.
Player Rankings
Rankings are price sensitive
DraftKings
Centers
Wingers
Defensemen
Nick Holden—Colorado Avalanche–$3900
Darnell Nurse—Edmonton Oilers–$3400
Torey Krug—Boston Bruins–$5900
Alexander Edler—Vancouver Canucks–$4900
John Klingberg—Dallas Stars–$6100
Roman Josi—Nashville Predators–$6800
Duncan Keith—Chicago Blackhawks–$5900
Erik Karlsson—Ottawa Senators–$7400
Goalies
Tuukka Rask—Boston Bruins–$8000
Corey Schneider—New Jersey Devils–$8400
Pekka Rinne—Nashville Predators–$7500
Ryan Miller—Vancouver Canucks–$7100
Corey Crawford—Chicago Blackhawks–$8500
FanDuel
Centers
Wingers
_
Defensemen
Alex Goligoski—Dallas Stars–$4800
Alexander Edler—Vancouver Canucks–$4400
Aaron Ekblad—Florida Panthers–$5200
Duncan Keith—Chicago Blackhawks–$5500
Tory Krug—Boston Bruins–$5500
Roman Josi—Nashville Predators–$5600
John Klingberg—Dallas Stars–$5900
Erik Karlsson—Ottawa Senators–$7100
Goalies
Tuukka Rask—Boston Bruins–$8200
Ryan Miller—Vancouver Canucks–$7900
Pekka Rinne—Nashville Predators–$7900
Corey Schneider—New Jersey Devils–$8800
Corey Crawford—Chicago Blackhawks–$10,200
Fantasy Draft
Centers
Wingers
Defensemen
Team G
Toronto Maple Leafs–$16,300
Vancouver Canucks–$16,400
Boston Bruins–$18,900
New Jersey Devils–$20,000
[/cointent_lockedcontent]