Daily Fantasy Hockey Strategy: October 16, 2015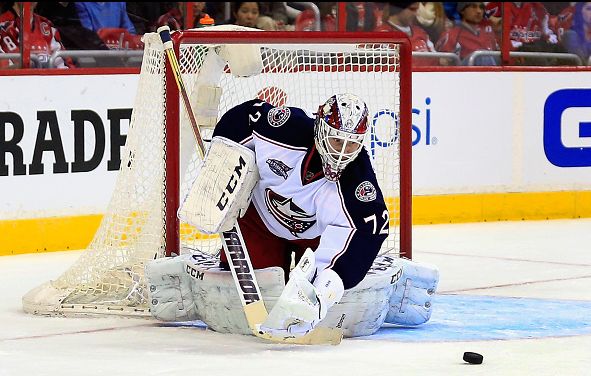 Welcome back to another season of NHL DFS! If you're like me, you've waited all summer for this—the time to build NHL lineups and watch your favourite team play! It's early in the season, so projections and data will be a work in progress until about mid-November. In the meantime, we'll do our best to break down which players you should be targeting and which players you need to avoid completely.
[cointent_lockedcontent article_labels="hockey"]
As always, make sure to check out LeftWingLock for goalie confirmations.
Teams To Target
Let's start with the best matchup of the night—the Columbus Blue Jackets at home against the Toronto Maple Leafs. The Jackets haven't had a great start to their season, but the Leafs are so terrible on the road that it's impossible for Columbus to lose this one (almost impossible).
The top line of Boone Jenner ($4000), Ryan Johansen ($6300) and Brandon Saad ($5800) will be the go-to stack of the night and for good reason. The trio has had some early success this season and should be able to rack up some points against a terrible Leafs team. Both Jenner and Johansen are listed as C, so a mini-stack of Saad-Johansen is probably the way to go.
On the blue line, the only option I really like is Ryan Murray ($2800). The 22-year-old is healthy, is seeing time on the top power play unit and is dirt-cheap. He only has one point so far this season, but that total could change by the end of the night.
Despite having a terrible start this season; Sergi Babrovsky ($7200) is a good option if you need a reliable goalie (I know, but bare with me). The stats from last season don't lie; the Leafs averaged just 1.88 G/GP on the road last year and so far this season, they've totaled zero goals. They've only played one game, so the sample size is small, but they were invisible in their first road game against the Red Wings and will be invisible again tonight in Columbus.
My second favourite matchup of the night is San Jose at New Jersey. The Devils are not a powerhouse offense and the Sharks have played some great hockey since the start of the season.
With the news of Logan Couture possibly being out for an extended period of time with an ankle injury, the top line of Joonas Donskoi ($2800), Joe Thornton ($4800) and Joe Pavelski (6900) is probably the way to go. The problem is both Thornton and Pavelski are listed as C, so you'll have to use your utility spot to roster both. If you want to save some salary, the duo of Tomas Hertl ($4100) and Matt Nieto ($3600) are a bargain at $7,700 and should get a favorable matchup against New Jersey's third defensive pairing.
On defense, Brent Burns ($5700) is the best option to consider. He's totaled three points (1G, 2A) in three games so far this season and can be paired with Thornton/Pavelski to make a great mini-stack. If you want to save some salary, Marc-Edouard Vlasic ($3400) is reasonably priced and has averaged 3.3 FPPG in three games this season.
In nets, it's really a no-brainer. Martin Jones ($7000) has been excellent to start the season and continues to be underpriced. He's picked up two shutouts in three games and could pick up another one tonight against a below-average Devils offence.
My third favourite matchup of the night is Los Angeles at Minnesota. The Kings have been terrible to start the season—giving up 12 goals in three games while scoring just two. Minnesota had no problem beating the red hot Coyotes and I expect them to have no problem destroying the Kings at home.
Once again, the top line of Mikael Granlund ($4000), Zach Parise ($7200) and Jason Pominville ($5300) is the stack to go with if you want to target the Kings. Throw in Ryan Suter ($4200) and Matt Dumba ($3500) and you have yourself a very good five-man stack.
With Minnesota playing their second game in as many nights, backup goalie Darcy Kuemper ($6500) is confirmed to get the start. He lost his starting job when the Wild acquired Dubnyk from the Coyotes, but his price is very reasonable and the risk is minimal. If you don't want to pay up for goaltending, go with Kuemper.
Player Rankings
 Ranking are price sensitive
 Forwards
Wingers
Defenseman
Goalie
Martin Jones–$7000—San Jose Sharks
Darcy Kuemper–$6500—Minnesota Wild
Reto Berra–$6000—Colorado Avalanche
Jimmy Howard–$6900—Detroit Red wings
Sergei Bobrovsky–$ 7200—Columbus Blue Jackets
Alex Stalock–$6500—San Jose Sharks
[/cointent_lockedcontent]