Daily Fantasy Hockey Strategy, October 9th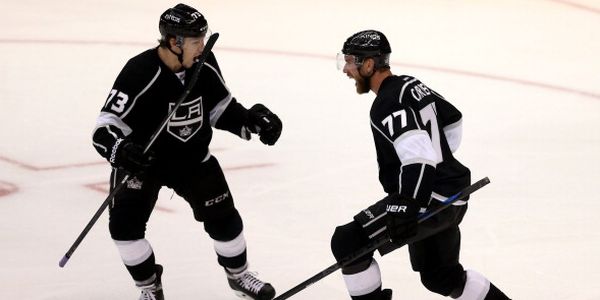 Welcome back to another season of NHL DFS! If you're like me, you've waited all summer for this—the time to build NHL lineups and watch your favourite team play! It's early in the season, so projections and data will be a work in progress until about mid-November. In the meantime, we'll do our best to break down which players you should be targeting and which players you need to avoid completely.
Only ten teams are in action tonight, so ownership of certain players will be pretty high. Don't turn away from certain players just because their ownership will be high—the goal is to own the players that will score the most fantasy points. With that, let's take a look at tonight's matchups that you should be targeting.
As always, make sure to check out LeftWingLock for goalie confirmations.
[cointent_lockedcontent article_labels="hockey"]
Teams To Target
Let's start with the most obvious play of the night—the Los Angeles Kings. The Kings were a no show in their home opener against the San Jose Sharks, so they should come out firing in this one. Their opponent, the Arizona Coyotes, gave up 3.26 goals-per-game (G/GP) last season—the third most in the NHL—and scored just 2.01 G/GP—the second lowest in the NHL. The top line of Anze Kopitar ($5700), Marian Gaborik ($5600) and Milan Lucic ($4300) are all great options, but I'm more likely to go with Jeff Carter ($5600) and Tyler Toffoli ($5200). The pair will cost you $10,800, but with very little depth on the Coyotes blueline, the duo will have no shortage of scoring chances and should find the back of the net at least once.
On the back end, Drew Doughty ($5300) is an obvious play along with partner Jake Muzzin ($4200), but I'll most likely punt the defense position and go with Christian Ehrhoff ($3,500) who is seeing time on the first power play unit. If you want to use any combination of the three, Doughty and Ehrhoff is the way to go.
Lastly, Jonathan Quick ($7400) is most likely to get the start tonight, but he was shaky in his first start and I'm just not ready to plug him in my lineup. We'll cover some better options later on.
The second matchup I'm a really big fan of is the Detroit Red Wings hosting the Toronto Maple Leafs. Mike Babcock will make his first trip back to Detroit in what should be a very emotional game for him. Toronto fell in their opener to Montreal 3-1, and I don't expect them to beat the Red Wings at home. Toronto was terrible at scoring goals last season (2.51, 24th) and even worse on the road (1.88, 29th). They also gave up an average of 3.17 G/GP on the road. The combo of Henrik Zetterberg ($6200) and Dylan Larkin ($3400) is one I'd consider using the most. Both players will cost you a combined $9,600 and both play on the top power play unit. If you want to go Detroit heavy, Tomas Tatar ($5100) and Gustav Nyquist ($4900) are the other two players I'd roll with, giving you maximum exposure to the top two lines.
On defense, Mike Green ($5000) and Niklas Kronwall ($4100) are both great options. Green is the bigger offensive threat, but Kronwall is expected to see time on the top power play unit, so if you decide to go with Zetterberg/Larkin as your mini-stack, Kronwall is the way to go. If you prefer Tatar/Nyquist, go with Green.
As for goaltending, Jimmy Howard ($7000) is expected to get the start. At his price, I'm willing to take the risk and hope he picks up the win and doesn't allow more than two goals on the night. He struggled down the stretch last season, but the Leafs offense just doesn't scare me enough to move away from him, and Vegas has Detroit at -201 favourite to win the game. Roll with Howard and hope for the best.
The last matchup of the night that I really like is the New York Islanders hosting the defending Stanley Cup champions Chicago Blackhawks. With Jaroslav Halak uncertain to play due to a lower-body injury, this game could see a ton of goals scored by the end of the night.
For New York, the top line of John Tavares ($7600), Anders Lee ($4600) and Ryan Strome ($4500) is the way to go. Sadly, all three forwards are listed as C on DraftKings, so it's pretty much impossible to go with all three. If I had to pick two, Lee and Strome are definitely the better value. If you want to go with Tavares alone, that's also an option.
On defense, Nick Leddy ($3700) has a price tag that I just can't pass on. Johnny Boychuk ($4500) and Marek Zidlicky ($3400) are also options to consider, but Leddy is expected to play on the top power play unit and Boychuk's price is too steep for my liking.
For Chicago, the only two forwards I'd consider using are Marian Hossa ($5800) and Teuvo Teravainen ($4000). Both play together five-on-five and on the power play and both will cost you $9,800 combined. The extra bonus here is that they are both wingers, something you'll need if you want to play three centers. Jonathan Toews ($6400) and Patrick Kane ($7300) are also great options, but they don't play together five-on-five and both combined will cost you $13,700.
On the blueline, Duncan Keith ($4800) is a bit too pricy for me to roster considering I can start Brent Seabrook ($3800) for $1,000 less. Both players play on the top power play unit and both players should see a healthy amount of ice time in this game. The player I really like the most here is Trevor Daley ($3600). He's $200 cheaper than Seabrook and plays on the second power play unit with Hossa/Teravainen. If you need to roster just one defenseman, Daley is the player to go with.
Player Rankings
 Rankings are price sensitive
 Centers
Jeff Carter– $5600—Los Angeles Kings
Ryan Strome-–$4500—New York Islanders
Dylan Larkin–$3400—Detroit Red Wings
Anders Lee–$4500—New York Islanders
Henrik Zetterberg-–$6200—Detroit Red Wings
Anze Kopitar-–$5700—Los Angeles Kings
John Tavares-–$7600—New York Islanders
Jonathan Toews-–$6400—Chicago Blackhawks
 Wingers
Teuvo Teravainen—LW—$4000—Chicago Blackhawks
Tyler Toffoli—RW–$5200—Los Angeles Kings
Marian Hossa—RW–$5800—Chicago Blackhawks
Gustav Nyquist—RW–$4900—Detroit Red Wings
Brandon Saad—LW–$5400—Columbus Blue Jackets
Tomas Tatar—LW–$5100—Detroit Red Wings
Marian Gaborik—RW–$5500—Los Angeles Kings
Rick Nash—LW–$6700—New York Rangers
 Defenseman
Niklas Kronwall–$4100—Detroit Red Wings
Nick Leddy--$3700—New York Islanders
Trevor Daley--$3600—Chicago Blackhawks
Mike Green--$5000- Detroit Red Wings
Christian Ehrhoff--$3500—Los Angeles Kings
Drew Doughty--$5300—Los Angeles Kings
Duncan Keith--$4800—Chicago Blackhawks
Jake Muzzin--$4200—Los Angeles Kings
Goalie
Jimmy Howard–$7000—Detroit Red Wings
Corey Schneider--$6800—New Jersey Devils
Michael Hutchinson--$6500—Winnipeg Jets
Jonathan Quick--$7400—Los Angeles Kings
Petr Mrazek*--$6800—Detroit Red Wings
Henrik Lundqvist--$8100—New York Rangers
Corey Crawford--$7500—Chicago Blackhawks
Sergi Bobrovsky--$7500—Columbus Blue Jackets
Goalies with an asterisk next to their name are not expected to start tonight but haven't been ruled out, so don't count on them playing.
[/cointent_lockedcontent]