Daily Fantasy Hockey Strategy: Value Picks, February 4th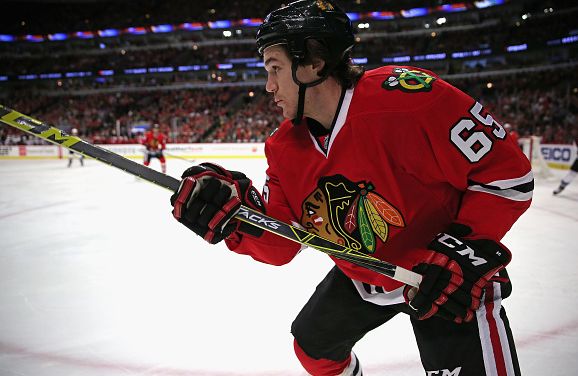 The Fix always has a full breakdown of significant NHL slates for our Front Office subscribers, but now we're also going to be highlighting a few value plays for everyone on most days with big NHL slates. Below you'll find three or four players who are cheap and undervalued in today's DraftKings, FanDuel and Fantasy Draft contests.
If you'd like to read our full breakdown of tonight's slate, complete with player rankings, you can become a Front Office member or purchase today's breakdown individually here.
DraftKings
Mattias Janmark—Dallas Stars–$3300
Dallas' top line will be heavily owned, meaning their second line will be almost forgotten. Mattias Janmark is expected to skate on a line with Jason Spezza and Patrick Eaves. Janmark has totaled 19 points (10G, 9A) in 51 games so far this season and could add to those totals by the end of the night. He isn't seeing any power play time, but Colorado's depth lines aren't exactly shut down lines. If you want to go against the grain, Janmark is an excellent play. If he can find a way to get on the score sheet, that would be the cherry on top.
James Reimer—Toronto Maple Leafs–$6900
The Toronto Maple Leafs have no chance of scoring against Corey Schneider and the New Jersey Devils, but it's not like the Devils have a better chance at scoring goals against James Reimer. The Leafs are a better team at home and Reimer has been very good this season. A sub-7K price tag just doesn't seem fair for the Leafs netminder, especially on a night like tonight. Everyone will be scrambling to fit a stud goalie into his or her lineups, so if you want to go with a low ownership goalie, Reimer is the best option available.
FanDuel
David Pastrnak—Boston Bruins–$3700
The 19-year-old forward is expected to skate on a line with David Krejci and Loui Eriksson, thus increasing his value way above his price tag. It hasn't been a great season for the right-winger, but he has totaled 11 points (5G, 6A) in 19 games up till now and should continue to be a fantasy option as long as he plays in the top-6. The Bruins have an excellent matchup against the Buffalo Sabres, and Pastrnak should be good for at least one point before it's all said and done.
Nick Holden—Colorado Avalanche–$3200
I can't seem to keep Nick Holden out of my lineups. The 28-year-old is seeing time on the top power play unit and is partnered with offensive defenseman Tyson Barrie five-on-five. The Dallas Stars are an offensive powerhouse, but they do give up their fair share of goals. As long as Holden doesn't finish a minus-2, he should be able to pick up a few shots and hopefully find his way on to the score sheet.
Fantasy Draft
Darnell Nurse—Edmonton Oilers–$6500
Considering the average player salary is $12,500, Darnell Nurse is a steal at this price. The 21-year-old is seeing time on the team's second power play unit and is seeing close to twenty minutes of ice time per game. He hasn't racked up a ton of points this season (eight points in 42 games), but Ottawa allows the most shots against per game and Edmonton could easily score four-plus goals by the end of the night. If you need to save some salary to pay up for the big boys, Nurse is worth a roster spot.
Andrew Shaw—Chicago Blackhawks–$8500
When you think of top-six players, Andrew Shaw isn't a name that jumps out at you, but the 24-year-old continues to produce on the top line and remains under priced. The Hawks will have a nice matchup against the Arizona Coyotes—who are coming off a 6-2 loss to the Los Angeles Kings. It's unlikely that Chicago scores six in this one, but it is possible that they get a few behind Louis Domingue (who is expected to start). Shaw has been a nice complimentary player to both Jonathan Toews and Marian Hossa and is an excellent low risk/high reward type of play on this busy Thursday night.