Daily Fantasy Hockey Strategy: Value Picks, February 6th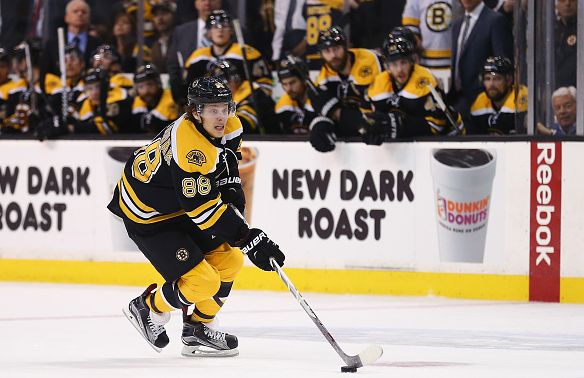 The Fix always has a full breakdown of significant NHL slates for our Front Office subscribers, but now we're also going to be highlighting a few value plays for everyone on most days with big NHL slates. Below you'll find three or four players who are cheap and undervalued in today's main DraftKings contests as well as some FanDuel contests from 7:00 pm on.
If you'd like to read our full breakdown of tonight's slate, complete with player rankings, you can become a Front Office member or purchase today's breakdown individually here.
DRAFTKINGS
Matt Cullen — Pittsburgh Penguins–$2800 ($4000 on FanDuel)
This is the easy salary filler simply out of default at the center position. Injuries in Pittsburgh have made it necessary for the Penguins to plug in Cullen on the second line and the first power play unit temporarily. Cullen is the type of player that can play with guys like Sidney Crosby and Phil Kessel in a pinch. It is a good thing that this is temporary because defensively, here lies a risky pick with a nice reward if he does hit. 
Linden Vey — Vancouver Canucks –$2700 ($3600 on FanDuel)
If there is anyone who is a little undersized but can pack a short term punch, it may just be Vey. The forward proved last year in a short sample size that he could get off to a hot start, but consistency ultimately weighed him down. This season, he was actually put on waivers and honed his game in the AHL for a good while. He has now established himself as a regular, garnering five points in his last nine games and looking very comfortable in Vancouver's bottom six.
Patrik Nemeth — Nashville Predators — $2600 ($3200 on FanDuel)
Nemeth's main problem has always been injuries and then the subsequent recovery from those injuries. It is as if his development really has been stalled, but he does merit some consideration given his potential and propensity to shoot the puck. He was paired in the Colorado game with John Klingberg and needless to say that will give anyone a boost up the old value chart. If this trend continues, it does not take much for him to provide value.
Robin Lehner — Buffalo Sabres — $6900 ($7200 on FanDuel)
We did consider others but Lehner has put together four very nice quality starts in a row despite seeing 33 or more shots in all of them. Boston has a tendency not to be able to close out games at home as evidenced by their below .500 record there. Buffalo has even come back from a two goal deficit there before. So at the very least, Lehner should see a lot of pucks his way once more and has a puncher's chance at a W.
FANDUEL
Bo Horvat — Vancouver Canucks –$3700
I know we are going to the well again, but Horvat is still putting up just enough points to make him an intriguing pick. Note when he plays with Linden Vey and their chemistry together. He does provide that chance for points and with Calgary on a back to back (and their road woes), Vancouver might be a more chic play than most would even dream about.
David Pastrnak — Boston Bruins–$3600
This could be fun as Pastrnak has 11 points in 20 games this year for Boston. The only real problem has been injuries and that loan to the World Juniors. Okay, maybe Claude Julien's usage of him has been a bit dicey as well, but this winger is a player who can exploit bad match-ups.
Ottawa Goaltending — (Anderson at $7200, Hammond at $7100)
This is like "Death Be Not Proud" but would anyone want to trust Winnipeg's goaltending tonight? Yes, Ottawa has given up two goals or less in only 18 games this year, but they should see at least 30 shots or more even against Toronto. The one thing the Leafs do excel at is piling on the shots. At the very least, it might provide a little salary relief in GPP's.