Fantasy Hockey, Daily Fix March 11th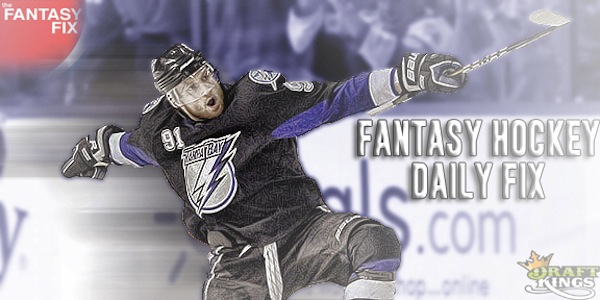 Tragedy struck in Dallas yesterday when right winger Rich Peverley collapsed on the bench after a "cardiac event". This of course, rendered my lineup for yesterday useless,– because the game was postponed, and rightfully so — but the amount of money lost from yesterday's happenings is something I will happily sacrifice for the knowledge that I have that Peverley is recovering safely.
Let's look at today's big slate
This post, as per usual, is for The Fantasy Fix's Front Office members only. If you would like to become a Front Office member, it costs only $10 for an entire year-to-date subscription to our "Premium Content package". For a complete list of all the benefits of a FULL Front Office subscription, please view this page. If you are eager, and simply want to jump straight to the signup page, please visit this page, and select the $9.99 Premium Content plan if you wish to just purchase access to these and many other articles during the week.
 [am4show have='p4;p3;p7;p11;' guest_error='Front Office' user_error='Front Office' ]
Big Games:
Edmonton Oilers @ Minnesota Wild: This game contains my stone-cold lock goalie pick of the night: Darcy Kuemper. The rookie goaltender is reasonably priced throughout the industry and he's my #1 play tonight in net. I want exposure to the two top Minnesota lines as well if I can, and I'm rolling Matt Moulson out across the board. Also, I like Ryan Suter from this game today.
New Jersey Devils @ Philadelphia Flyers: This game should be very interesting, because the Devils have been white hot, especially at home, but now they are on the road against a Philly team with a lot of trouble preventing goals. I love Adam Henrique tonight, and he's reasonably priced around the industry. GPP plays include Andy Greene, Eric Gelinas and Marek Zidlicky on defense. Jaromir Jagr is a nice play as well. I'd go mostly with the Flyers powerplay line if you go with any of them at all. That means Claude Giroux and Jakub Voracek. 
Washington Capitals @ Pittsburgh Penguins: Going all out with Penguins in a GPP is a great idea tonight. I love the Chris Kunitz – Sidney Crosby – Lee Stempniak line once again, as well as Matt Niskanen. They are a great play in a GPP for a line combo. For cash games, I would try to get some cheap exposure to this line though.
Toronto Maple Leafs @ San Jose Sharks: The Leafs surprised the Ducks yesterday in a big way, winning in one of the toughest arenas in hockey. I really like Logan Couture though still, as well as Patrick Marleau and Joe Pavelski. This game should give lots of exposure to the total goals scored for the night.
My Lineup:
[/am4show]