Five-Hole Friday: Goalie Talk and Rankings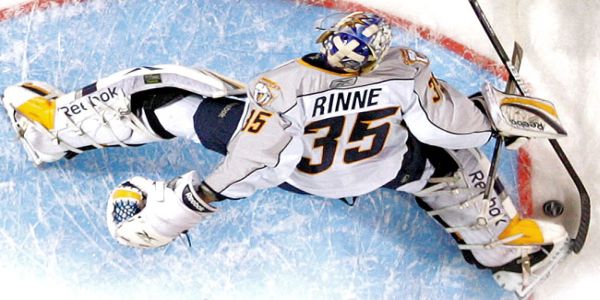 Welcome to the first breakdown of goaltenders for The Fantasy Fix! Hopefully the following discussions and rankings make your team look good!
There has been a lot of talk prior to and during the early part of the 2013-14 NHL season about the mandatory shrinking of goalie pads. Would goalies be affected high, low, or maybe even the five-hole (a nice plug for the column title)?.
After the initial three-to-five games for each team, the results have been inconclusive. There has been no evidence that the new pads have caused a spike in scoring. What you are seeing up until now is goalies overcompensating or overreacting to shots. Each netminder will figure out what works best with the new pads, but to assume a rise in offensive production is guaranteed would be naïve.
If your top two goalies appear to be struggling early, do not panic. New pads and shaky defense has been an issue for more than a handful of teams. Our rankings show rises and drops in value that we feel could last throughout the foreseeable future.
Risers
Semyon Varlamov- Colorado Avalanche: The Avs are white-hot in the opening two weeks of the season, and Varlamov deserves credit. The offense is hitting on all cylinders, and Semyon is making life easy for the defense early. There is no guarantee that this great start stays for the season, but his play early is encouraging.
Ben Bishop- Tampa Bay Lightning: Anyone who watched the Lightning beat the Blackhawks in a shootout last weekend saw why Tampa gave up Cory Conacher for the former St. Louis Blue. If the Lightning brass are smart, they will let Bishop play as long as he does not cost the team wins. The defense has been a concern, so be careful starting him with 100% confidence. Bishop is playing very well, but his blue-liners have to step up for him to be a must-start all season.
Falling
Braden Holtby- Washington Capitals: This is not the start Holtby or the Capitals needed. If Michael Neuvirth gets going, the net in D.C. will become an ugly timeshare.
Cam Ward- Carolina Hurricanes: If the Hurricanes had any semblance of a defense, Ward would be a solid second goalie in fantasy. There is little hope of a consistent defense showing up on a nightly basis. Start Ward with caution.