Matt Duchene Traded from Ottawa to Columbus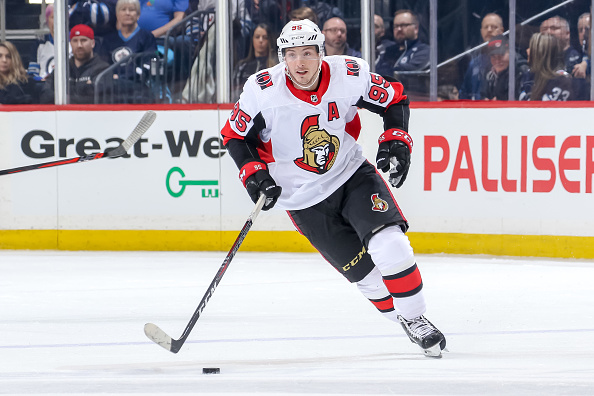 We have a trade!
Details:
OTT Trades:
Matt Duchene
Julius Bergman
CBJ Trades:
Jonathan Davidsson
Vitaly Abramov
2019 1st RD Pick*
2020 1st RD Pick*
The Duchene saga in Ottawa has finally ended. It was no secret that the Senators were looking to move Duchene, and now it has happen. Fans will be disappointed that the team was unable to resign their top centerman, but they did get a very nice return for a player that is a UFA come July.
There are certain conditions attached to the two first round picks. The 2019 pick is lottery protected, so If Columbus ends up getting one of the top three picks in the upcoming draft, they will defer the pick to next year. The 2020 pick is conditional on Duchene signing a contract with the Blue Jackets. If he does sign, that would give Ottawa two first round picks for Duchene.
Here is what we know about the prospects that are going to Ottawa. Jonathan Davidsson was selected 170th overall in the 2017 NHL draft. He's currently playing in Sweden for Djurgardens IF. the 21-year-old has 20 points (10G, 10A) in 35 games. As for Vitaly Abramov, the third-round pick in 2016 is currently playing in the AHL. The Russian born forward has 22 points (12G, 10A) in 52 games.
Both players aren't going to become elite hockey players in the AHL, but it's added depth that the Senators can use. Abramov may even get a call up to the NHL and play a few games, considering just how bad this Ottawa team is.
For Columbus, this is a huge win. They didn't have to give up a top prospect for a rental player and they arguably land the biggest fish on the trade block. Where things will get real interesting is if they decide to trade Panarin before the deadline.
It's clear that Panarin won't sign a contract extension before the deadline, so the question now becomes: do you keep the Russian winger and make a push for the Stanley Cup? Or trade him before the deadline and get something in return.
The thought would be that the team may want to move him before the trade deadline and regain a first round pick for this season. On the other hand, that would seriously hurt their offence for the remainder of the season. Are the Blue Jackets going all in? Maybe, but is it a smart move? No one really knows, but it will be interesting to see how this plays out for them.
From a fantasy perspective, Duchene is moving to a much better offensive team. He's going to get a chance at some point to play with players like Cam Atkinson, Pierre-Luc Dubois and (hopefully) Artemi Panarin. He was already one of the better point producers in the league before the trade, and that production should only continue to increase. Fantasy owners will welcome this trade with open arms.