NHL Eastern Conference and Western Conference Quarterfinal Preview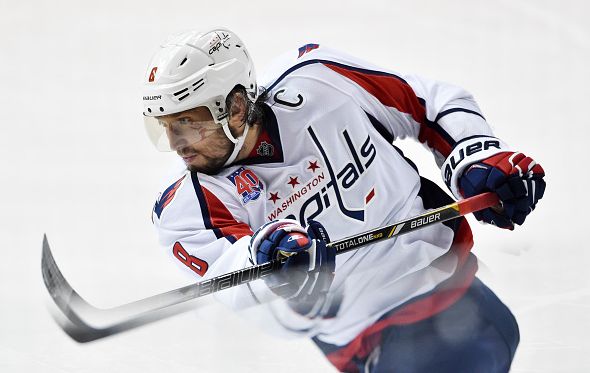 The best part about April is finally here—playoff hockey. It's the reason why most fans watch hockey, to see their favourite team make it to the second season. For some, it's a time to watch their club start the quest to win the most important sixteen games of the year. For others (like myself), the playoffs are a reminder that your team didn't have what it took to make it to the April dance. Regardless of whether your team is playing in the playoffs, hockey fans can always agree on one thing—playoff hockey is the most exciting hockey to watch.
So who's got a chance at taking home Lord Stanley this year? Sixteen teams will start the journey, but only one will be crowned Stanley Cup champion come June. Let's take a look at which teams will make it past round one in the Western Conference and Eastern Conference.
Eastern Conference
Washington Capitals (1) Vs. Philadelphia Flyers (WC2)
Prediction: Washington in 5
The Capitals were the best team in the NHL this season, by a long shot. Braden Holtby is pretty much a lock to win the Vezina Trophy, while captain Alex Ovechkin scored 50 goals for the seventh time in his career. Yet despite all this, some people believe that Washington doesn't have what it takes to win this year. These people are lost.
The Flyers just beat out the Bruins for the final playoff spot, and despite a strong second half, their depth just isn't good enough to compete with Washington. The last time the Caps were this big a favourite to win a series, they lost to Jaroslav Halak and the Montreal Canadiens in seven. The Caps have something to prove this postseason, and it starts with them moving past Philadelphia in convincing fashion.
Pittsburgh Penguins (2) Vs. New York Rangers (3)
Prediction: New York in 7
UPSET ALERT! Just like last season, the Pittsburgh Penguins won't have enough to get past the New York Rangers. Pittsburgh had a much better season than last year, but with Marc-Andre Fleury still questionable to start game one and Evgeni Malkin most likely out, an already thin Penguins team gets even thinner. The Rangers have the edge in goal, on defense and in the bottom six. No matter how good Sidney Crosby will be, he won't be able to carry his team to the next round.
Florida Panthers (1) Vs. New York Islanders (WC1)
Prediction: Florida in 6
No one expected Florida to be here, yet here there are, in the playoffs and winners of the Atlantic Division. Thanks to a good mix of young, talented players and savvy veterans, Florida was able to show the hockey world that they are serious about bringing a Stanley Cup to Florida.
The Islanders are a good team, but they don't have enough to win four games against this Panthers team. With Roberto Luongo in goal and the ageless Jaromir Jagr up front, Florida's two most important players will help guide them to the next round. The Islanders will put up a fight, but it won't be enough to get them to through. Sorry, other New York team.
Tampa Bay Lightning (2) Vs. Detroit Red Wings (3)
Prediction: Detroit in 7
UPSET ALERT! Let's flash back to last season for a moment. The Red Wings were in the same exact position—a team that just barely made the playoffs taking on a Tampa Bay team that, on paper, were supposed to be a lock—yet they pushed Tampa to seven games, only to just fall short.
Experience in the playoffs is everything, and of that, Detroit has a ton. That loss in the first round last year will help them get past the Lightning this season. Without Steven Stamkos in the lineup, the Bolts aren't as scary a team. With Anton Stralman done for the year and Tyler Johnson questionable to play game one, an already thin Tampa roster gets even thinner. As good as Ben Bishop has been all season, there's no way that he manages to carry this team on his back into the next round. Sure, goalies can lead their team to great upsets (Halak in 2010), but the Wings are a team that just know how to win in the playoffs, and that experience will make the difference here.
Western Conference
Dallas Stars (1) Vs. Minnesota Wild (WC2)
Prediction: Dallas in 5
I'd love for the Minnesota Wild to cause a stir in the first round, but there is no chance that the Wild come out of this series victorious. Dallas is an offensive juggernaut that just cant be stopped. Even without Tyler Seguin, the Stars have more than enough firepower to completely dominate the Wild. Even with subpar goaltending, Dallas just needs Antti Niemi to not be horrendous to make it to the second round. With Zach Parise not quite at 100%, Minnesota's already lackluster offence gets even worse. The great state of Minnesota deserves playoff hockey, but it will be short lived this season.
St. Louis Blues (2) Vs. Chicago Blackhawks (3)
Prediction: Chicago in 7
UPSET ALERT! On paper it's an upset, but on the ice, Chicago has the advantage. If St. Louis was playing any other team in the first round, I'd probably give them a spot in the second round, but the Hawks just know how to get the job done in the playoffs, and that's something special for a team to have. The Blues will have their hands full trying to contain Marian Hossa and captain Jonathan Toews, let alone Patrick Kane and Artemi Panarin. The Hawks have so many weapons, even a good St. Louis defense will find it hard to stop all four at once.
The only way St. Louis advances to the next round is if they find a way to get a few past Corey Crawford and rattle his confidence. It's hasn't been smooth sailing for the Quebec native in the playoffs, but he's a two-time cup champion and he knows exactly when to elevate his game. It will be a tough, physical series to watch, but in the end, Chicago will come out victorious.
Anaheim Ducks (1) Vs. Nashville Predators (WC1)
Prediction: Anaheim in 5
Remember when the Ducks were a terrible team that started the season 3-7-2 in October? Well, now they're a serious contender to win the Stanley Cup. The Predators have no chance in this series, not with how good Anaheim has been since Christmas. The Ducks have one of the best defensive cores in the postseason and probably the best third line in the NHL this year.
If Nashville had any hope of winning this series, they would need to find a way to score a whole bunch of goals, which won't happen. Bruce Boudreau has a fear of commitment when it comes to his starting goalie, but it doesn't matter who starts for the Ducks as long as they get the win.
Even if by some miracle Shea Weber and Roman Josi were able to shut down Anaheim's top two lines, Anaheim's secondary scoring is just so good, they could probably lead the team. The Preds may win one game at home, but I just don't see them going into Anaheim and winning more than one game to take this series.
Los Angeles Kings (2) Vs. San Jose Sharks
Prediction: Los Angeles in 6
There's a reason why the L.A. Kings have won two Stanley Cups in the last four years: this team is built for the playoffs. The Kings are the perfect mix of skill and grit needed to win sixteen games.
San Jose on the other hand is a perfect example of a team that can win in the regular season, but just can't get the job done in the playoffs. Since 2008-09, the Sharks have made it past the first round just three times, and past the second round just twice, with no Stanley Cup appearances. As mentioned earlier, experience in the playoffs can help a team win, and Los Angeles has a lot of experience. San Jose will put up a fight, but they are nowhere near as good as the Kings in the postseason. Looks like Joe Thornton and company will need to wait another year before winning a Stanley Cup.