NHL Eastern Conference Quarterfinals Preview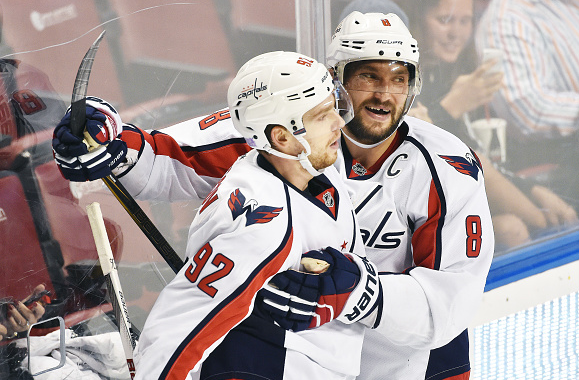 For some fans, the dream of watching their team win the cup is still alive, but for others, it's all over. Congratulations to the eight teams moving on, but the job is far from finished. The first round will have a ton of surprises, and there will be more in the next.
So who's got a chance at advancing to the next round? Eight teams will commence the journey, but only four will make it to the next round and keep the dream alive. Let's take a look at which teams will make it past round one in the Eastern Conference.
Toronto Maple Leafs Vs. Washington Capitals
Prediction: Washington in 3 (just kidding, in 5)
Started from the bottom, now we're here. That should be the motto for the Toronto Maple Leafs. After finishing last just 12 months ago, Toronto is now part of the April dance, but it won't last very long. As great as Auston Matthews and company have been, they are no match for the powerhouse Capitals.
The Capitals are elite in every category; from the blue paint, all the way to their captain Alex Ovechkin. This is a "win or bust" playoffs for the Caps, and Toronto won't get in the way of that mission. The Leafs will manage to at least one game in this series, but that's it. They just aren't as complete of a team as Washington and they are a young team still learning. In a couple of years, Toronto will go from pretenders, to contenders, but it won't be this year. Sorry, Leafs nation.
New York Rangers Vs. Montreal Canadiens
Prediction: Montreal in 6
The Habs are the favourites to win this series, and with Carey Price in goal, he should have no problem carrying his team to the next round.
The Rangers had themselves a very good season, but Henrik Lundqvist wasn't able to find his game all season. Don't get me wrong, he still managed to win 31 games in 57 starts, but his 2.74 GAA was a career worst, and his .910 SV% was barely NHL average. If the Rangers want to give Montreal a run for their money, they are going to need " The King" to find his game in a hurry.
To make matters even worse, Lundqvist doesn't have great numbers against Montreal. In his two starts this season against Les Canadiens, he finished with a 4.04 GAA and a SV% below .900. His career numbers aren't any better. The Rangers' net minder is 14-17-3 all time against the Habs, with a 2.87 GAA and an 898. SV%.
Haters will say that numbers go out the window come playoff time, but when a player has been consistently terrible against a specific team his entire career, it's a cause for concern.
For Montreal, their success will run through Price. The Canadiens goaltender has been lights out since the All-Star break, and his team in front of him has been playing better since head coach Claude Julien joined the team. Scoring goals will always be a problem for the Habs, but with an elite goalie like Price in goal, you don't need many goals to win games.
This series will be a pleasure to watch, but Montreal will prevail in six and continue the quest for championship number 25.
Ottawa Senators Vs. Boston Bruins
Prediction: Boston in 7
This series was a tough one to predict. On one side you have the Bruins who will be without the services of Torey Krug and  Brandon Carlo for at least game one of the series, while the Senators are entering the playoffs with very little momentum and some key injuries on their blueline. The winner of this series is going to depend on which team can overcome their injury problems and which goaltender can steal a game for their team.
Both Tuukka Rask and Craig Anderson had good season, but nothing spectacular. Anderson did miss some time to be with his aligning wife, and backup Mike Condon did an excellent job of filling in, but if Ottawa wants to beat boston in a seven game series, they are going to need Anderson to be their best player.
Boston has the advantage up front with Patrice Bergeron, Brad Marchand and David Pastrnak, so the Sens will need to find a way to slow down those bad boys. In reality, that task will be too hard to complete, and Boston will outlast Ottawa in seven.
Pittsburgh Penguins Vs. Columbus Blue Jackets
Prediction: Columbus in 7
There's no reason both these teams should be facing each other in the first round. Two teams that totaled 111 and 108 points shouldn't have to duel it out in the first round, but here we are. Thanks, Gary.
Alright, back to business. There's no secret that the loss of Kris Letang is going to hurt the Penguins. Pittsburgh was able to win a cup with a rather mediocre defence that came together to perform at a high level, but without Letang, that task becomes almost impossible. In a seven game series, it's going to be a challenge to slow down a Columbus offence that scored over three goals per game with an average defence.
That being said, the Penguins finished the year as the highest scoring team in the league. There's no way Columbus will be able to slow down the likes of Sidney Crosby, Evgeni Malkin and Phil Kessel. At best, the Blue Jackets will be able to contain all three, and even then, containing them will be a challenge. Head coach John Totorella will have his hands full, but there's a good chance he succeeds at slowing down the hottest offence in the league.
The real battle will happen at the opposite ends of the ice. Both Sergei Bobrovski and Matt Murray will be tested every single game, and the goalie that comes out of top will help their respective team make it to the next round. Murray has proven that he can get hot and carry a team in the playoffs,but it's highly unlikely that he reproduces that magic again. As the series moves on, Columbus will become more comfortable and play a system that benefits them, and their goaltender.
At the end of the day, the Blue jackets have all the tools to take down the defending Stanley Cup champions. All that's left for them to do is execute.